This event has passed and sales are now closed.
Forever Diamond
6:00pm, Fri 16 November, 2018
Leadbelly
, NSW
Event Details
Neil Diamond is a phenomenon who gives truly special and personal shows that legions of fans return to see again and again. A style that transcends music fads by consistently touching people of all ages and interests. The personal and magical interaction Diamond has on stage with an audience is legendary, breaking all box office records wherever he performs.
Now here is your opportunity to experience that same spontaneous display of energy and sensuality with the superb talents of Peter Byrne and Forever Diamond, a show performing 50 years of Diamonds greatest hits spanning over five decades, in an uncanny portrayal that has to be seen to be believed. July 2017 marks the 25th anniversary of this amazing show. Peter Byrne's capacity to recreate Neil Diamond to a standard which impressed Diamond's pianist on his last Australian tour says it all. The highlight no doubt was in 2003 when Neil Diamond endorsed Peter's show...
Irishman Byrne's singing voice is eerie in its likeness to the megastar and providing the impetus for Byrne's performance is a relentless pursuit to raise his Diamond act to a level that the man himself would endorse.
Peter's career highlights are too many to mention, but the ones that stick in his mind was meeting his idol, Neil Diamond in 1996. In August 1997 he celebrated the 25th anniversary of one of the greatest live albums of the 70's Hot August Night, His idea was to re-enact every song from the album as Diamond recorded (with 30 piece symphony orchestra), and he did just that; and over 5,000 people were taken on a trip down memory lane. Its now 20 years since that first concert since then Peter has performed to over 150,000 Diamond fans in venues such as Melbourne's Crown Casino, QPAC, Empire Theatre, State Theatre, Concourse.Peter along with the countries best symphonies including The Sydney International Orchestra, The Canberra Symphony Orchestra, The Australian Pops Orchestra, The Queensland Pops Orchestra and The Adelaide Symphony Orchestra.
Over the years Peter has been recognized by his peers in 2001, 2002, 2003 and 2004 when Peter won the prestigious 'MO' Award for Best Variety Production show and ACE Award for Best Tribute Show in 2001, 2002, 2003, 2004, 2006, 2007 and 2008.
With the sad news of Neil's retirement due to Parkinsons, Peter has made it his goal to continue performing Neil Diamond's music and bringing it to fans old and new all around the world.
"It remains to be seen if Byrne, once reaches perfection strives to out-do his idol, however, the day I see a better Diamond, will be the day the man himself appears on stage... "
(Adrian Revere...The Mercury)
"PETER BYRNE IS NO ROUGH DIAMOND"
TICKETING INFO
This is an 18+ event.
Dinner & Show packages include entry, seating and a one course meal (main).
Some Dinner & Show Bookings may be on a communal table. Please let us know at the time of the booking as a special request should you prefer not to share, and subject to availability, we will do our best to accommodate.
DOORS OPEN AT 6PM
DINNER SERVICE COMMENCES AT 7PM
MUSIC STARTS AFTER DINNER SERVICE, AROUND 8:30PM
SET TIMES ARE SUBJECT TO CHANGE FROM SHOW TO SHOW
PLEASE NOTE THE FOLLOWING:
When General Admission Ticket sales have closed on the day of the show they may still be available at the door on the night.
Once purchased tickets are non-refundable & non-transferable
(applies to both Standing and Dinner sales)
A booking fee applies to all advance tickets. (All quoted prices include tax).
Please note: tables cannot be joined together on the evening. Please ensure everyone you wish to seat at your table is included in your booking to avoid being seated separately.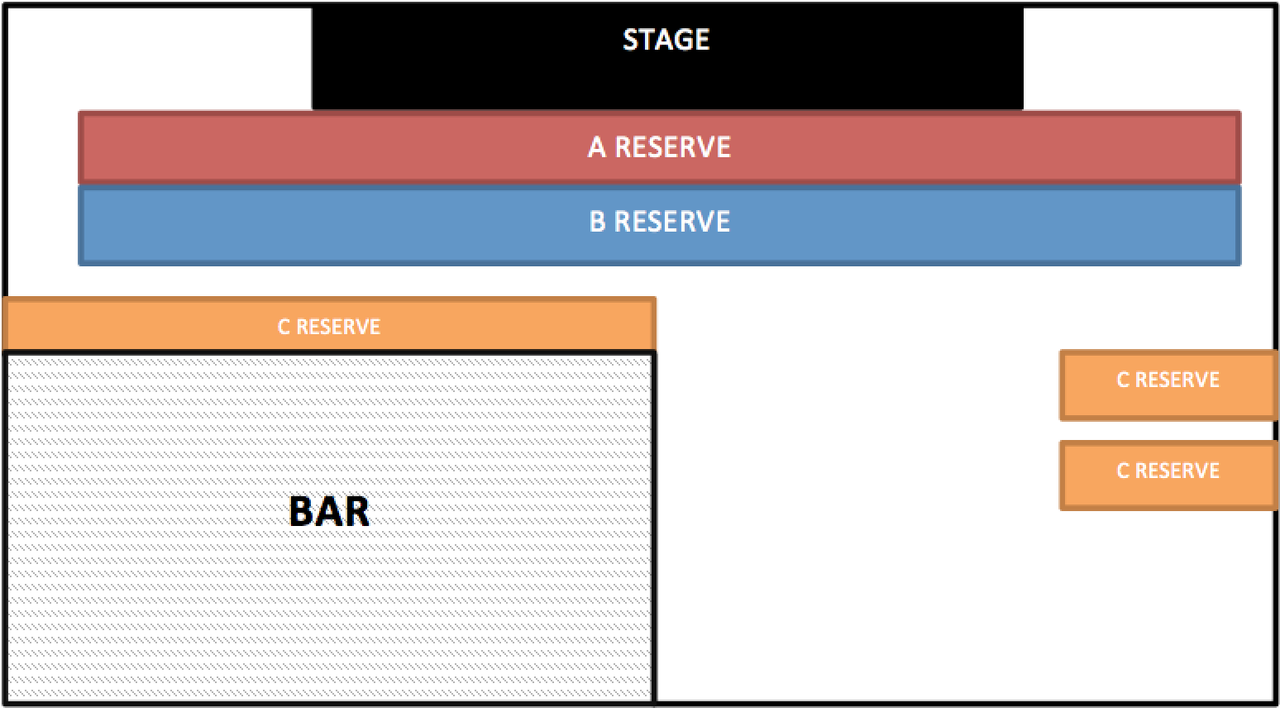 A RESERVE (INDIVIDUAL TABLE)
B RESERVE (MAY BE COMMUNAL TABLE)
C RESERVE (HIGH TABLES + STOOLS)


VENUE INFO
Over 18's only unless advertised otherwise.
All children under 18 not permitted including small children and babies.
Photo ID is essential, acceptable ID is a current and valid Australian Photo Drivers Licence or Passport
(Please check with the venue for any other acceptable forms of photo ID).
The venue reserves the right to refuse admission to any person.
Intoxicated persons will not be admitted.
No thongs or steel cap boots.
Dangerous behaviour including Crowd Surfing, Stage Diving, Moshing and Violent Dancing is not allowed and will result in your immediate removal from this venue.
Inappropriate behaviour at this venue will lead to your banning.