This event has passed and sales are now closed.
Brad Cox Debut Album Tour
6:00pm, Fri 31 August, 2018
Leadbelly
, NSW
Event Details
2018 Toyota Star Maker winner, Brad Cox, has announced an east coast tour, giving this singer-songwriter an opportunity to showcase songs from his brand new self-titled album. He has a big sound. A big voice. A big band. And BIG dreams. Backed by a tight three-piece band, featuring Hunter Beasley on guitar, mandolin and banjo; Jackson Besley on bass, and James Edge on drums, Brad leads from the front with a voice that stops traffic and tells stories of love in his charming southern country style; love of chasing skirt, love of the land, love of being a lad and, above all, love of a beer and a yarn.
His self -titled album released May 4, debuted at #2 on the iTunes Country Charts where it's remained for some weeks in the Top #10. The album is available now on iTunes and through www.BradCoxOfficial.com.
TESTIMONIALS
Manager Steve White (Lee Kernaghan, The Wolfe Brothers) said; "Brad impressed me the first time I saw him perform in Tamworth this year. He has a great voice and is writing good songs. I think he is the real deal and I look forward to watching him develop."
Roxanne Brown (Troy Cassar-Daley) said; "Brad Cox is a great writer and connects with his audience. His southern rock sound sets him apart."
KIX Country Network program/content director Justin Thomson: "Australian country music is ready for Brad Cox, he's captivating to watch live, a unique voice, his music sounds great on radio, and he's a genuine great guy. Brad Cox is a standout."
Tickets available at www.BradCoxOfficial.com
Youtube: https://www.youtube.com/user/bradleycoxmusic/videos
Faceboook: https://www.facebook.com/bradcoxofficial
TICKETING INFO
This is an 18+ event.
Dinner & Show packages include entry, seating and a one course meal (main).
Some Dinner & Show Bookings may be on a communal table. Please let us know at the time of the booking as a special request should you prefer not to share, and subject to availability, we will do our best to accommodate.
DOORS OPEN AT 6PM
DINNER SERVICE COMMENCES AT 7PM
MUSIC STARTS AFTER DINNER SERVICE, AROUND 8:30PM
SET TIMES ARE SUBJECT TO CHANGE FROM SHOW TO SHOW
PLEASE NOTE THE FOLLOWING:
When General Admission Ticket sales have closed on the day of the show they may still be available at the door on the night.
Once purchased tickets are non-refundable & non-transferable
(applies to both Standing and Dinner sales)
A booking fee applies to all advance tickets. (All quoted prices include tax).
Please note: tables cannot be joined together on the evening. Please ensure everyone you wish to seat at your table is included in your booking to avoid being seated separately.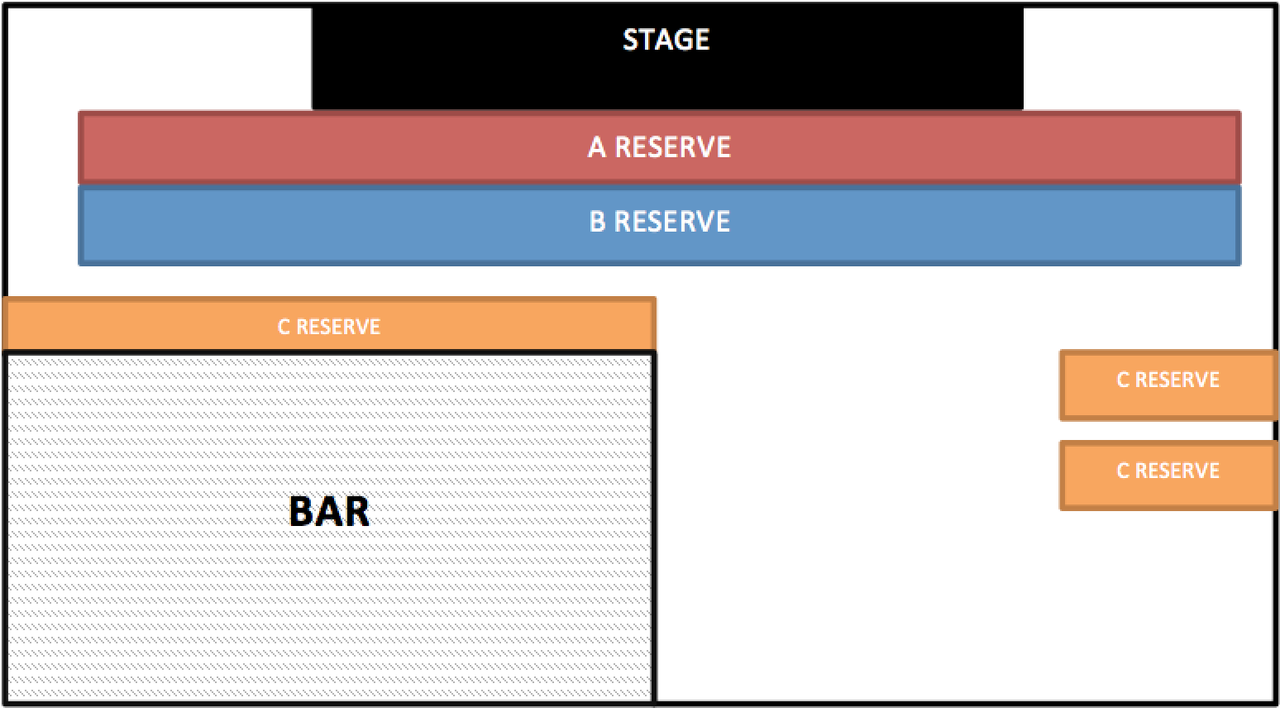 A RESERVE (INDIVIDUAL TABLE)
B RESERVE (MAY BE COMMUNAL TABLE)
C RESERVE (HIGH TABLES + STOOLS)


VENUE INFO
Over 18's only unless advertised otherwise.
All children under 18 not permitted including small children and babies.
Photo ID is essential, acceptable ID is a current and valid Australian Photo Drivers Licence or Passport
(Please check with the venue for any other acceptable forms of photo ID).
The venue reserves the right to refuse admission to any person.
Intoxicated persons will not be admitted.
No thongs or steel cap boots.
Dangerous behaviour including Crowd Surfing, Stage Diving, Moshing and Violent Dancing is not allowed and will result in your immediate removal from this venue.
Inappropriate behaviour at this venue will lead to your banning.