Blues Brothers Rebooted Featuring Tom Jones Mr Soul

Tickets

6:00pm, Sat 13 October, 2018
Leadbelly, NSW
Event Details
The "Blues Brothers Rebooted" show is an exciting production that pays tribute to both the unforgettable and infectious style of soul music and a faithful recreation of those 2 soul brothers who donned the Black hats, dark shades and created what is now a musical institution "The Blues Brothers" Rebooted.
This High energy, fun and polished presentation features the finest soul, rhythm and blues classics by such artists as The Temptations, The four tops and Wilson Pickett.
Blues Brothers Rebooted have played sold out shows in some of Sydney's finest venues including the Basement, the Vanguard and Lizottes and in Auditoriums across NSW.
Backed by some of Sydney's top musicians Shane Peters (Jake) and Chris Clackson (Elwood) take to the stage and recreate an authentic tribute to the Blues Brothers featuring all the songs, all the moves and all that energy and excitement that you will love and remember from that classic 1980 film which has cemented their music, look and legacy for over 30 years.
Blues Brothers Rebooted are performers that deliver a highly entertaining experience that will satisfy people of all ages and musical tastes.

Featuring Tom Jones Mr Soul
(Performed Not Impersonated By Shane Peters)
Ladies and Gents - experience one of Australia's leading cabaret performers Shane Peters in this unique presentation of one of the world's greatest voices and entertainers in history in...
MR SOUL - 50 years of Tom Jones
A celebration of 5 decades of unforgettable hits such as:
IT'S NOT UNUSUAL
GREEN GREEN GRASS OF HOME
DELILAH
WHAT'S NEW PUSSYCAT
KISS
AND MORE
So HELP YOURSELF and relive the A-TOM-IC sounds of MR SOUL - Tom Jones
TICKETING INFO
This is an 18+ event.
Dinner & Show packages include entry, seating and a one course meal (main).
Some Dinner & Show Bookings may be on a communal table. Please let us know at the time of the booking as a special request should you prefer not to share, and subject to availability, we will do our best to accommodate.
DOORS OPEN AT 6PM
DINNER SERVICE COMMENCES AT 7PM
MUSIC STARTS AFTER DINNER SERVICE, AROUND 8:30PM
SET TIMES ARE SUBJECT TO CHANGE FROM SHOW TO SHOW
PLEASE NOTE THE FOLLOWING:
When General Admission Ticket sales have closed on the day of the show they may still be available at the door on the night.
Once purchased tickets are non-refundable & non-transferable
(applies to both Standing and Dinner sales)
A booking fee applies to all advance tickets. (All quoted prices include tax).
Please note: tables cannot be joined together on the evening. Please ensure everyone you wish to seat at your table is included in your booking to avoid being seated separately.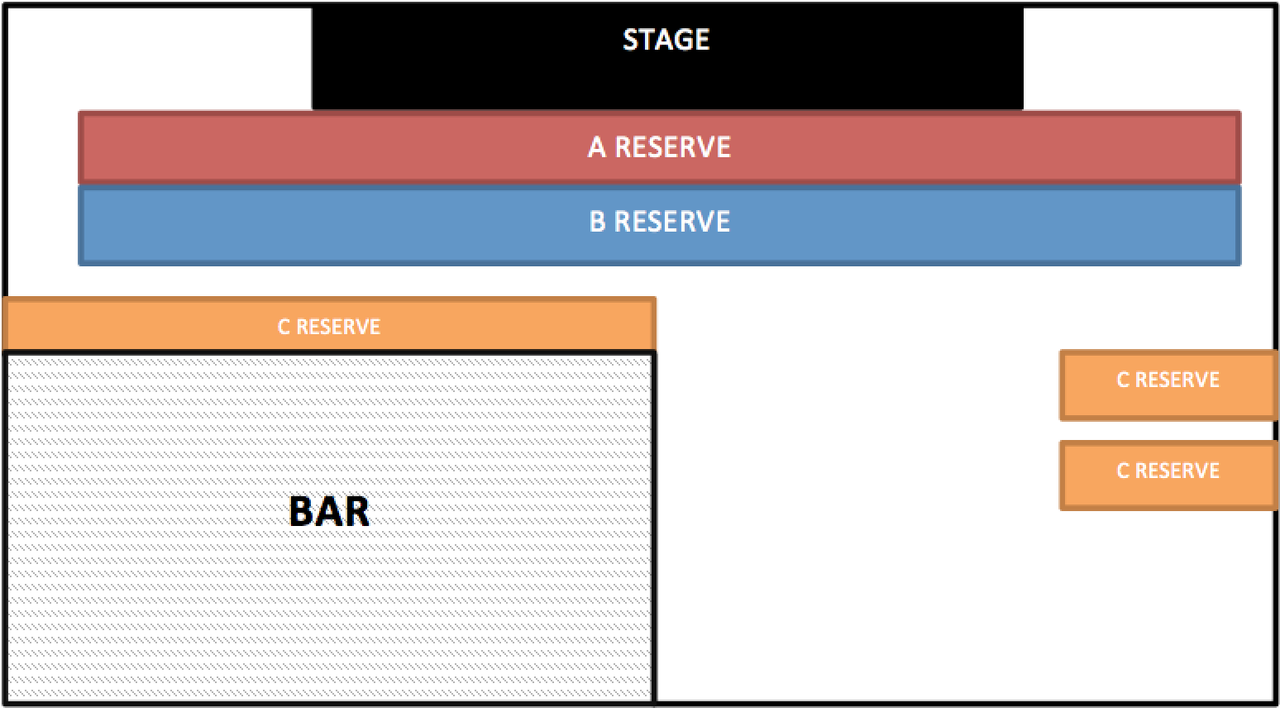 A RESERVE (INDIVIDUAL TABLE)
B RESERVE (MAY BE COMMUNAL TABLE)
C RESERVE (HIGH TABLES + STOOLS)


VENUE INFO
Over 18's only unless advertised otherwise.
All children under 18 not permitted including small children and babies.
Photo ID is essential, acceptable ID is a current and valid Australian Photo Drivers Licence or Passport
(Please check with the venue for any other acceptable forms of photo ID).
The venue reserves the right to refuse admission to any person.
Intoxicated persons will not be admitted.
No thongs or steel cap boots.
Dangerous behaviour including Crowd Surfing, Stage Diving, Moshing and Violent Dancing is not allowed and will result in your immediate removal from this venue.
Inappropriate behaviour at this venue will lead to your banning.
Other events you may like
Splendour in The Grass 2018
|