This event has passed and sales are now closed.
Unlocking The Doors
6:00pm, Sat 25 August, 2018
Leadbelly
, NSW
Event Details
Unlocking The Doors are a powerhouse showcase with amazing production and visuals that will take you back in time to revisit the band that was THE DOORS!
The Doors were among the most controversial, influential and unique rock acts of the 1960s and beyond, mostly because of Morrison's wild, poetic lyrics and charismatic but unpredictable stage persona. Unlocking The Doors frontman, Richie, sets out to capture Morrison's magic whilst leaving some of the cliche' surrounding Jim behind.
Richie is backed by Sandy on Organ and Keyboard Bass. Sandy has set out to reproduce the unmistakable sound of the Doors Organist, Ray Manzarek. Often considered the genius behind The Doors sound Manzarek's influence on rock music is as relevant today as it was back in the late 60s. Sandy has dedicated herself to mastering Ray's almost split personality style of playing. Hypnotic Bass fills with one hand and stabbing syncopation with the other, through to some of Ray's signature melodic lines such as the opening of "Light My Fire".
On guitar we have Mick fingerpicking his Gibson SG standard to emulate The Doors guitarist Robbie Krieger's wonderful Legato style. From the beautifully atmospheric tremolo of "Riders on the Storm" to the grinding attack of "5 to 1", Mick plays homage to Robbie's style that is impossible to pigeon hole.
Finally on Drums we have Chris completing the lineup for Unlocking The Doors. John Densmore's unique fusion of Jazz, Rock and Latin beats still stands unsurpased today for the eclectic signature it placed on The Doors sound. Chris has dedicated himself to unlocking Densmore's style and providing the back beat that is hard to master.
This is Unlocking The Doors!
TICKETING INFO
This is an 18+ event.
Dinner & Show packages include entry, seating and a one course meal (main).
Some Dinner & Show Bookings may be on a communal table. Please let us know at the time of the booking as a special request should you prefer not to share, and subject to availability, we will do our best to accommodate.
DOORS OPEN AT 6PM
DINNER SERVICE COMMENCES AT 7PM
MUSIC STARTS AFTER DINNER SERVICE, AROUND 8:30PM
SET TIMES ARE SUBJECT TO CHANGE FROM SHOW TO SHOW
PLEASE NOTE THE FOLLOWING:
When General Admission Ticket sales have closed on the day of the show they may still be available at the door on the night.
Once purchased tickets are non-refundable & non-transferable
(applies to both Standing and Dinner sales)
A booking fee applies to all advance tickets. (All quoted prices include tax).
Please note: tables cannot be joined together on the evening. Please ensure everyone you wish to seat at your table is included in your booking to avoid being seated separately.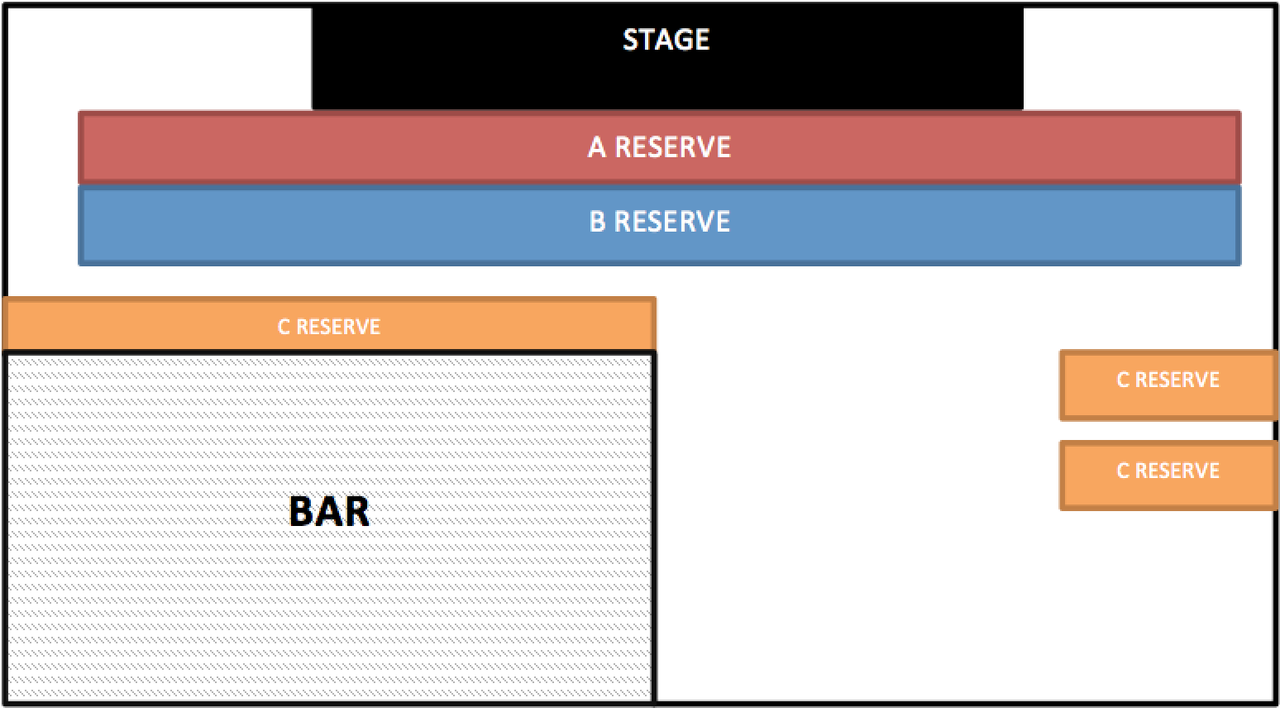 A RESERVE (INDIVIDUAL TABLE)
B RESERVE (MAY BE COMMUNAL TABLE)
C RESERVE (HIGH TABLES + STOOLS)


VENUE INFO
Over 18's only unless advertised otherwise.
All children under 18 not permitted including small children and babies.
Photo ID is essential, acceptable ID is a current and valid Australian Photo Drivers Licence or Passport
(Please check with the venue for any other acceptable forms of photo ID).
The venue reserves the right to refuse admission to any person.
Intoxicated persons will not be admitted.
No thongs or steel cap boots.
Dangerous behaviour including Crowd Surfing, Stage Diving, Moshing and Violent Dancing is not allowed and will result in your immediate removal from this venue.
Inappropriate behaviour at this venue will lead to your banning.