This event have been cancelled and tickets are no longer available for sale. If you've purchased a ticket for this event you will receive an email shortly with details of your refund.
The Music and Stories of The Big Mummas; A salute to the trailblazing women of American Blues and Soul
6:00pm, Sun 25 November, 2018
Leadbelly
, NSW
Event Details
"Jade de Silva has a superb strength, a richness of tone not often encountered but once heard can never be forgotten"
Representing a treasure trove of women singers who unknowingly became pioneers. They laid foundations for the cultural and sexual revolutions from the 30's and beyond
Featuring the biggest brassiest voices in the blues business who defied convention and rocked a time when black women still had many challenges to face. The show is built around their fascinating and heart breaking stories set against the backdrop of the mid west America.
Featuring an array of all the hits from the Big Mummas.
Mavis Reynolds, Bessie Smith, Etta James, Billie Holiday, Big Mumma Thornton and many more.
TICKETING INFO
This is an 18+ event.
Dinner & Show packages include entry, seating and a two course meal (entrée & main).
Some Dinner & Show Bookings may be on a communal table. Please let us know at the time of the booking as a special request should you prefer not to share, and subject to availability, we will do our best to accommodate.
DOORS OPEN AT 6PM
DINNER SERVICE COMMENCES AT 7PM
MUSIC STARTS AFTER DINNER SERVICE, AROUND 8:30PM
SET TIMES ARE SUBJECT TO CHANGE FROM SHOW TO SHOW
PLEASE NOTE THE FOLLOWING:
When General Admission Ticket sales have closed on the day of the show they may still be available at the door on the night.
Once purchased tickets are non-refundable & non-transferable
(applies to both Standing and Dinner sales)
A booking fee applies to all advance tickets. (All quoted prices include tax).
Please note: tables cannot be joined together on the evening. Please ensure everyone you wish to seat at your table is included in your booking to avoid being seated separately.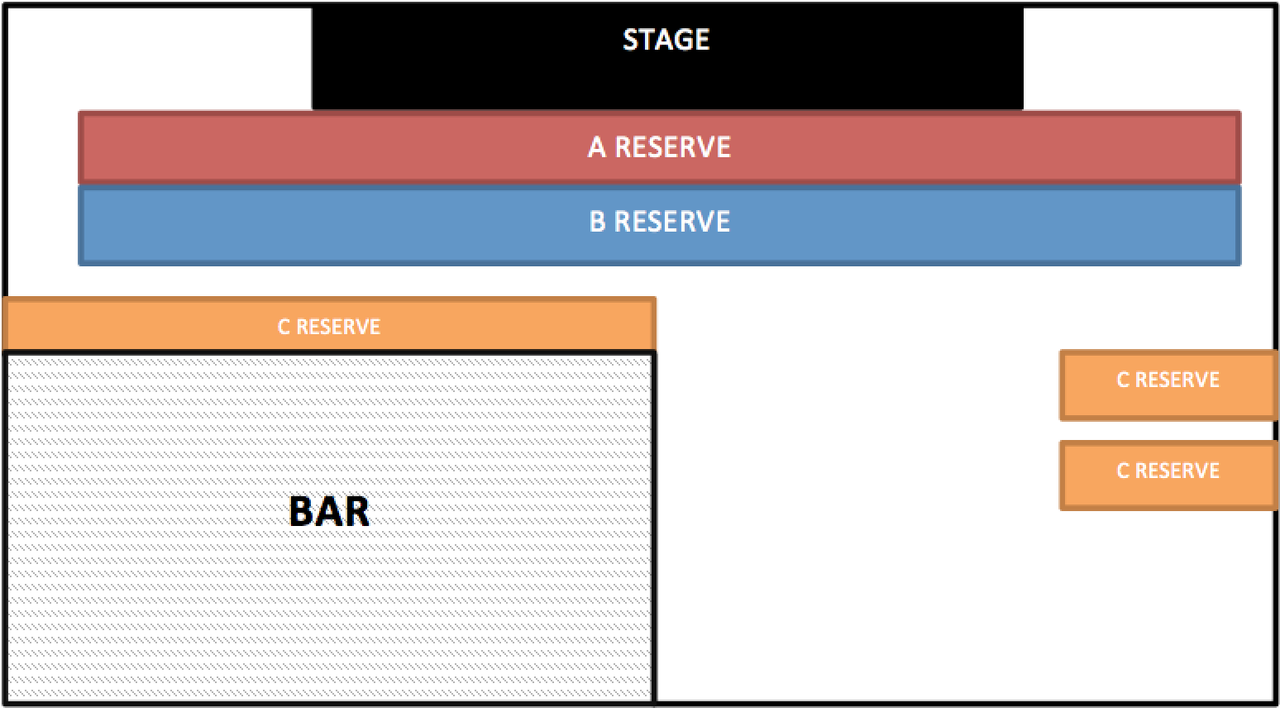 A RESERVE (INDIVIDUAL TABLE)
B RESERVE (MAY BE COMMUNAL TABLE)
C RESERVE (HIGH TABLES + STOOLS)


VENUE INFO
Over 18's only unless advertised otherwise.
All children under 18 not permitted including small children and babies.
Photo ID is essential, acceptable ID is a current and valid Australian Photo Drivers Licence or Passport
(Please check with the venue for any other acceptable forms of photo ID).
The venue reserves the right to refuse admission to any person.
Intoxicated persons will not be admitted.
No thongs or steel cap boots.
Dangerous behaviour including Crowd Surfing, Stage Diving, Moshing and Violent Dancing is not allowed and will result in your immediate removal from this venue.
Inappropriate behaviour at this venue will lead to your banning.