This event has passed and sales are now closed.
No Regrets - The Edith Piaf Story
6:00pm, Sat 10 November, 2018
Leadbelly
, NSW
Event Details
Nikki Nouveau heads to Leadbelly with her hit show 'No Regrets'. Presenting the intriguing life and times of legendary Parisian artist Edith Piaf through song and story. Delivered in French and English, this spellbinding and romantic show features classic numbers Padam, La Vie En Rose, Non Je Ne Regrette Rien along with other timeless pieces.
No Regrets eloquently weaves a tale of passion, tragedy and triumph taking the audience on a musical journey through songs right from the earliest days of Piaf's singing career, when she was singing on street corners, through to the peak of her career as the toast of Paris and New York, and finally her tragic untimely death. Featuring piano and accordion by acclaimed Sydney musician Andrew Scott and double-bassist Max Alduca. A must see for lovers of all things French and little sparrow fans.

Nikki is an artist, writer and producer whose glamorous shows have toured internationally performing in New York City, Edinburgh, Adelaide, Sydney and Melbourne.

"Nouveau's vocal ability is extraordinary; simultaneously delicate and passionate. Delivering in French and English, she had the audience captivated from start to finish"
- Crystal Corocher, Arts Journalist
"Nouveau demonstrated the very best of cabaret with style and grace... She commanded both French and English perfectly to share her well-crafted story about her French idol....Look for her to return to New York soon!" - Cabaret Scenes Magazine, NYC
"An authentic musical experience which drips with talent and skill" - Alt Media
"At times sexy, soulful, flirtatious or just simply hot, Nikki sang and reminisced the story of France's Little Sparrow...An exceedingly enjoyable Thursday evening out" - Theatre Now
TICKETING INFO

This is an 18+ event.
Dinner & Show packages include entry, seating and a two course meal (entrée & main).
Some Dinner & Show Bookings may be on a communal table. Please let us know at the time of the booking as a special request should you prefer not to share, and subject to availability, we will do our best to accommodate.
DOORS OPEN AT 6PM
DINNER SERVICE COMMENCES AT 7PM
MUSIC STARTS AFTER DINNER SERVICE, AROUND 8:30PM
SET TIMES ARE SUBJECT TO CHANGE FROM SHOW TO SHOW
PLEASE NOTE THE FOLLOWING:
When General Admission Ticket sales have closed on the day of the show they may still be available at the door on the night.
Once purchased tickets are non-refundable & non-transferable
(applies to both Standing and Dinner sales)
A booking fee applies to all advance tickets. (All quoted prices include tax).
Please note: tables cannot be joined together on the evening. Please ensure everyone you wish to seat at your table is included in your booking to avoid being seated separately.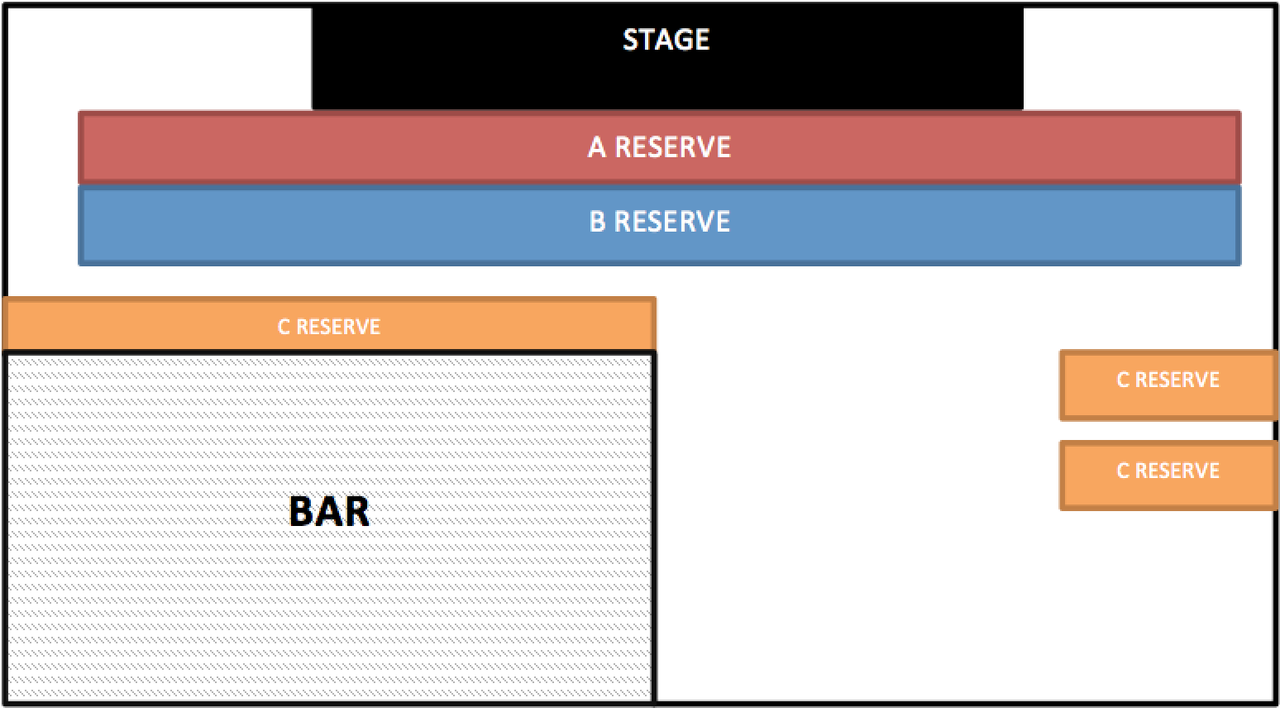 A RESERVE (INDIVIDUAL TABLE)
B RESERVE (MAY BE COMMUNAL TABLE)
C RESERVE (HIGH TABLES + STOOLS)
VENUE INFO
Over 18's only unless advertised otherwise.
All children under 18 not permitted including small children and babies.
Photo ID is essential, acceptable ID is a current and valid Australian Photo Drivers Licence or Passport
(Please check with the venue for any other acceptable forms of photo ID).
The venue reserves the right to refuse admission to any person.
Intoxicated persons will not be admitted.
No thongs or steel cap boots.
Dangerous behaviour including Crowd Surfing, Stage Diving, Moshing and Violent Dancing is not allowed and will result in your immediate removal from this venue.
Inappropriate behaviour at this venue will lead to your banning.