This event has passed and sales are now closed.
LEONARD COHEN KOANS presented by ali & the thieves
6:00pm, Sun 19 August, 2018
Leadbelly
, NSW
Event Details
Australian music collective ali & the thieves returns to Sydney's Inner West with their critically acclaimed narrative concert, LEONARD COHEN KOANS, after the success of their June/July tour across the USA and Canada!! This popular show plays at Newtown's LEADBELLY on Sunday 19th August with Ali Hughes (vocals) and Daryl Wallis (keys), Michael Galeazzi (Bass) and Michael Quigley (drums).
LEONARD COHEN KOANS has engaged, inspired and seduced audiences from Sydney to Seattle and from New York City to Noosa, this critically acclaimed ode to Leonard Cohen being hailed as "heartstopping... exquisitely delivered" (www.theatermania.com), "spine-tingling" (SX Magazine) and "...hands down the best I've ever heard!" (nytheater.com).
Buoyant and vigorous in its celebration of the music and spirit of the iconic legend, LEONARD COHEN KOANS is a must see show for Cohen lovers and newcomers alike.
Beautiful lead vocalist, Ali Hughes, renowned for her dynamic, passionate and sensuous voice, winds through a thoughtfully curated collection of Leonard Cohen's famous poetry, prose and song, and tips a hat to the icon's devotion to Zen Buddhism. As well as lesser known gems such as 'The Guests' and 'The Butcher', you will hear your Cohen favourites - the moving 'If It Be Your Will', his magnificent 'Chelsea Hotel #2', and the undeniable masterpiece 'Suzanne'.
Musically directed by Green Room Award winning composer Daryl Wallis, LEONARD COHEN KOANS moves from ethereal to full throttle in a heartbeat.
Inspiring, passionate, intimate and sincere, LEONARD COHEN KOANS gives you another chance to savour the creative spirit with which he so exquisitely courted the world.
~~~~~~~~~~~~~~~
"ali & the thieves majorly succeeds!!" Amber Gallery, nytheater.com NYC
"exceptionally well-crafted...***1/2 out of ****" Michael Giltz, Huffington Post NYC
"...more than just a collection of covers." Kimberley Lew, Emerging Musical Theater NYC
"sensual, enigmatic... intense warmth, startling range." Veronica Hanlon, SX Magazine Sydney
TICKETING INFO
This is an 18+ event.
Dinner & Show packages include entry, seating and a one course meal (main).
Some Dinner & Show Bookings may be on a communal table. Please let us know at the time of the booking as a special request should you prefer not to share, and subject to availability, we will do our best to accommodate.
DOORS OPEN AT 6PM
DINNER SERVICE COMMENCES AT 7PM
MUSIC STARTS AFTER DINNER SERVICE, AROUND 8:30PM
SET TIMES ARE SUBJECT TO CHANGE FROM SHOW TO SHOW
PLEASE NOTE THE FOLLOWING:
When General Admission Ticket sales have closed on the day of the show they may still be available at the door on the night.
Once purchased tickets are non-refundable & non-transferable
(applies to both Standing and Dinner sales)
A booking fee applies to all advance tickets. (All quoted prices include tax).
Please note: tables cannot be joined together on the evening. Please ensure everyone you wish to seat at your table is included in your booking to avoid being seated separately.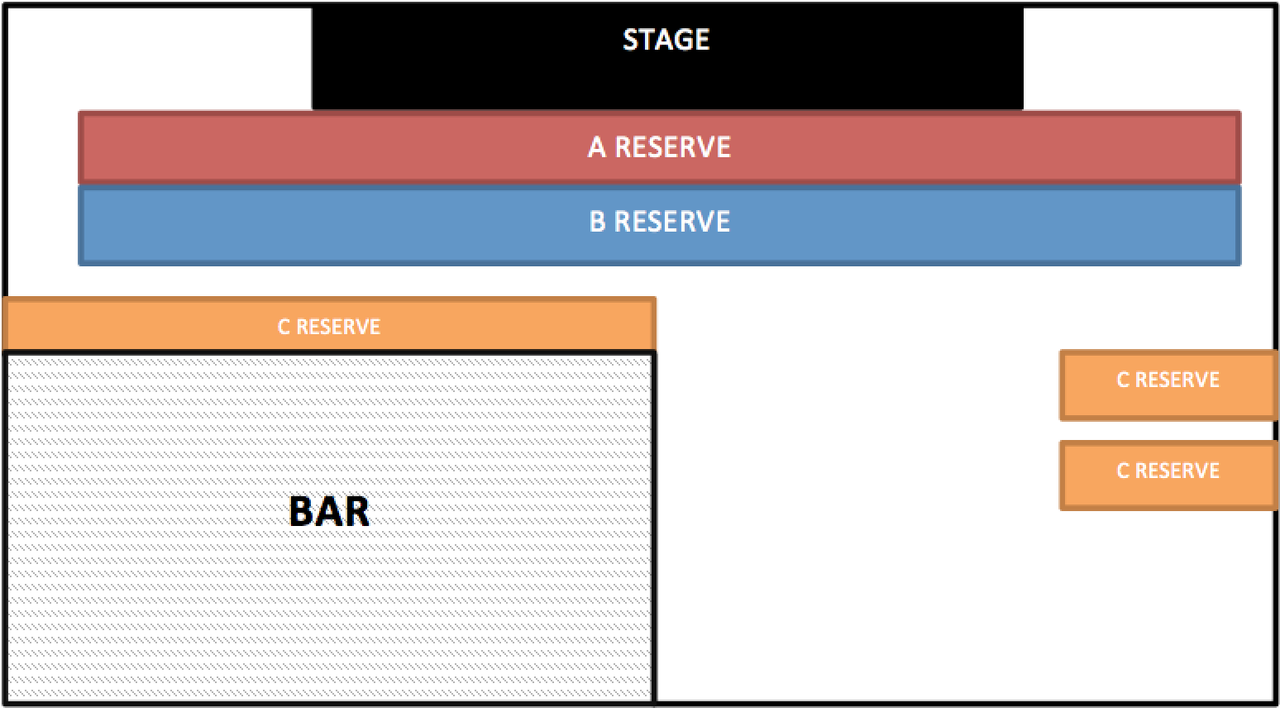 A RESERVE (INDIVIDUAL TABLE)
B RESERVE (MAY BE COMMUNAL TABLE)
C RESERVE (HIGH TABLES + STOOLS)


VENUE INFO
Over 18's only unless advertised otherwise.
All children under 18 not permitted including small children and babies.
Photo ID is essential, acceptable ID is a current and valid Australian Photo Drivers Licence or Passport
(Please check with the venue for any other acceptable forms of photo ID).
The venue reserves the right to refuse admission to any person.
Intoxicated persons will not be admitted.
No thongs or steel cap boots.
Dangerous behaviour including Crowd Surfing, Stage Diving, Moshing and Violent Dancing is not allowed and will result in your immediate removal from this venue.
Inappropriate behaviour at this venue will lead to your banning.