This event has passed and sales are now closed.
Greta Gertler Gold & Friends
6:00pm, Thu 13 September, 2018
Leadbelly
, NSW
Event Details
Greta Gertler Gold is a Brooklyn-based Australian composer, lyricist, performer and producer who writes songs that have been described as a "peculiar and exciting alchemy of accessible but avant-garde pop" - NPR.
Greta leads a band called The Universal Thump with her husband, drummer-producer, Adam D Gold. They released a double, eponymous, orchestral pop album in 2012 and 'Walking The Cat' - an EP recorded at Abbey Road Studios in 2015.
In addition to her work with the Thump, Greta is also currently working on several new, hybrid / non-traditional musicals, including a collaboration with TONY Award-winning artist, Stew (Passing Strange).
Tonight, she will be joined by a full band, including Adam D Gold (drums), Lara Goodridge (violin, vocals) and other special guest vocalists TBA performing short excerpts of her rock musical Triplight (developed at Joe's Pub, Ucross, Rhinebeck Writers Retreat, The Tank and SPACE at Ryder Farm in collaboration with Australian playwright Alexandra Collier), The Red Tree (a collaboration with playwright/lyricist Hilary Bell, based on the book by Shaun Tan and produced by the National Theatre of Parramatta in 2017) and other musicals-in-progress in concert form.
Ps. Greta also co-penned The Whitlams' hits 'Blow Up the Pokies' and 'Charlie #3' and loved hanging out in Newtown back in her Sydney Uni days.
Greta Gertler Gold featuring special guest vocalists:
JODI PHILLIS (The Clouds)
JUSTINE CLARKE
TANIA BOWRA
JAK HOUSDEN (The Whitlams)
BONNIE STEWART
BEN FINK
MOSS JOHNSTON
LUKE ESCOMBE
and more TBA


Please visit GretaGertlerGold.com for more news and info.
TICKETING INFO
This is an 18+ event.
Dinner & Show packages include entry, seating and a one course meal (main).
Some Dinner & Show Bookings may be on a communal table. Please let us know at the time of the booking as a special request should you prefer not to share, and subject to availability, we will do our best to accommodate.
DOORS OPEN AT 6PM
DINNER SERVICE COMMENCES AT 7PM
MUSIC STARTS AFTER DINNER SERVICE, AROUND 8:30PM
SET TIMES ARE SUBJECT TO CHANGE FROM SHOW TO SHOW
PLEASE NOTE THE FOLLOWING:
When General Admission Ticket sales have closed on the day of the show they may still be available at the door on the night.
Once purchased tickets are non-refundable & non-transferable
(applies to both Standing and Dinner sales)
A booking fee applies to all advance tickets. (All quoted prices include tax).
Please note: tables cannot be joined together on the evening. Please ensure everyone you wish to seat at your table is included in your booking to avoid being seated separately.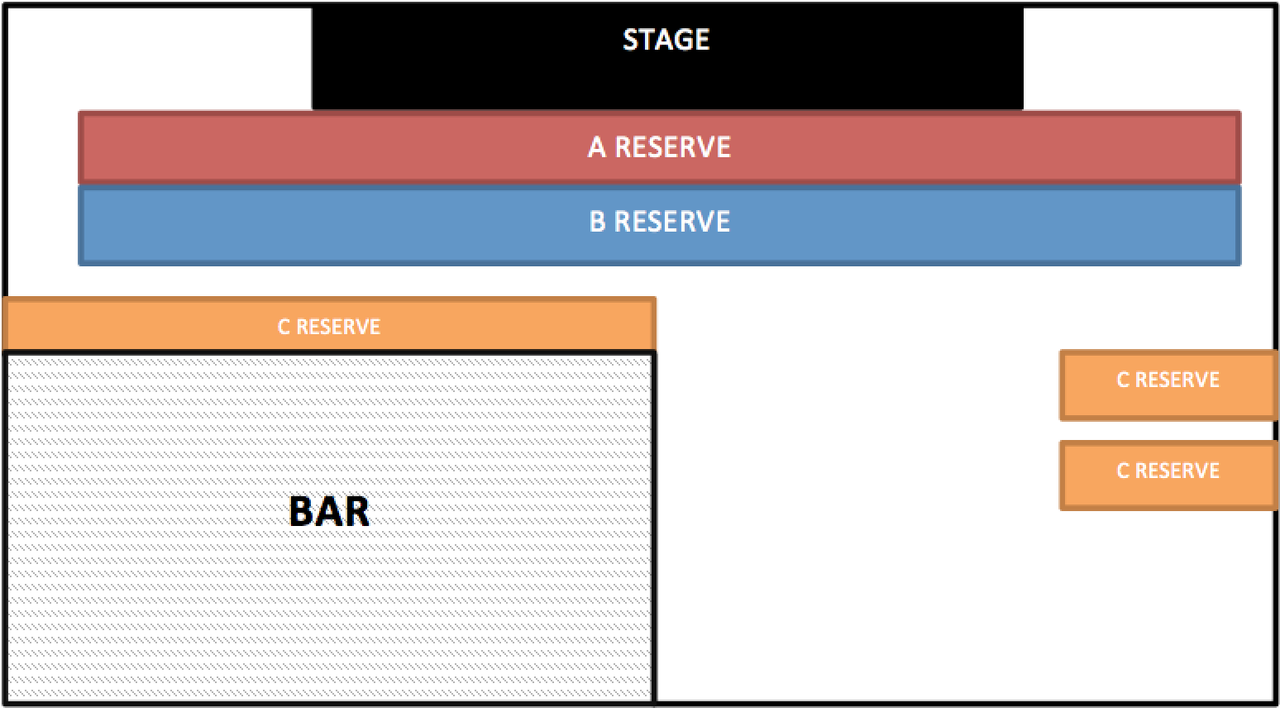 A RESERVE (INDIVIDUAL TABLE)
B RESERVE (MAY BE COMMUNAL TABLE)
C RESERVE (HIGH TABLES + STOOLS)


VENUE INFO
Over 18's only unless advertised otherwise.
All children under 18 not permitted including small children and babies.
Photo ID is essential, acceptable ID is a current and valid Australian Photo Drivers Licence or Passport
(Please check with the venue for any other acceptable forms of photo ID).
The venue reserves the right to refuse admission to any person.
Intoxicated persons will not be admitted.
No thongs or steel cap boots.
Dangerous behaviour including Crowd Surfing, Stage Diving, Moshing and Violent Dancing is not allowed and will result in your immediate removal from this venue.
Inappropriate behaviour at this venue will lead to your banning.