This event has passed and sales are now closed.
Chris Keeble – Fish out a Water Productions – The Rockumentary Series Presents
For Eva - The Eva Cassidy Story
6:00pm, Fri 7 December, 2018
Leadbelly
, NSW
Event Details
With a talented group of musicians, Lauren Dawes features in this special show, "For Eva: An Eva Cassidy Story" performing some of the great original & cover interpretations left behind by this beautiful, influential artist! An American Singer & Guitarist, Eva Marie Cassidy was well known for her interpretations of Jazz, Blues, Folk, Gospel, Country & Pop classics.
This show, "For Eva: an Eva Cassidy story" pays tribute to this wonderful artist and her beautiful interpretations of classic songs. Featuring "Fields of Gold", "Songbird", "Over The Rainbow", "People Get Ready", "Wade In The Water", "Stormy Monday" + many, many more performed by the beautiful Lauren Dawes & band, this is a show not to be missed!
About Eva:
Born in Washington D.C in 1963, she was virtually unknown outside of her home town. She officially released only two albums during her life, one of which was the popular "Live at Blues Alley" released in 1996 the same year as her untimely death.
It wasn't until the year 2000, that Eva Cassidy was bought to some world-wide attention when her version of "Over The Rainbow" was played by Terry Wogan on BBC radio 2. With such an overwhelming response, a camcorder recording of the same song was featured in Top Of The Pops 2 on BBC 2 to even greater acclaim. Shortly after this, the compilation album "Songbird" climbed to the top of the UK Album Charts, almost 3 years after its initial release!
This chart success in the UK and Ireland lead to increased recognition of Eva Cassidy's work WORLDWIDE and what followed were a series of recordings released after her death. Three of these albums became no.1 records in the UK and have sold more than 10 million copies! As an artist who has now charted top 10 positions in Australia, Germany, Sweden, Norway & Switzerland, Eva Cassidy is now proving to have a significant influence on vocalists and musicians worldwide.
TICKETING INFO
This is an 18+ event.
Dinner & Show packages include entry, seating and a one course meal (main).
Some Dinner & Show Bookings may be on a communal table. Please let us know at the time of the booking as a special request should you prefer not to share, and subject to availability, we will do our best to accommodate.
DOORS OPEN AT 6PM
DINNER SERVICE COMMENCES AT 7PM
MUSIC STARTS AFTER DINNER SERVICE, AROUND 8:30PM
SET TIMES ARE SUBJECT TO CHANGE FROM SHOW TO SHOW
PLEASE NOTE THE FOLLOWING:
When General Admission Ticket sales have closed on the day of the show they may still be available at the door on the night.
Once purchased tickets are non-refundable & non-transferable
(applies to both Standing and Dinner sales)
A booking fee applies to all advance tickets. (All quoted prices include tax).
Please note: tables cannot be joined together on the evening. Please ensure everyone you wish to seat at your table is included in your booking to avoid being seated separately.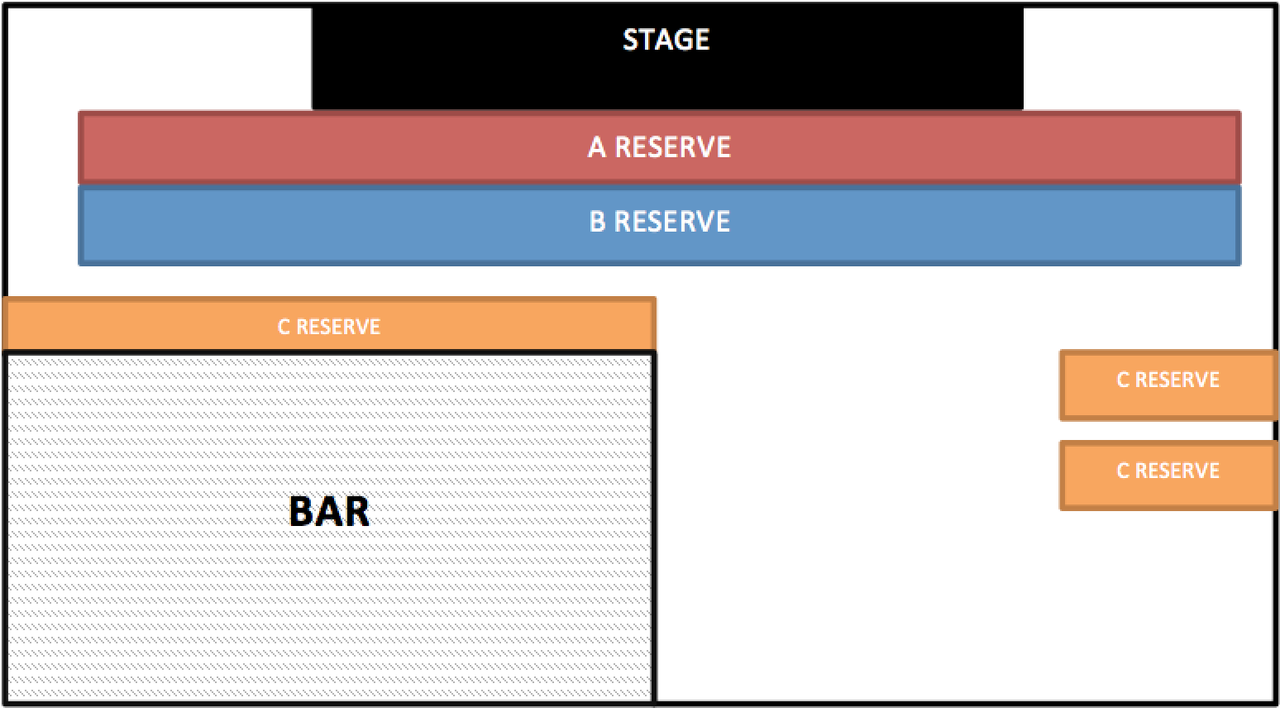 A RESERVE (INDIVIDUAL TABLE)
B RESERVE (MAY BE COMMUNAL TABLE)
C RESERVE (HIGH TABLES + STOOLS)


VENUE INFO
Over 18's only unless advertised otherwise.
All children under 18 not permitted including small children and babies.
Photo ID is essential, acceptable ID is a current and valid Australian Photo Drivers Licence or Passport
(Please check with the venue for any other acceptable forms of photo ID).
The venue reserves the right to refuse admission to any person.
Intoxicated persons will not be admitted.
No thongs or steel cap boots.
Dangerous behaviour including Crowd Surfing, Stage Diving, Moshing and Violent Dancing is not allowed and will result in your immediate removal from this venue.
Inappropriate behaviour at this venue will lead to your banning.