This event has passed and sales are now closed.
Fifty Shades of Femme Rock
6:00pm, Sat 22 September, 2018
Leadbelly
, NSW
Event Details
Fifty Shades of Femme Rock is a show celebrating the passion, grace and fire of women in rock.
Part one of the show is a celebration of the great female rock stylists from the formative 1960s and 1970s. Part two offers unique interpretations of the normally male-dominated rock of Deep Purple, one of the most popular and iconic bands of the formative Rock era and its legendary status is one of the most enduring in rock history. Try and pick out the innuendos, and what Ms. Kas has done with them!
Fifty Shades of Purple was formed in Sydney to perform the greatest hits of Deep Purple by one of the great Australian female rock singers. Fifty Shades is indeed a new experience....inclusive, engaging and always entertaining: a show of high fidelity, high excitement and a hell of a lot of fun for those who were there, those who wanted to be there and anyone who just wants the ultimate rocking experience.
Featuring:
Ms Kasey on vocals and percussion: Ms Kasey started out singing the entire Heaven and Hell LP in all 13 keys including the scratches and has recently made an album singing both parts of the K-tel blockbuster 'Nana Mouskouri does Demis Roussos' backed by The Hawaiian Ukulele Death Cult.
Brendon Venner on drums: Inspired to be a musician after being exposed to the other-worldly charm and subtle stylings of 'Barking Beatles.' Unfortunately, he was found to possess no musical talent whatsoever, so he became a drummer instead.
Glenn Ford on organ and keyboards: A great admirer of the upright organ he can usually be found banging away on it backstage. His rendition of the entire Hooked on Bach album (c. 1985) is legendary in his playing the tuba parts with his feet while stoned and/or asleep.
Marc Zovaro on guitar: As leadisimo geetaristimo, he wears mirror glasses with the mirrors on the inside. Plays some guitar when not admiring the view. Barely survived the great Marshall stack disaster of '76. Known as a skilled guitar tech, and for confusing spaghettios with arpeggios.
Paul Leventhal on bass: Began his musical journey as a guitarist in the early '80's. Unfortunately, a life-threatening lycra allergy cut short a promising career. Following several years of painful treatment, he occasionally emerged as a blues bassist, which was just as well as in the intervening time he had also contracted a chronic case of cranial alopecia deeply affecting his final tierce de Picardy.
TICKETING INFO
This is an 18+ event.
Dinner & Show packages include entry, seating and a one course meal (main).
Some Dinner & Show Bookings may be on a communal table. Please let us know at the time of the booking as a special request should you prefer not to share, and subject to availability, we will do our best to accommodate.
DOORS OPEN AT 6PM
DINNER SERVICE COMMENCES AT 7PM
MUSIC STARTS AFTER DINNER SERVICE, AROUND 8:30PM
SET TIMES ARE SUBJECT TO CHANGE FROM SHOW TO SHOW
PLEASE NOTE THE FOLLOWING:
When General Admission Ticket sales have closed on the day of the show they may still be available at the door on the night.
Once purchased tickets are non-refundable & non-transferable
(applies to both Standing and Dinner sales)
A booking fee applies to all advance tickets. (All quoted prices include tax).
Please note: tables cannot be joined together on the evening. Please ensure everyone you wish to seat at your table is included in your booking to avoid being seated separately.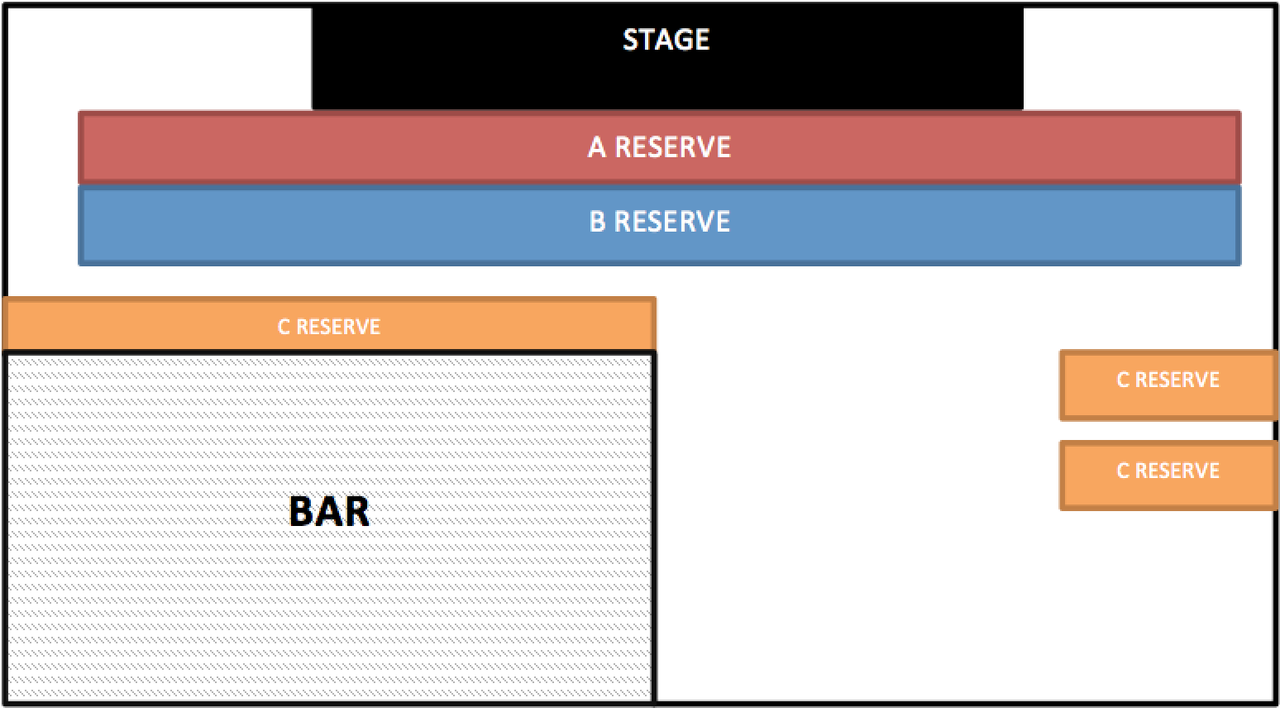 A RESERVE (INDIVIDUAL TABLE)
B RESERVE (MAY BE COMMUNAL TABLE)
C RESERVE (HIGH TABLES + STOOLS)


VENUE INFO
Over 18's only unless advertised otherwise.
All children under 18 not permitted including small children and babies.
Photo ID is essential, acceptable ID is a current and valid Australian Photo Drivers Licence or Passport
(Please check with the venue for any other acceptable forms of photo ID).
The venue reserves the right to refuse admission to any person.
Intoxicated persons will not be admitted.
No thongs or steel cap boots.
Dangerous behaviour including Crowd Surfing, Stage Diving, Moshing and Violent Dancing is not allowed and will result in your immediate removal from this venue.
Inappropriate behaviour at this venue will lead to your banning.