This event has passed and sales are now closed.
Cookin' on 3 Burners w/ Stella Angelico
6:00pm, Thu 20 September, 2018
Leadbelly
, NSW
Event Details
Australia's hardest hitting Hammond Organ trio Cookin' On 3 Burners are hitting Leadbelly for a night of sweet soul and dirty dance floor funk.
In true CO3B fashion, this show is set to be all live and full of vibe - with Ivan "Choi" Khatchoyan keeping those drum breaks tighter than a mosquito's tweeter, Jake Mason making the Hammond swell and scream and Dan West twanging his guitar like a boss.
Joining them onstage will be special guest vocalist and Lab Experiments feature artist Stella Angelico, whose smokey vocals and dynamic performances have been setting stages ablaze around the country.
Shane Murphy from Melbourne's The Daily Review described the CO3B Lab Experiments launch show as "...slick, taut and punchy..." and "...a must see... it feels like we've been transported back into a mid-60s Stax soul revue, audience sweating it out on the dance floor..." - high praise indeed!
The Craig Charles Funk and Soul Show on BBC Radio 6 bestowed some funky love for lead single Real Life Baby calling it a "Wonderful slice of bright, shimmering soul!"
New York City heavyweights Wax Poetics are feeling "... a heavy breakbeat flip of the Metallica classic 'Enter Sandman', and an action-packed video to go with it..."
French tastemakers Musiculture described the new CO3B 'Lab Experiments' album as "Timeless soul....torrid heat!"
Since its inception in 1997 Cookin' On 3 Burners has continuously evolved and branched out, bringing their strong trio sound to collaborations with a variety of artists. The 2016 meeting with French electronic wunderkind Kungs resulted in the Kungs vs Cookin' On 3 Burners version of their classic soul track "This Girl" which saw substantial chart success world-wide, reaching #1 in Europe, #2 in the UK and was the worlds most Shazamed dance track of 2016.
Get down to the future sound of yesterday with Cookin' On 3 Burners at Leadbelly.
TICKETING INFO
This is an 18+ event.
Dinner & Show packages include entry, seating and a one course meal (main).
Some Dinner & Show Bookings may be on a communal table. Please let us know at the time of the booking as a special request should you prefer not to share, and subject to availability, we will do our best to accommodate.
DOORS OPEN AT 6PM
DINNER SERVICE COMMENCES AT 7PM
MUSIC STARTS AFTER DINNER SERVICE, AROUND 8:30PM
SET TIMES ARE SUBJECT TO CHANGE FROM SHOW TO SHOW
PLEASE NOTE THE FOLLOWING:
When General Admission Ticket sales have closed on the day of the show they may still be available at the door on the night.
Once purchased tickets are non-refundable & non-transferable
(applies to both Standing and Dinner sales)
A booking fee applies to all advance tickets. (All quoted prices include tax).
Please note: tables cannot be joined together on the evening. Please ensure everyone you wish to seat at your table is included in your booking to avoid being seated separately.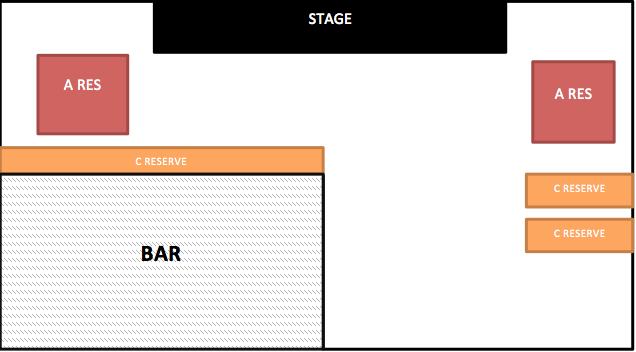 A RESERVE (INDIVIDUAL TABLE, FLOOR LEVEL)
B RESERVE (MEZZANINE LEVEL)
C RESERVE (HIGH TABLES + STOOLS)
VENUE INFO
Over 18's only unless advertised otherwise.
All children under 18 not permitted including small children and babies.
Photo ID is essential, acceptable ID is a current and valid Australian Photo Drivers Licence or Passport
(Please check with the venue for any other acceptable forms of photo ID).
The venue reserves the right to refuse admission to any person.
Intoxicated persons will not be admitted.
No thongs or steel cap boots.
Dangerous behaviour including Crowd Surfing, Stage Diving, Moshing and Violent Dancing is not allowed and will result in your immediate removal from this venue.
Inappropriate behaviour at this venue will lead to your banning.