This event has passed and sales are now closed.
70s Unplugged and Electrified
6:00pm, Sat 22 December, 2018
Leadbelly
, NSW
Event Details
Welcome back to the 1970's.
A time when cats were in the cradle, they filled up your senses, country roads took you home and the good old girls were drinking whiskey and rye.
'70s Unplugged' is a collection of the greatest hits from the coolest decade of our lives, taking you back to the days of flower power and stairways to heaven - when people built bridges over troubled waters.
Multi-award winner Stephen Fisher-King revisits his guitar-playing roots alongside fellow award-winning entertainers Chris Connolly and Jo Elms, backed by a groovy rock band, as they re-create the time when here in Australia, nothing could save the Governor General.
70's Unplugged includes the best-loved music from the greatest bands and performers of the 1970s, including America, the Eagles, Bread, Neil Young, Led Zeppelin, John Denver, Elton John, Cat Stevens, Fleetwood Mac, Carole King and The Rolling Stones.
You'll even hear duets made famous by James Taylor and Carol King which will drive you (in a Holden Kingswood) straight down Memory Lane!
This exciting show is supported by authentic, historic video footage which will transport you back to a time when you were probably still searching for a heart of gold.
TICKETING INFO
This is an 18+ event.
Dinner & Show packages include entry, seating and a two course meal (entrée & main).
Some Dinner & Show Bookings may be on a communal table. Please let us know at the time of the booking as a special request should you prefer not to share, and subject to availability, we will do our best to accommodate.
DOORS OPEN AT 6PM
DINNER SERVICE COMMENCES AT 7PM
MUSIC STARTS AFTER DINNER SERVICE, AROUND 8:30PM
SET TIMES ARE SUBJECT TO CHANGE FROM SHOW TO SHOW
PLEASE NOTE THE FOLLOWING:
When General Admission Ticket sales have closed on the day of the show they may still be available at the door on the night.
Once purchased tickets are non-refundable & non-transferable
(applies to both Standing and Dinner sales)
A booking fee applies to all advance tickets. (All quoted prices include tax).
Please note: tables cannot be joined together on the evening. Please ensure everyone you wish to seat at your table is included in your booking to avoid being seated separately.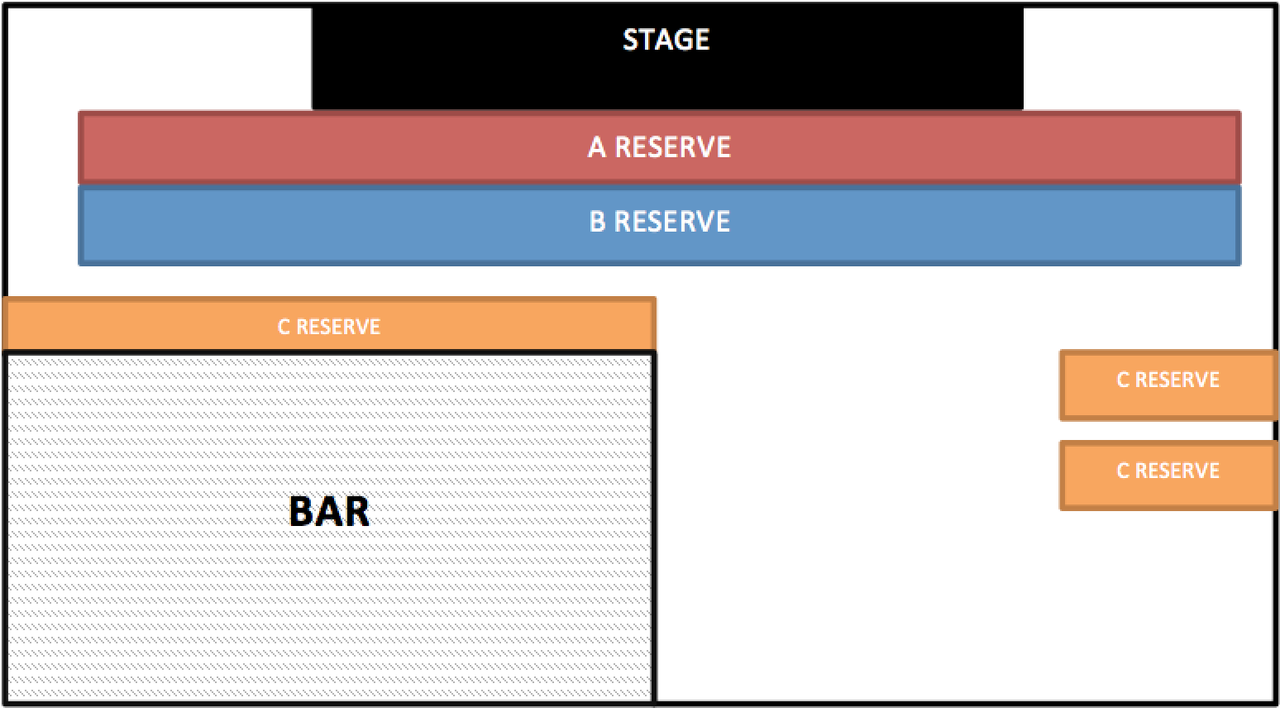 A RESERVE (INDIVIDUAL TABLE)
B RESERVE (MAY BE COMMUNAL TABLE)
C RESERVE (HIGH TABLES + STOOLS)


VENUE INFO
Over 18's only unless advertised otherwise.
All children under 18 not permitted including small children and babies.
Photo ID is essential, acceptable ID is a current and valid Australian Photo Drivers Licence or Passport
(Please check with the venue for any other acceptable forms of photo ID).
The venue reserves the right to refuse admission to any person.
Intoxicated persons will not be admitted.
No thongs or steel cap boots.
Dangerous behaviour including Crowd Surfing, Stage Diving, Moshing and Violent Dancing is not allowed and will result in your immediate removal from this venue.
Inappropriate behaviour at this venue will lead to your banning.