This event has passed and sales are now closed.
Ladies Sing The Blues
6:00pm, Sat 3 November, 2018
Leadbelly
, NSW
Event Details
Ladies Sing The Blues features some of the best female blues singers on the scene .
Five incredible women performing there own take on the blues with a very talented band of musicians. Indigenous icon and blues diva Marlene Cummins headlines this deadly night of Ladies Sing The Blues at the perfect venue for blues, Leadbelly in Newtown.
Marlene Cummins
Born in the southwest town of Cunnamulla, Marlene's traditional people on her Father's side are Guguyelandji, and Woppaburra on her Mother's side. Growing up amidst the Aboriginal Protection Act of the 1950s, Marlene was raised with a very political 'grassroots' upbringing.
By the time she met the leader of the Black Panther Party, Marlene, still a teenager already bore the scars of discrimination and institutionalised racism. Drawn to the party's potent mix of militant, community-focused black power, Marlene became a member of the first and only Australian Black Panther Party. However, as an Aboriginal woman, Marlene continued to endure hardship, discrimination and abuse, even from within her own community.
Marlene has maintained an outspoken stance on political issues committed against Aboriginal people but she prefers to maintain this struggle through her artistic expression in music and art.
Marlene Cummins is Australia's foremost Indigenous female blues writer and performer. Marlene knows the blues from an Aboriginal woman's perspective in this country and her story is one of vulnerability, strength and survival.
Marlene refined her skills as a blues saxophonist and songwriter at the Berklee College of Music in Boston in the mid-90s. She continues to busk a few times a week as she finds this helps her to maintain and develop her feel as a musician.
In addition to her musical talent, Marlene has been regular broadcaster on Koori Radio for years with her renowned blues show, 'Marloo's Blues', Marlene won Broadcaster of the Year at the Deadly Awards in 2009.
In 2014 Marlene released her first full-length album, Koori Woman Blues to coincide with the premiere of her film BLACK PANTHER WOMAN.
Ali Penny
Ali Penney and The Money Makers formed in late 2009 and instantly won the NSW Blues Challenge, and represented the Sydney Blues Society at the International Blues Challenge in Memphis, USA 2010. Ali Penney and The Moneymakers won Band of the Year in the 2010 Australian Blues Music Awards and Ali won Female Artist of the Year in 2012.

In 2014, Australia's "Blues Sweetie", Ali Penney and her band The Money Makers won 4 awards in the Australian Blues Music Awards. They swept the 2014 Chain Awards picking up Band of the Year, Album of the Year for And On It Goes, Best Female Vocal and Ali shared the Producer of the Year Award with And On It Goes co-producer Phil Punch. And if that wasn't enough, Ali has just toured with US West Coast harmonica supremo Lynwood Slim and Brazilian guitar ace Igor Prado on their recent Australian dates.
Bonnie Kay and the Bonafides
Here is a unique sort of soulful and sassy package of blues and roots: Open it! Bonnie Kay, a contemporary American singer/songwriter from Philly who landed in Australia via Tokyo, uses acoustic, finger-picking, slide-guitar techniques, plus a voice reminiscent of blues icon Bonnie Raitt's, to deliver her own red-hot, sexy sound.
Bonnie Kay and the Bonafides have performed with some of the best blues bands in Sydney and released there debut album in Jan 2018 which spent three months in the top ten and five months in the Australian Blues and Roots Charts. Bonnie Kay and the Bonafides have also performed at some amazing festivals..
Sydney Blues and Roots Festival - Windsor 2016 / 2017, Docklands Blues Festival - Melbourne 2017, Northern Beaches Festival - Narrabeen 2017, Australian Blues Festival - Goulburn 2018, Agnes Water Blues, Roots and Rock Festival - Nth Queensland 2018, Kiama Jazz and Blues Festival - Kiama 2018, Jamberoo music festival - Jamberoo 2018, Echuca Winter Blues Festival - Victoria 2018.
Whisky Empire
Whiskey Empire is a Sydney based blues band. The brainchild of guitar wizard John Hardaker, his aim was to bring together groovy people to create a lean, mean blues machine. Fronted by the seriously talented Leslea Clements & Shannon Carswell, the band has been wowing local audiences since 2016. The group's completed by Michael Wheatley on keys, Serg Coniglione on bass and Rebecca Clarke on drums.
TICKETING INFO
This is an 18+ event.
Dinner & Show packages include entry, seating and a one course meal (main).
Some Dinner & Show Bookings may be on a communal table. Please let us know at the time of the booking as a special request should you prefer not to share, and subject to availability, we will do our best to accommodate.
DOORS OPEN AT 6PM
DINNER SERVICE COMMENCES AT 7PM
MUSIC STARTS AFTER DINNER SERVICE, AROUND 8:30PM
SET TIMES ARE SUBJECT TO CHANGE FROM SHOW TO SHOW
PLEASE NOTE THE FOLLOWING:
When General Admission Ticket sales have closed on the day of the show they may still be available at the door on the night.
Once purchased tickets are non-refundable & non-transferable
(applies to both Standing and Dinner sales)
A booking fee applies to all advance tickets. (All quoted prices include tax).
Please note: tables cannot be joined together on the evening. Please ensure everyone you wish to seat at your table is included in your booking to avoid being seated separately.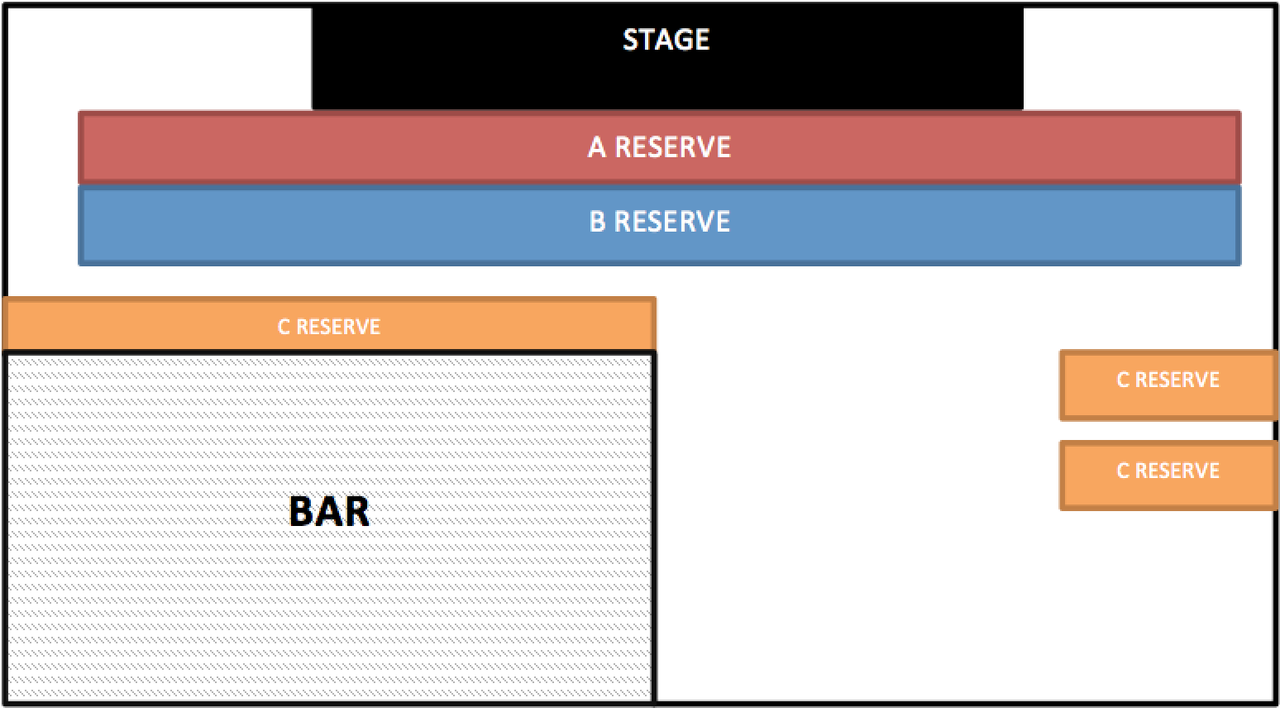 A RESERVE (INDIVIDUAL TABLE)
B RESERVE (MAY BE COMMUNAL TABLE)
C RESERVE (HIGH TABLES + STOOLS)


VENUE INFO
Over 18's only unless advertised otherwise.
All children under 18 not permitted including small children and babies.
Photo ID is essential, acceptable ID is a current and valid Australian Photo Drivers Licence or Passport
(Please check with the venue for any other acceptable forms of photo ID).
The venue reserves the right to refuse admission to any person.
Intoxicated persons will not be admitted.
No thongs or steel cap boots.
Dangerous behaviour including Crowd Surfing, Stage Diving, Moshing and Violent Dancing is not allowed and will result in your immediate removal from this venue.
Inappropriate behaviour at this venue will lead to your banning.