This event has passed and sales are now closed.
Katie J White (WA) with support by Adam Blacksmith
6:00pm, Fri 21 September, 2018
Leadbelly
, NSW
Event Details
Originally from Denmark WA, Katie's music has taken her as far as London. Renowned in the West for her incredible voice and song writing, she is a multi WAMI award winner and at age 24, she is already a true a veteran of the WA music scene.
This year she is playing over 55 shows across the country and will be stopping in at Leadbelly to pour her heart out, share her award winning lyrics, and sing songs that will warm your heart and stir your soul.
- - - - -
Katie J White took out the 2016 West Australian Music Industry (WAMI) Song Of The Year Award for the Blues and Roots category with her song 'River'. 'Warrior', another track of her EP, was also nominated last year, following a double nomination in 2015 with her song 'Gypsy'. This makes three out of five tracks on her third EP WAMI nominated. In January 2017 her 4th album, 'Red Cloud' was released.
Originally from Denmark WA, Katie's music has taken her as far as London and she has played nearly every venue in WA from Albany to Broome. With her band, Katie has played at all the main folk festivals in WA, included full house performances at Western Australia's renowned Fairbridge Festival, Nukara Music Festival, Nannup Music Festival and Perth International Arts Festival.
Katie plays in a duo with her partner Daniel Hearn, a tasteful and impressive guitarist. Together they play folk/roots toning it up or down to suit the venue. Their repertoire is extensive featuring many classics and songs everyone loves, across a wide age group. They also play their own original songs, showcasing Katie's voice which she has become renowned for in the West. Katie's original songs are always deeply poetic and melodically moving.
TICKETING INFO
This is an 18+ event.
Dinner & Show packages include entry, seating and a one course meal (main).
Some Dinner & Show Bookings may be on a communal table. Please let us know at the time of the booking as a special request should you prefer not to share, and subject to availability, we will do our best to accommodate.
DOORS OPEN AT 6PM
DINNER SERVICE COMMENCES AT 7PM
MUSIC STARTS AFTER DINNER SERVICE, AROUND 8:30PM
SET TIMES ARE SUBJECT TO CHANGE FROM SHOW TO SHOW
PLEASE NOTE THE FOLLOWING:
When General Admission Ticket sales have closed on the day of the show they may still be available at the door on the night.
Once purchased tickets are non-refundable & non-transferable
(applies to both Standing and Dinner sales)
A booking fee applies to all advance tickets. (All quoted prices include tax).
Please note: tables cannot be joined together on the evening. Please ensure everyone you wish to seat at your table is included in your booking to avoid being seated separately.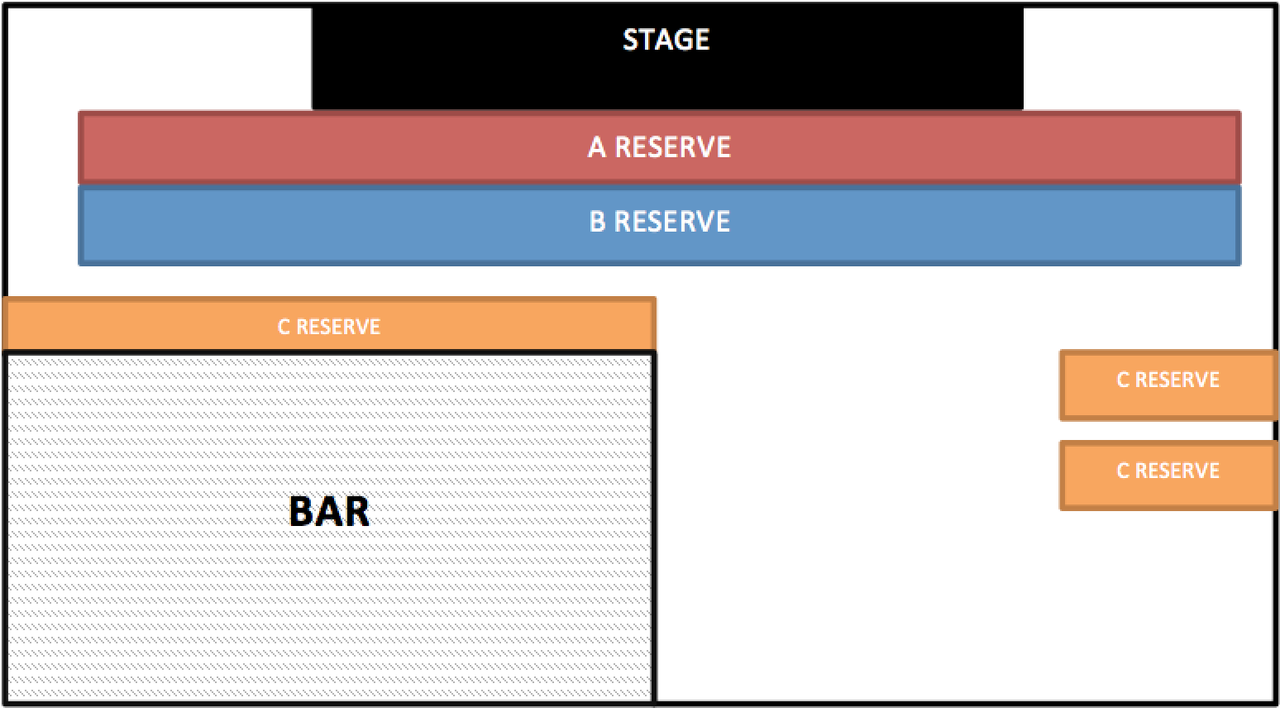 A RESERVE (INDIVIDUAL TABLE)
B RESERVE (MAY BE COMMUNAL TABLE)
C RESERVE (HIGH TABLES + STOOLS)


VENUE INFO
Over 18's only unless advertised otherwise.
All children under 18 not permitted including small children and babies.
Photo ID is essential, acceptable ID is a current and valid Australian Photo Drivers Licence or Passport
(Please check with the venue for any other acceptable forms of photo ID).
The venue reserves the right to refuse admission to any person.
Intoxicated persons will not be admitted.
No thongs or steel cap boots.
Dangerous behaviour including Crowd Surfing, Stage Diving, Moshing and Violent Dancing is not allowed and will result in your immediate removal from this venue.
Inappropriate behaviour at this venue will lead to your banning.