This event has passed and sales are now closed.
Imogen Clark 'Late Night Girl Tour'
6:00pm, Sat 8 September, 2018
Leadbelly
, NSW
Event Details
When an artist first emerges at a young age, they often have a limited well of knowledge and experience to draw from, yet on her sophomore album Collide, Imogen Clark tackles, with great clarity, the tumultuous process of entering adulthood, the joys and challenges of learning about yourself, those around you, and your place in the world, and the duality of emotion that is the undercurrent of so many of life's experiences.
Collide was produced by Australian legend Mark Lizotte (Diesel) and has already become one of the most talked about albums of 2018, charting at #4 on the ARIA Australian Country Albums chart, only topped by industry giants Kasey Chambers and Keith Urban. At the age of 23, Imogen has already realised a wealth of personal goals. From performing at the iconic Bluebird Cafe in Nashville, signing with Lost Highway Records/Universal Music Australia (Shane Nicholson, Adam Eckersley Band, Catherine Britt), receiving multiple CMC Award nominations, including Best New Artist, Best Video, and Female Artist of the Year in 2018, and having four consecutive singles reach #1 on the CMC Top 50 chart. That industry acknowledgement and respect from her peers has led to high profile tours/shows with artists such as Diesel, Ian Moss, Daryl Braithwaite, Willie Watson and Shane Nicholson. She has also earned an abundance of songwriting and studio work credits, having co-written two songs on Kasey Chambers' ARIA Award winning #1 album Dragonfly, and recorded backing vocals on Shane Nicholson's Golden Guitar award winning Love & Blood record.
The range and conviction within Imogen's songwriting and live performances will continue to capture the hearts and minds of new fans as the bruised, honest and ultimately optimistic songs of Collide make their way into the world.
TICKETING INFO
This is an 18+ event.
Dinner & Show packages include entry, seating and a one course meal (main).
Some Dinner & Show Bookings may be on a communal table. Please let us know at the time of the booking as a special request should you prefer not to share, and subject to availability, we will do our best to accommodate.
DOORS OPEN AT 6PM
DINNER SERVICE COMMENCES AT 7PM
MUSIC STARTS AFTER DINNER SERVICE, AROUND 8:30PM
SET TIMES ARE SUBJECT TO CHANGE FROM SHOW TO SHOW
PLEASE NOTE THE FOLLOWING:
When General Admission Ticket sales have closed on the day of the show they may still be available at the door on the night.
Once purchased tickets are non-refundable & non-transferable
(applies to both Standing and Dinner sales)
A booking fee applies to all advance tickets. (All quoted prices include tax).
Please note: tables cannot be joined together on the evening. Please ensure everyone you wish to seat at your table is included in your booking to avoid being seated separately.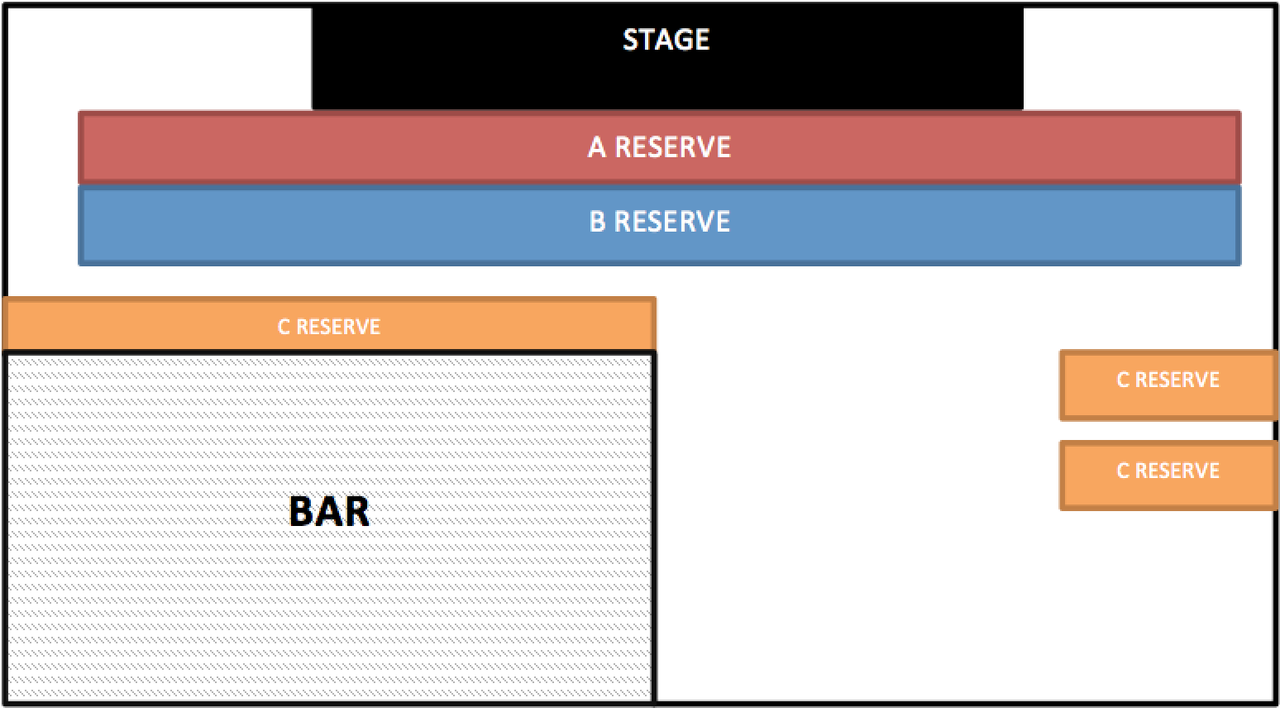 A RESERVE (INDIVIDUAL TABLE)
B RESERVE (MAY BE COMMUNAL TABLE)
C RESERVE (HIGH TABLES + STOOLS)


VENUE INFO
Over 18's only unless advertised otherwise.
All children under 18 not permitted including small children and babies.
Photo ID is essential, acceptable ID is a current and valid Australian Photo Drivers Licence or Passport
(Please check with the venue for any other acceptable forms of photo ID).
The venue reserves the right to refuse admission to any person.
Intoxicated persons will not be admitted.
No thongs or steel cap boots.
Dangerous behaviour including Crowd Surfing, Stage Diving, Moshing and Violent Dancing is not allowed and will result in your immediate removal from this venue.
Inappropriate behaviour at this venue will lead to your banning.