Gerry Joe Weise Blues Band- Cancelled
6:00pm, Thu 21 June, 2018
This event is currently unavailable and tickets are not for sale at this point in time.
Event Details
The Gerry Joe Weise blues band, in mid year will be releasing their 11th album titled "Live and Lost in the Netherlands", released by Blues Breaking Records in Chicago USA, and available to over 170 countries.
Gerry Joe Weise blues guitarist, singer and songwriter was born in Sydney. He has toured Australia, the USA, Europe, Poland, Russia, Hawaii, Tahiti, Fiji, Polynesia, the Azores Isles, Scandinavia and New Zealand. Throughout his many tours, he has jammed with B.B. King, John Lee Hooker, Eric Clapton, Albert Collins and Noel Redding. Juma Sultan (ex Jimi Hendrix) has recently been a band member for European and USA Festivals. He has released 11 albums and 3 singles with Blues Breaking Records in Chicago, Illinois, USA.
2018 album "Live and Lost in the Netherlands" (released to over 170 countries), the new live album recorded in Holland.
2017 album "Laon Blues Festival", recorded live in France.
2016 album "Blues Gone Wild", voted number 1 Best Australian Blues Rock Album at the Australian Blues Rock Magazine.
2016 single "Blue Concerto for Orchestra (Slide Guitar and Violin)", Gerry Joe Weise (composer) plays guitar, violin and piano; recorded in Sydney with the St Peters Orchestra and Choir.

The Gerry Joe Weise blues band, has Ian Chisholm on bass, and Craig Whitaker on drums.

Gerry Joe Weise blues band links:
Blues https://www.sites.google.com/site/gerryjoeweise
EPK http://www.gerryjoeweise.com/epk-blues-band.html
Video https://www.facebook.com/video.php?v=1160493954019403
Albums https://www.sites.google.com/site/gerryjoeweise/music
Website http://www.gerryjoeweise.com/blues-music.html
Facebook https://www.facebook.com/gerry.joe.weise
Reverbnation https://www.reverbnation.com/gerryjoeweise
TICKETING INFO
This is an 18+ event.
Dinner & Show packages include entry, seating and a one course meal (main).
Some Dinner & Show Bookings may be on a communal table. Please let us know at the time of the booking as a special request should you prefer not to share, and subject to availability, we will do our best to accommodate.
DOORS OPEN AT 6PM
DINNER SERVICE COMMENCES AT 7PM
MUSIC STARTS AFTER DINNER SERVICE, AROUND 8:30PM
SET TIMES ARE SUBJECT TO CHANGE FROM SHOW TO SHOW
PLEASE NOTE THE FOLLOWING:
When General Admission Ticket sales have closed on the day of the show they may still be available at the door on the night.
Once purchased tickets are non-refundable & non-transferable
(applies to both Standing and Dinner sales)
A booking fee applies to all advance tickets. (All quoted prices include tax).
Please note: tables cannot be joined together on the evening. Please ensure everyone you wish to seat at your table is included in your booking to avoid being seated separately.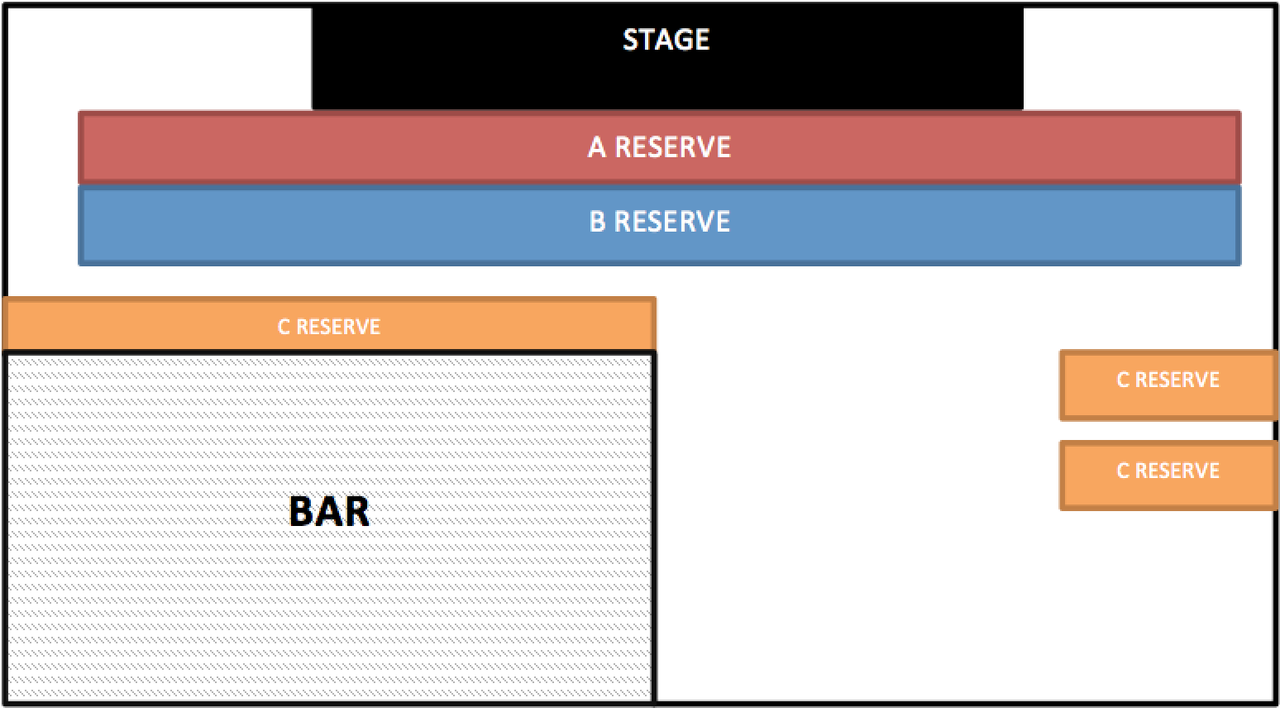 A RESERVE (INDIVIDUAL TABLE)
B RESERVE (MAY BE COMMUNAL TABLE)
C RESERVE (HIGH TABLES + STOOLS)


VENUE INFO
Over 18's only unless advertised otherwise.
All children under 18 not permitted including small children and babies.
Photo ID is essential, acceptable ID is a current and valid Australian Photo Drivers Licence or Passport
(Please check with the venue for any other acceptable forms of photo ID).
The venue reserves the right to refuse admission to any person.
Intoxicated persons will not be admitted.
No thongs or steel cap boots.
Dangerous behaviour including Crowd Surfing, Stage Diving, Moshing and Violent Dancing is not allowed and will result in your immediate removal from this venue.
Inappropriate behaviour at this venue will lead to your banning.
Other events you may like