Greenstone Announces Massive International Lineup For Summer 2023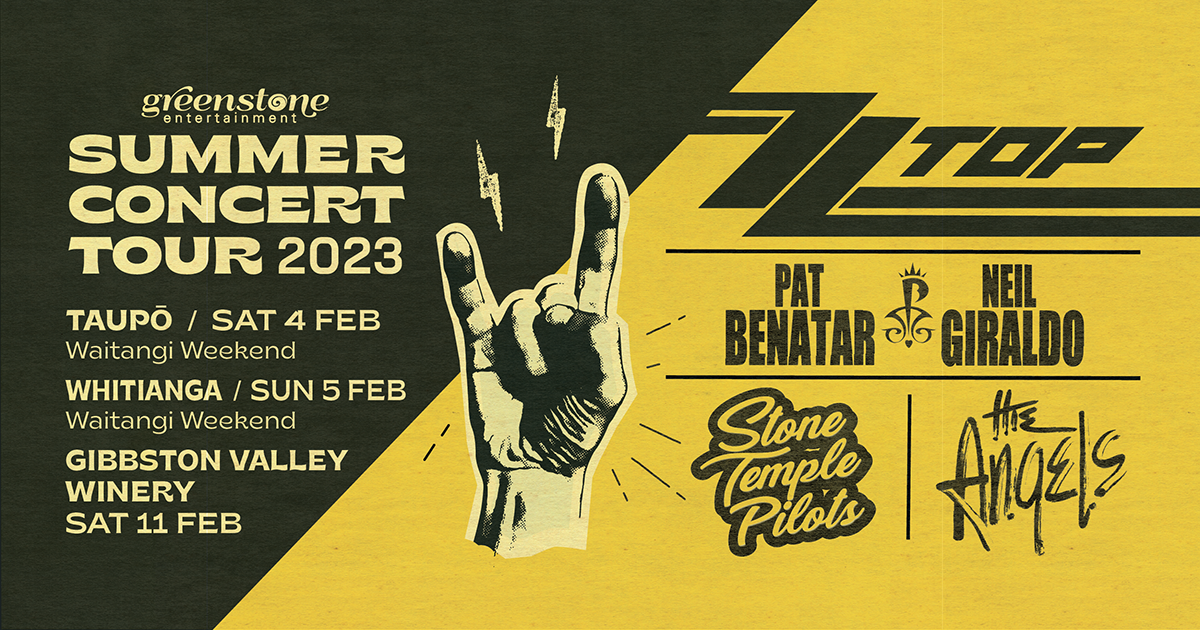 The team at Greenstone Entertainment are super excited that the Summer Concert Tour is back for 2023, announcing the huge lineup of international acts who will be taking centre stage in February next year!
Four fantastic international acts will star at the Gibbston Valley Winery Summer Concert, Taupo Summer Concert and Whitianga Summer Concert in February; ZZ Top, Pat Benatar & Neil Giraldo, Stone Temple Pilots and The Angels.

Tickets to Greenstone's Summer Concert Tour 2023 are on sale now!
Greenstone Entertainment - Summer Concert Tour 2023
Sat 4 Feb - Sat 11 Feb 2023
Sat 4 Feb 2023 | Taupo Amphitheatre, Taupo
Sun 5 Feb 2023 | Whitianga Waterways Arena, Whitianga
Sat 11 Feb 2023 | Gibbston Valley Winery, Queenstown
HERE'S EVERYTHING YOU NEED TO KNOW
When and where do tickets go on sale?
Tickets are on sale now!
How do I sign up or login to my Moshtix account?
Click here: https://www.moshtix.co.nz/v2/account/login
I'm a Club member and have forgotten my email or password.
If you have already registered with Moshtix and have forgotten your password, click here to reset your password.
If you haven't created a Moshtix account yet, click here to Sign Up today.
If you have forgotten the email you have used, click here to contact Moshtix support.
What payment options are available?
Moshtix accepts all major credit cards. Want to pay in instalments? You can now Buy Now, Pay Later over 10 weekly payments with Genoapay. Find out more via the Genoapay website.
TIPS FOR SECURING TICKETS TO SUMMER CONCERT SERIES 2023
Make sure you have a Moshtix account. If you don't have a Moshtix Account, then make sure you sign up in advance HERE.

You may find yourself in the Moshtix "Green Room" when tickets go on sale. Once you're in there, don't hit the refresh button - sit tight and you'll be directed through to the ticket page when it's your turn!

For the most efficient checkout, make sure you are signed up and logged in to Moshtix ahead of time, with your attendee names and payment information ready to enter.

Please note if you see allocation exhausted messaging on the ticket type you are looking to purchase, that means no tickets are available.

Once your transaction is processed you will receive a confirmation email from Moshtix. Please note, during each on sale there may be a delay of a couple hours before it is sent - but don't fret! If you reached a confirmation page, your tickets are secured. You can also log into your Moshtix account and see your order in your Manage Tickets section at any time.

Haven't received a confirmation email? Don't forget to check your junk inbox. If all else fails, please get in contact with our fan experience team via our tixsupport portal HERE.
FOR MORE BREAKING NEWS CLICK HERE