This event has passed and sales are now closed.
Moussa Diakite and Wassado present 100% Afro-Groove
6:00pm, Fri 22 February, 2019
Event Details
Having delighted Mullum Music Festival, WOMADelaide, Sydney Vivid Festival and Bello Winter Music, Malian guitar legend Moussa Diakite and his exciting five-piece band Wassado will be performing at The Vanguard for the first time. Fusing West African tradition with blues, jazz, Cuban and Afro-rock this is Afro-groove, a dynamic high energy mix that is mesmerizing, sophisticated and irresistible on the dance floor.
- - - - - - - - -
Moussa Diakite & Wassado play modern Malian music inspired by the rich musical traditions of his West African homeland.
Moussa Diakite emerged from the golden era of Malian music in the 1970s & 80s as one of its most influential and respected lead guitarists performing with the seminal Super Rail Band de Bamako, the legendary Toumani Diabate's Yanga Orchestra and the internationally acclaimed voice of Africa Salif Keita, before migrating to Australia.
Since that time Moussa has been an influential force in the Australian African music scene performing with Badema (The brothers), the Afro Jazz, Keyim Ba, Chosani Afrique as well as Oumou Sangare at the Sydney Opera House.
Moussa returned to Mali in 2014 to record new album, Doncomodja at the legendary Studio Yeelen with some of Mali's finest musicians and contemporaries including; Djelimady Tounkara, Cheick Tidiane Seck, Kasse Mady Diabate recent Grammy award nominee Bassekou Kouyate and multi-Grammy award winning kora player, Toumani Diabate. The result is a highly acclaimed tour de force as "Diakit re-emerges as humble torchbearer, unsung hero and ambassador for Malian culture".
Moussa Diakite and his exciting Sydney based band Wassado featuring Philippe Lincy, Junior Jones, Len Samperi and Patricia Alvarez are now a feature on the Australian Festival circuit with recent standout performances at the Mullum Music Festival, WOMADelaide and Bello Winter Music Festival. They will be performing tracks from Doncomodja, fusing traditional Malian styles with blues, jazz, Cuban and Afro-rock into a unique "Afro-groove". This is a dynamic mix that is mesmerizing, sophisticated and irresistible on the dance floor.
- - - - - - - - -
"Brilliant, Unique, Inspired - Four Stars!" - Tony Hillier, The Australian
"One of the finest guitarists I've ever heard" - Lloyd Bradford Syke, Australian Stage
"Doncomodja is an upbeat and exceptional album" - Richard Giles, Nexus Magazine
For more info please go to: www.moussamusic.com
Please enjoy our new video clip here: https://www.youtube.com/watch?v=6ykZYOT2OIY
TICKETING INFO
This is an 18+ event.
Dinner & Show packages include entry, seating and a one course meal (main).
Some Dinner & Show Bookings may be on a communal table. Please let us know at the time of the booking as a special request should you prefer not to share, and subject to availability, we will do our best to accommodate.
DOORS OPEN AT 6PM
DINNER SERVICE COMMENCES AT 7PM
MUSIC STARTS AFTER DINNER SERVICE, AROUND 8:30PM
SET TIMES ARE SUBJECT TO CHANGE FROM SHOW TO SHOW
PLEASE NOTE THE FOLLOWING:
When General Admission Ticket sales have closed on the day of the show they may still be available at the door on the night.
Once purchased tickets are non-refundable & non-transferable
(applies to both Standing and Dinner sales)
A booking fee applies to all advance tickets. (All quoted prices include tax).
Please note: tables cannot be joined together on the evening. Please ensure everyone you wish to seat at your table is included in your booking to avoid being seated separately.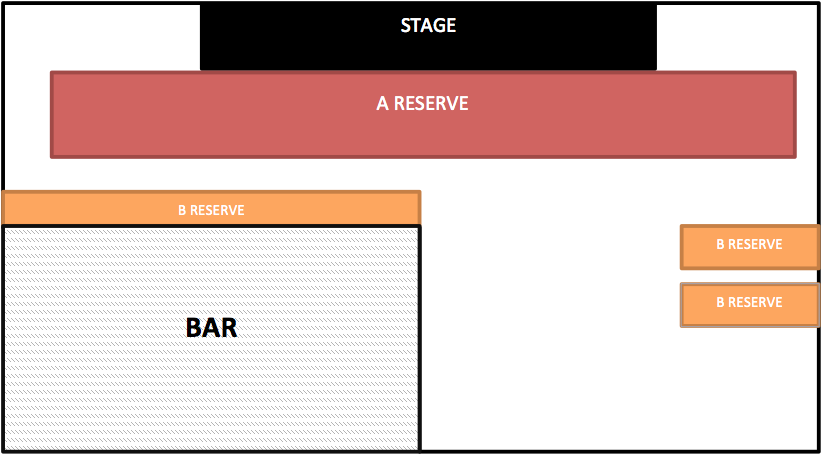 A RESERVE (INDIVIDUAL TABLE)
B RESERVE (MAY BE COMMUNAL TABLE)
C RESERVE (HIGH TABLES + STOOLS)


VENUE INFO
Over 18's only unless advertised otherwise.
All children under 18 not permitted including small children and babies.
Photo ID is essential, acceptable ID is a current and valid Australian Photo Drivers Licence or Passport
(Please check with the venue for any other acceptable forms of photo ID).
The venue reserves the right to refuse admission to any person.
Intoxicated persons will not be admitted.
No thongs or steel cap boots.
Dangerous behaviour including Crowd Surfing, Stage Diving, Moshing and Violent Dancing is not allowed and will result in your immediate removal from this venue.
Inappropriate behaviour at this venue will lead to your banning.