ROOM 680, MYKONOSXPERIENCE, SUBLIME & PRIVILEGE ENTERTAINMENT, ROOFTOP MUSIC
OFFICIAL SHADES OF GREY PARTY

Tickets

9:00pm, Fri 10 May, 2013 - 6:00am, Sat 11 May, 2013
Room 680, VIC
This event has passed and sales are now closed
Event Details
Exclusive to Room 680, for one night only, Introducing the first party of its kind, "official SHADES OF GREY PARTY" Over 2 rooms of HOUSE & RnB Feat massive international ACT + A huge line of Melbourne's Best DJs...
Official SHADES OF GREY PARTY | The launch of the first party of its kind a GLITZ & GLAM night like no other...

SHADES OF GREY is an Event dedicated to the all the beautiful and sophisticated women of the world, and their power to drive the male species insane with desire. On this night only, the imagery, the dancing, the women, the music, and the sensual energy of the sound will come together to create the art of seduction, and the ultimate fantasy for woman and man.

Exclusive to Room 680, for one night only, Melbourne's highly demanded DJs are united together with a Superstar International guest DJ direct from the USA/FRANCE to give you an experience of a life time.

Featuring DJ's..
Richard Grey (USA/FRANCE) Pacha, Big Bang MIAMI, Ministry of Sound, Subliminal

Dean Paps | Steve Bleas | James Belias | Mr Stoj | Henrique Santos | Nick Van Wilder
Dimitraxx | Micky Flo | Johnny Blade | Conee | Adrian K | Balla | Denssal

DRESS CODE: Smart Sophisticated/Sexy ' Black or White or any Shades of Grey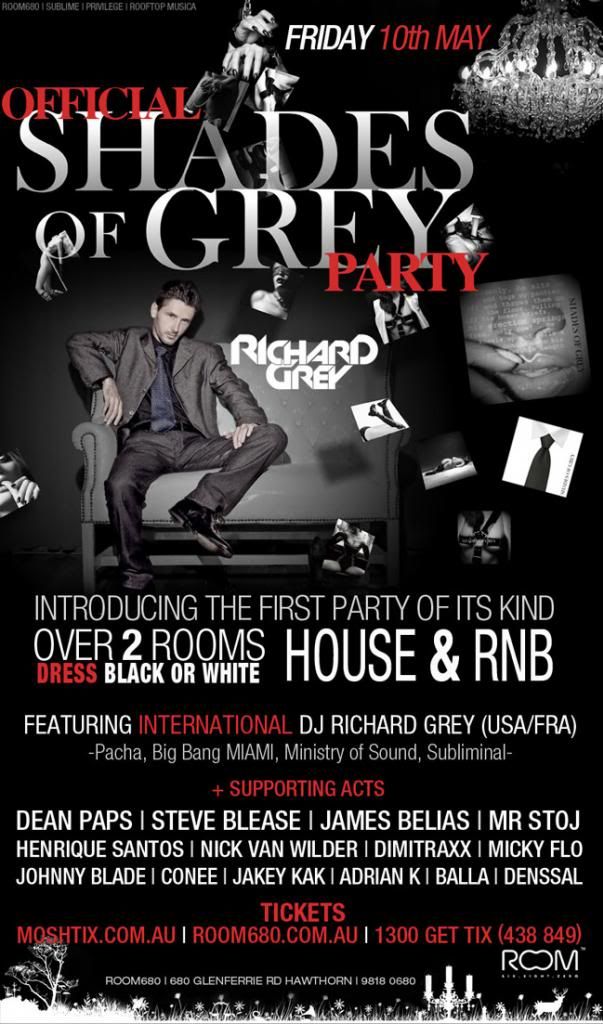 Other events you may like
Vivid Sydney At Taronga Zoo
|
Subscribe to the weekly moshguide!