Take Five: 5 Underrated Songs By The Doors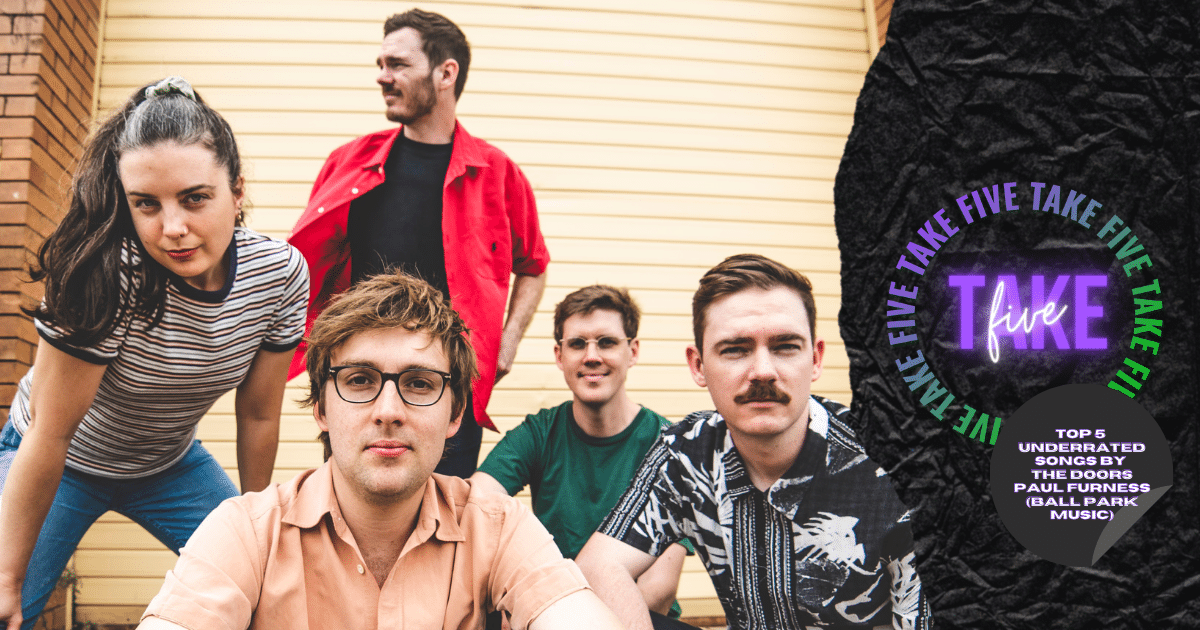 It's been 50 years since iconic American rockers The Doors released their fifth studio album 'Morrison Hotel'. In celebration of the anniversary, we sat down with Ball Park Music's Paul Furness to uncover his top five underrated songs by The Doors.
Crystal Ship
Crystal Ship features on The Doors' debut album released in 1967 and is often overlooked for more well-known tunes off the album like Break On Through and Light My Fire. Jim shows off his rich baritone voice as it soars above the beautiful chords underneath, proving that he's more than just your average Rock singer. I'm not sure whether the song is a metaphor for his drug-taking or simply a love song, but it provokes powerful imagery and leaves you feeling mournful, optimistic, sombre and content all at the same time.
Five To One
This tune was commonly found in The Doors' setlists but the recorded version on their album Waiting for the Sun isn't given the praise and airplay it deserves. The four and a half minute song stays on the simple one-chord riff the entire time, leaving Jim plenty of room to emulate what he would do live on stage. He's drunk as a skunk in the recording and he increasingly becomes more manic and deranged as the band goes along with him to create what is quite an unsettling but rockin' song.
Indian Summer
This track is on my favourite Doors album Morrison Hotel. They apparently never played the song live as they thought it would sound insignificant compared to their regular live song 'The End' which has a similar guitar riff. As good as The End is, I couldn't disagree more with them as Indian Summer does more for me in a fraction of the time. It's relatively simple lyrically but the recording is warm and powerful and gives me goosebumps every time I hear it. Guitarist Robby Krieger bungles a few notes of the delicate riff at some point which for me makes it all the more authentic. It sends me to my happy place.
Queen of the Highway
This is the next track on Morrison Hotel after Indian Summer. I admittedly have a bias towards songs that heavily feature keyboards, and this one relies on Manzarek's Tremolo Rhodes to drive it over some really interesting chord changes. At around the halfway point, the song suddenly changes to a slower, carefree swinging groove for a couple of bars before seamlessly transitioning back to the original feel. The fact that they threw in the comical sounding bridge in the middle of a song about Jim's relationship woes epitomises their propensity to just do what they feel like, which is such a large part of their charm.
Cars Hiss By My Window
This tune is a classic blues number on their last album L.A. Woman. The performance is incredibly relaxed and it forces you to take a deep breath and slow down for a few minutes. After they play through the long blues progression a few times they riff on the one chord for a while and I could just listen to them play that riff forever - it makes you feel like you have all the time in the world. Instead of having a typical guitar or keys solo at the end, Jim impersonates a harmonica solo with his voice and it's quite impressive - sometimes I forget that it's him faking a harmonica and not the real thing!
Catch Paul alongside the rest of the band members of Ball Park Music at iconic Brisbane venue The Triffid this October/November as they celebrate the release of their self-titled LP.
Ball Park Music - The Residency
Fri 23 Oct - Thu 29 Oct @ The Triffid, Brisbane, QLD


FOR MORE BREAKING NEWS CLICK HERE