WOMAN - It's a Mother of a Cabaret! - SECOND SHOW
6:00pm, Wed 20 June, 2018
This event has passed and sales are now closed
Event Details
In "Woman.....It's a Mother Of a Cabaret", Jodie Stubbs takes us on a humourous and heartwarming journey of what it is to be a mother, career woman, wife and cabaret chanteuse as she attempts to get through a 60 minute show without having to check on the kids.
It's now 'the modern era where women can not only have it all, but sing and dance about it in funky cabaret venues. Social change has never been this fun as Jodie explores in song and story what it is like to be able to "have it all" ... and what the hidden costs are.
With a career spanning over two decades, Jodie has been a featured Cabaret Performer on Cruise Lines such as Cunard, and P&O. Other featured regular appearances include The Sydney Show Boat, Slide Cabaret Club, Australia's Wonderland, half time entertainment for National Rugby Leagues matches and countless other Corporate Events, Parties, and Weddings across Australia!
Now, with two kids in tow, this show was a 'mother' to prepare, which for this seasoned performer, seems strangely appropriate. This funny and uplifting show is not one to be missed!
TICKETING INFO
This is an 18+ event.
Dinner & Show packages include entry, seating and a one course meal (main).
Some Dinner & Show Bookings may be on a communal table. Please let us know at the time of the booking as a special request should you prefer not to share, and subject to availability, we will do our best to accommodate.
DOORS OPEN AT 6PM
DINNER SERVICE COMMENCES AT 7PM
MUSIC STARTS AFTER DINNER SERVICE, AROUND 8:30PM
SET TIMES ARE SUBJECT TO CHANGE FROM SHOW TO SHOW
PLEASE NOTE THE FOLLOWING:
When General Admission Ticket sales have closed on the day of the show they may still be available at the door on the night.
Once purchased tickets are non-refundable & non-transferable
(applies to both Standing and Dinner sales)
A booking fee applies to all advance tickets. (All quoted prices include tax).
Please note: tables cannot be joined together on the evening. Please ensure everyone you wish to seat at your table is included in your booking to avoid being seated separately.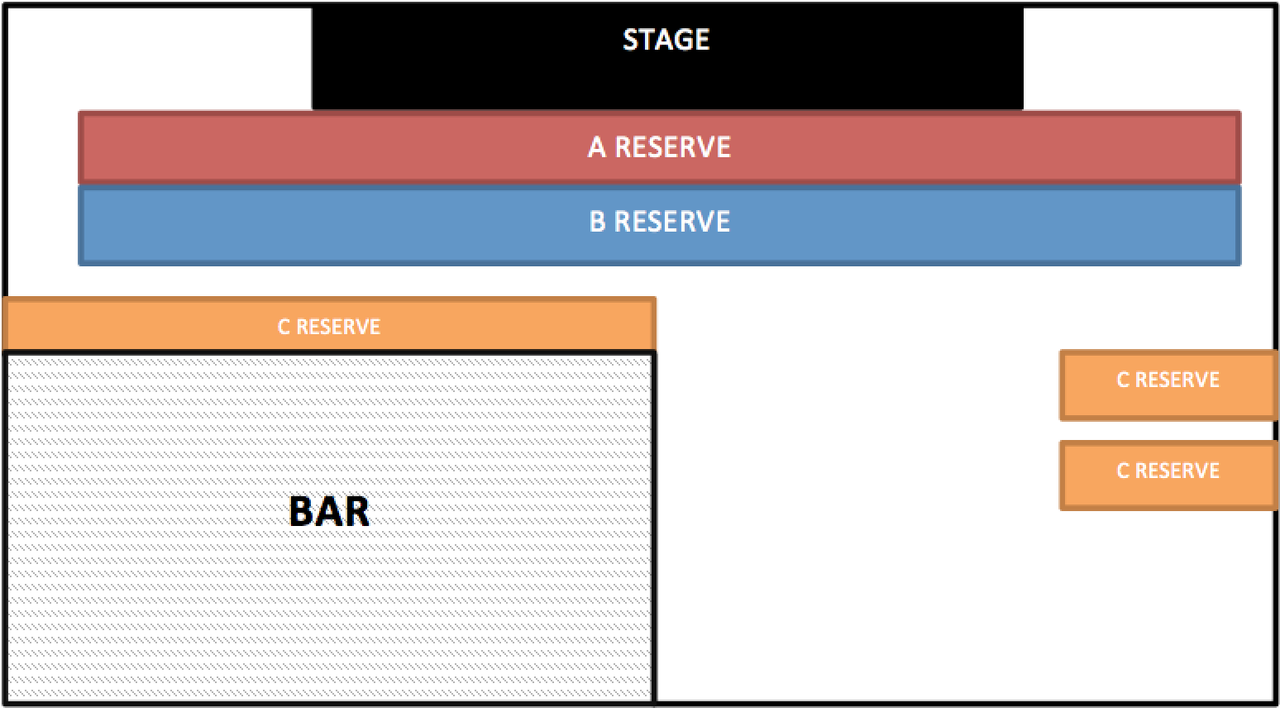 A RESERVE (MAY BE COMMUNAL TABLE)
B RESERVE (HIGH TABLES + STOOLS)
VENUE INFO
Over 18's only unless advertised otherwise.
All children under 18 not permitted including small children and babies.
Photo ID is essential, acceptable ID is a current and valid Australian Photo Drivers Licence or Passport
(Please check with the venue for any other acceptable forms of photo ID).
The venue reserves the right to refuse admission to any person.
Intoxicated persons will not be admitted.
No thongs or steel cap boots.
Dangerous behaviour including Crowd Surfing, Stage Diving, Moshing and Violent Dancing is not allowed and will result in your immediate removal from this venue.
Inappropriate behaviour at this venue will lead to your banning.