This event has passed and sales are now closed.
Who's That Girl? A night dedicated to Eurythmics & Annie Lennox
6:00pm, Fri 9 August, 2019
Event Details
A night dedicated to the exceptional music of Eurythmics & Annie Lennox. The legendary Annie Lennox & Dave Stewart pioneered a fusion of techno/pop including hits such as 'Sweet dreams', 'Love is a stranger' later evolving into the soulful sounds of 'Thorn in my side' 'Missionary Man' and 'There must be an Angel' to name but a few. Eurythmics records achieved sales of over 75 million worldwide. Eurythmics have been awarded the best accolades in music including the Grammys, Ivor Novello, Hall of fame and MTV. Annie Lennox solo career was launched by the quadruple platinum album DIVA which brought amazing songs such as "Walking on broken Glass" 'Why?' & 'Little Bird' showing Annie Lennox theatricality. Clodagh Reid's (The Australian Fleetwood Mac) strong soulful voice, passion and engaging performance ability will bring the energy and vocals required to celebrate this legendary female singer. Stellar musicians Includes a six piece band with some of Sydney's best musicians including George Baras on keys (Ten Sopranos - Mamma Mia), Nick Meredith on guitar (Johnny and the E types) Mike Hague on drums (Sixties Show), Adam Nicholls on bass (Party Inc), David Weir on Saxophone (Weirdassembly) Backing vocalists include soul singer Paula Baxter (Jessica Mauboy & Christine Anu) and Carmel Mesiti (Doug Parkinson) Who's That Girl? Will be a night to remember. Book early to avoid disappointment!
https://www.facebook.com/Whos-That-Girl-Eurythmics-Annie-Lennox-Blondie-Tribute-Show-2262508730690651/
TICKETING INFO
This is an 18+ event.
Dinner & Show packages include entry, seating and a one course meal.
Some Dinner & Show Bookings may be on a communal table. Please let us know at the time of the booking as a special request should you prefer not to share, and subject to availability, we will do our best to accommodate.
DOORS OPEN AT 6PM
DINNER SERVICE COMMENCES AT 7PM
MUSIC STARTS AFTER DINNER SERVICE, AROUND 8:30PM
SET TIMES ARE SUBJECT TO CHANGE FROM SHOW TO SHOW
PLEASE NOTE THE FOLLOWING:
When General Admission Ticket sales have closed on the day of the show they may still be available at the door on the night.
Once purchased tickets are non-refundable & non-transferable
(applies to both Standing and Dinner sales)
A booking fee applies to all advance tickets. (All quoted prices include tax).
Please note: tables cannot be joined together on the evening. Please ensure everyone you wish to seat at your table is included in your booking to avoid being seated separately.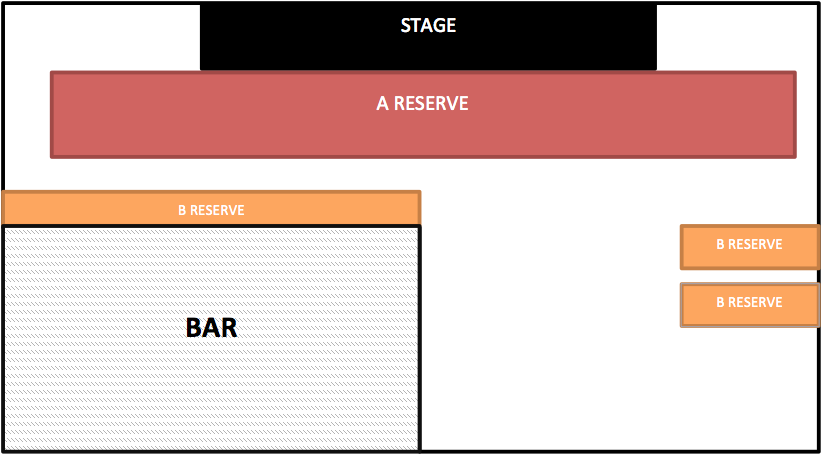 A RESERVE (INDIVIDUAL TABLE)
B RESERVE (MAY BE COMMUNAL TABLE)
VENUE INFO
Over 18's only unless advertised otherwise.
All children under 18 not permitted including small children and babies.
Photo ID is essential, acceptable ID is a current and valid Australian Photo Drivers Licence or Passport
(Please check with the venue for any other acceptable forms of photo ID).
The venue reserves the right to refuse admission to any person.
Intoxicated persons will not be admitted.
No thongs or steel cap boots.
Dangerous behaviour including Crowd Surfing, Stage Diving, Moshing and Violent Dancing is not allowed and will result in your immediate removal from this venue.
Inappropriate behaviour at this venue will lead to your banning.