This event has passed and sales are now closed.
Unlocking The Doors: Soft Parade Anniversary Tour
6:00pm, Sat 20 July, 2019
Event Details
The Soft Parade is the 4th studio album of the Doors, released on 18th July 1969.
Produced by Paul Rothschild and engineered by Bruce Botnick, it is an undisputed departure from the previous albums, incorporating brass and string instruments to produce an eclectic and somewhat disjointed mix of orchestral, bluegrass/soul, jazz and rock inspired tracks.
The album was much anticipated, following the outstanding success of the first 3 albums, (Self-titled, Strange Days and Waiting for the Sun). It was created at a time when Jim had begun moving into a self-destructive spiral. He was transforming further away from the youthful, bare chested and sensuous star of 1967 and was in trouble with the law following the Miami incident in March 1969.
The band had little material left for a fourth album and, due to Morrison's personal issues, Robby Krieger contributed more than half the tracks (including all 4 singles) for the 35-minute-long album in which the band was forced to write new material during studio time.
The Soft Parade has been harshly and perhaps unfairly condemned by many critics over time. The Rolling Stone wrote "The Soft Parade is worse than infuriating, it's sad. It's sad because one of the most potentially moving forces in rock has allowed itself to degenerate. A trite word, but true."
However, as written in Classic Rock Review "when you remove all of the fog surrounding it, the Soft Parade is a diverse, entertaining, and totally unique album of a great American band at a musical crossroads"
It achieved great popularity and respect from Doors fans and aficionados, reaching platinum status and spawning the hit single "Touch Me", the Doors' third most successful single, (behind "Light My Fire" and "Hello I Love You"). Other singles released were "Wishful Sinful", "Tell All the People" and "Runnin' Blue". It also included the 8 and a half minute, convoluted title track of many separate movements, an epic composition of the scale of "A Day on the Life" (Beatles) or "Bohemian Rhapsody" (Queen). "The Soft Parade" is a song with remarkable underground acclaim and is frequently requested by audience members at Doors tribute shows.
To celebrate and acknowledge the 50th anniversary of the landmark release of The Soft Parade, Wollongong band 'Unlocking the Doors' will be recreating this most interesting and controversial album, cover to cover, on Saturday July 20th, 2019 at the Vanguard in Newtown (formerly Leadbelly).
An additional 6 accomplished musicians will appear to cover the brass, strings and percussion parts in a live setting- the first time this has been attempted anywhere to the best of our knowledge. Don't miss this opportunity to witness a complete performance of The Soft Parade as it was written, as well as enjoying some of your other favourite Doors songs in this unique showpiece!
SET 1: The Soft Parade album played live, with accompanying Brass/String/Percussion sections
SET 2: A selection of Doors favourites performed by Unlocking the Doors
http://www.unlockingthedoors.com.au
https://www.facebook.com/unlockingthedoors/
https://www.youtube.com/c/UnlockingTheDoors
https://www.instagram.com/unlockingthedoors/?hl=en
TICKETING INFO
This is an 18+ event.
Dinner & Show packages include entry, seating and a two course meal (entrée & main).
Some Dinner & Show Bookings may be on a communal table. Please let us know at the time of the booking as a special request should you prefer not to share, and subject to availability, we will do our best to accommodate.
DOORS OPEN AT 6PM
DINNER SERVICE COMMENCES AT 7PM
MUSIC STARTS AFTER DINNER SERVICE, AROUND 8:30PM
SET TIMES ARE SUBJECT TO CHANGE FROM SHOW TO SHOW
PLEASE NOTE THE FOLLOWING:
When General Admission Ticket sales have closed on the day of the show they may still be available at the door on the night.
Once purchased tickets are non-refundable & non-transferable
(applies to both Standing and Dinner sales)
A booking fee applies to all advance tickets. (All quoted prices include tax).
Please note: tables cannot be joined together on the evening. Please ensure everyone you wish to seat at your table is included in your booking to avoid being seated separately.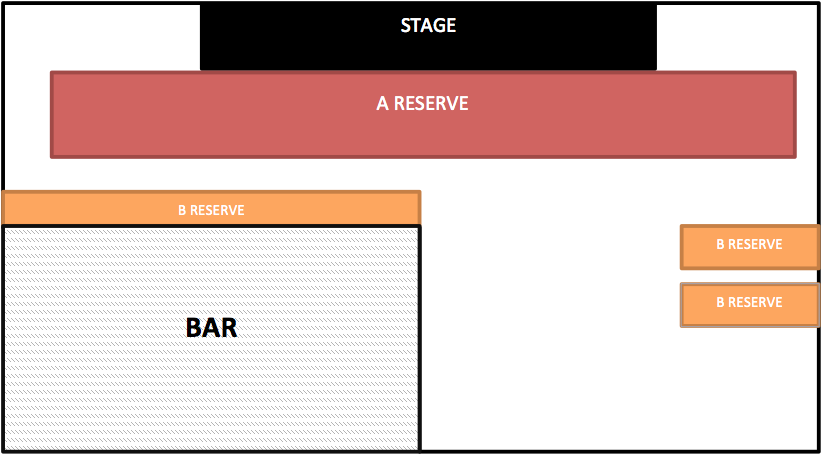 A RESERVE (INDIVIDUAL TABLE)
B RESERVE (MAY BE COMMUNAL TABLE)
C RESERVE (HIGH TABLES + STOOLS)


VENUE INFO
Over 18's only unless advertised otherwise.
All children under 18 not permitted including small children and babies.
Photo ID is essential, acceptable ID is a current and valid Australian Photo Drivers Licence or Passport
(Please check with the venue for any other acceptable forms of photo ID).
The venue reserves the right to refuse admission to any person.
Intoxicated persons will not be admitted.
No thongs or steel cap boots.
Dangerous behaviour including Crowd Surfing, Stage Diving, Moshing and Violent Dancing is not allowed and will result in your immediate removal from this venue.
Inappropriate behaviour at this venue will lead to your banning.