This event has passed and sales are now closed.
The Turner Brown Band (USA/Australia)
6:00pm, Thu 24 October, 2019
Event Details
'The Turner Brown Band', is a joint Australia/USA musical collaboration between Australian slide guitarist and music producer Dom Turner (of awarded blues act 'Backsliders' fame) and Ohio-based 'Sacred Steel' lap-slide guitar as well as vocal sensation Nikki D Brown. The result is a merging of Nikki's southern style US gospel 'Sacred Steel' guitar and vocals with Dom's blues-based sounds forming a dueling slide guitar eclectic and uplifting gospel-blues musical feast
Nikki D Brown, born into a Church-based lap-slide guitar tradition known as 'Sacred Steel', learnt the instrument first-hand from myriad steel guitar masters including Ruth Durdel, Yolondo Ramsey, Del Grace and Henry Tyson, melding them all into her unique and wildly gritty guitar sound. Her powerful vocals and performance has developed over a lifetime of gospel singing, resulting in a powerfully rich, raspy soul-gospel vocal style delivered with impeccable flare and flamboyancy.
Renowned Australian blues-based slide-guitarist and vocalist, Dom Turner has spent more than 30 years touring the festival circuit with Backsliders as well as various musical collaborations including Phil Wiggins & Dom Turner. Joining Dom and Nikki are her sisters Gloria Brown (rhythm guitar and vocals) and cousin Tomika Webb (drums and vocals) who share the same deep musical heritage and love of infectious gospel-soul music.
https://www.facebook.com/theturnerbrownband/
TICKETING INFO
This is an 18+ event.
Dinner & Show packages include entry, seating and a one course meal.
DOORS OPEN AT 6PM
MUSIC STARTS AFTER DINNER SERVICE, AROUND 8:30PM
SET TIMES ARE SUBJECT TO CHANGE FROM SHOW TO SHOW
PLEASE NOTE THE FOLLOWING:
When General Admission Ticket sales have closed on the day of the show they may still be available at the door on the night.
Once purchased tickets are non-refundable & non-transferable
(applies to both Standing and Dinner sales)
A booking fee applies to all advance tickets. (All quoted prices include tax).
Please note: tables cannot be joined together on the evening. Please ensure everyone you wish to seat at your table is included in your booking to avoid being seated separately.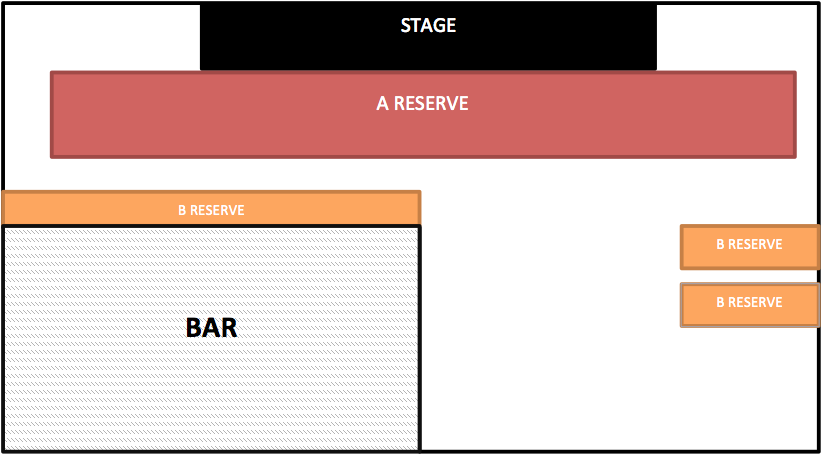 A RESERVE (INDIVIDUAL TABLE)
B RESERVE (HIGH TABLES AND STOOLS)
VENUE INFO
Over 18's only unless advertised otherwise.
All children under 18 not permitted including small children and babies.
Photo ID is essential, acceptable ID is a current and valid Australian Photo Drivers Licence or Passport
(Please check with the venue for any other acceptable forms of photo ID).
The venue reserves the right to refuse admission to any person.
Intoxicated persons will not be admitted.
No thongs or steel cap boots.
Dangerous behaviour including Crowd Surfing, Stage Diving, Moshing and Violent Dancing is not allowed and will result in your immediate removal from this venue.
Inappropriate behaviour at this venue will lead to your banning.