The Frank Burkitt Band
6:00pm, Sat 30 March, 2019
This event has passed and sales are now closed
Event Details
"The sincerity and heart that emanates from his song-writing is endearing, to say the least. I believe people who are truly great at their craft make what they do seem easy"
Janise Kumar - muzic.net.nz
Frank Burkitt (vocals, guitar), Cameron Burnell (mandolin, lapsteel), James Geluk (double bass)
The Frank Burkitt Band are gathering their instruments and hopping over the ditch from their New Zealand home for a 17 date tour across Victoria and New South Wales. Following on from the success of their March 2018 Australian tour in support of their second album Raconteur, this tour will support their new live EP Lost But Alive (out 30th Dec).
Starting at Yackandandah Folk Festival, they will perform in Melbourne, Sydney, Newcastle and a host of smaller towns along the way. Touring this time as a trio with vocals, guitar, mandolin and double bass, they will perform original songs spanning a wide range of genres such as Americana, swing, blues and folk.
Frank's songs often come with anecdotes and his rambling but entertaining introductions give audiences a back story to each song. Subject matters such as philosophy, space travel, nature, relationships, haircuts and colourful characters from Frank's past are all delivered within expertly crafted arrangements, performed by fantastic musicians.
"Exceptional" - Graham Reid - elsewhere.co.nz
TICKETING INFO
This is an 18+ event.
Dinner & Show packages include entry, seating and a one course meal (main).
Some Dinner & Show Bookings may be on a communal table. Please let us know at the time of the booking as a special request should you prefer not to share, and subject to availability, we will do our best to accommodate.
DOORS OPEN AT 6PM
DINNER SERVICE COMMENCES AT 7PM
MUSIC STARTS AFTER DINNER SERVICE, AROUND 8:30PM
SET TIMES ARE SUBJECT TO CHANGE FROM SHOW TO SHOW
PLEASE NOTE THE FOLLOWING:
When General Admission Ticket sales have closed on the day of the show they may still be available at the door on the night.
Once purchased tickets are non-refundable & non-transferable
(applies to both Standing and Dinner sales)
A booking fee applies to all advance tickets. (All quoted prices include tax).
Please note: tables cannot be joined together on the evening. Please ensure everyone you wish to seat at your table is included in your booking to avoid being seated separately.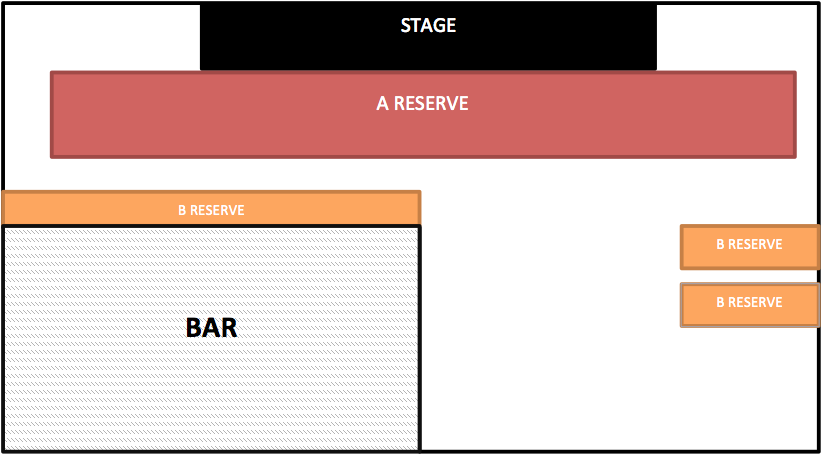 A RESERVE (INDIVIDUAL TABLE)
B RESERVE (MAY BE COMMUNAL TABLE)
VENUE INFO
Over 18's only unless advertised otherwise.
All children under 18 not permitted including small children and babies.
Photo ID is essential, acceptable ID is a current and valid Australian Photo Drivers Licence or Passport
(Please check with the venue for any other acceptable forms of photo ID).
The venue reserves the right to refuse admission to any person.
Intoxicated persons will not be admitted.
No thongs or steel cap boots.
Dangerous behaviour including Crowd Surfing, Stage Diving, Moshing and Violent Dancing is not allowed and will result in your immediate removal from this venue.
Inappropriate behaviour at this venue will lead to your banning.