This event has passed and sales are now closed.
The Art Of Witch - Fiona Horne
6:00pm, Wed 12 June, 2019
Event Details
Featuring candid personal stories, inspiring advice and insight, audience Q & A, and powerful, life-changing spell casting and ritual experience.
Fiona is back home in Australia for the release of her new book, 'The Art of Witch' (Rockpool Publishing) and a magickal Spoken Word tour.
In, 'The Art of Witch' event, Fiona will share aspirational and motivating stories from her life's journey, with special focus on the inspiring and life transformational message:
'Don't get older - get better at living!'
Fiona reveals her lessons in a uniquely entertaining way, drawing on her adventures spanning Hollywood, Africa and the Caribbean. She will share essential wisdom to empower you to step into the best version of yourself and experience your dream life - no matter what age you are, what job, relationship or money you have or don't have. She will give you the practical and magickal tools to relaunch your life!
Fiona's life as a Rockstar, radio and TV personality, best-selling author and Modern Witch spokesperson, transformed in the last five years, with her leaping from broomstick to commercial airplane and a life flying volunteer humanitarian aid and animal rescue in the Caribbean. Fiona talks about how she found fulfillment and meaning in her life by placing service work as a high priority - and how this approach to being of service in a consistent way can transform every individual's life.
Fiona will talk about the phenomenon of Modern Witchcraft - still Australia's fastest growing religion/spiritual path - and the changes she has seen since first publicly coming out of the broom closet over twenty years ago and now in witnessing the current rebirth of interest in Goddess Spirituality and Witchcraft, propelled on the wings of social media - particularly in the lives of young women....and what this means for us all.
"Twenty years ago, Witches were shrouded in superstition, fear and myth. Now who doesn't know a proud self-proclaimed Witch?" (Introduction to '20th Anniversary edition - Witch A Magickal Journey', Fiona Horne)
Fiona Horne is an Aussie rock icon as lead singer of 90's band, Def FX, popular TV personality, bestselling author and Australia's best-known Modern Witch. She is also a Commercial Pilot, Humanitarian Aid Worker, world record holding Skydiver, Yoga Instructor, Freediver and Fire Dancer. Her 2017 smash hit autobiography, 'The Naked Witch' drew praise from readers and critics for her brave and forthright sharing of her extraordinary life's lessons. 'The Art of Witch' - Fiona's guide to living an authentic magickal life is available June 2019.
https://www.facebook.com/fionahorneofficial/
https://www.instagram.com/theartofwitch/?hl=en
TICKETING INFO
This is an 18+ event.
Dinner & Show packages include entry, seating and a one course meal.
Some Dinner & Show Bookings may be on a communal table. Please let us know at the time of the booking as a special request should you prefer not to share, and subject to availability, we will do our best to accommodate.
DOORS OPEN AT 6PM
MUSIC STARTS AFTER DINNER SERVICE, AROUND 8:30PM
SET TIMES ARE SUBJECT TO CHANGE FROM SHOW TO SHOW
PLEASE NOTE THE FOLLOWING:
When General Admission Ticket sales have closed on the day of the show they may still be available at the door on the night.
Once purchased tickets are non-refundable & non-transferable
(applies to both Standing and Dinner sales)
A booking fee applies to all advance tickets. (All quoted prices include tax).
Please note: tables cannot be joined together on the evening. Please ensure everyone you wish to seat at your table is included in your booking to avoid being seated separately.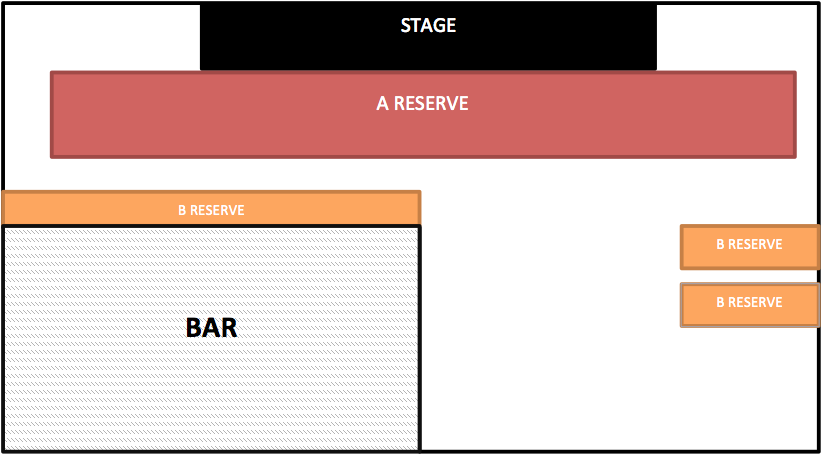 A RESERVE (INDIVIDUAL TABLE)
B RESERVE (MAY BE COMMUNAL TABLE)
VENUE INFO
Over 18's only unless advertised otherwise.
All children under 18 not permitted including small children and babies.
Photo ID is essential, acceptable ID is a current and valid Australian Photo Drivers Licence or Passport
(Please check with the venue for any other acceptable forms of photo ID).
The venue reserves the right to refuse admission to any person.
Intoxicated persons will not be admitted.
No thongs or steel cap boots.
Dangerous behaviour including Crowd Surfing, Stage Diving, Moshing and Violent Dancing is not allowed and will result in your immediate removal from this venue.
Inappropriate behaviour at this venue will lead to your banning.