This event has passed and sales are now closed.
Stomping Ivories
6:00pm, Fri 25 October, 2019
Event Details
Greg Agar, Hugh Murray and Murray Sheridan are the Stomping Ivories. Now touring the world with two grand pianos and a drum kit!

The vocal trio swerves off a seemingly spontaneous hit list of over 350 songs from Gershwin to Gaga. It's a hit concept sparked from the piano halls of New Orleans but organically infused with hundreds of performances across the back roads of Australia and now to rave reviews in Europe. With rock'n'roll swagger they deftly weave the hits songs of all eras, turning big rooms into intimate spaces where audiences can't help but sing along. As at ease with the honky tonk of Elton John, the rock of AC/DC or Queen, Mancini to Madonna or the swinging' class of Frank Sinatra and Ella the roguish spontaneity is a guarantee for one off memorable moments every night they step on stage.

With song-writing credits alongside Keith Urban, INXS and USA soul legend Lou Rawls, Hugh has songs on albums near one million sales. Greg and Murray have entered the Stomping fray, with a recent national Aria award as producer and engineer respectively. None other than Al Pacino chose a song co-written by Greg to sing and act out on film as the lead track in his latest Hollywood film 'Danny Collins'.
"The Stomping Ivories; two great jazz-rock singers belting it out from their head-on grand pianos and a drummer-percussionist who also sings - really have to be seen and heard."
Judith Elen, The Australian
TICKETING INFO
This is an 18+ event.
Dinner & Show packages include entry, seating and a one course meal.
DOORS OPEN AT 6PM
MUSIC STARTS AFTER DINNER SERVICE, AROUND 8:30PM
SET TIMES ARE SUBJECT TO CHANGE FROM SHOW TO SHOW
PLEASE NOTE THE FOLLOWING:
When General Admission Ticket sales have closed on the day of the show they may still be available at the door on the night.
Once purchased tickets are non-refundable & non-transferable
(applies to both Standing and Dinner sales)
A booking fee applies to all advance tickets. (All quoted prices include tax).
Please note: tables cannot be joined together on the evening. Please ensure everyone you wish to seat at your table is included in your booking to avoid being seated separately.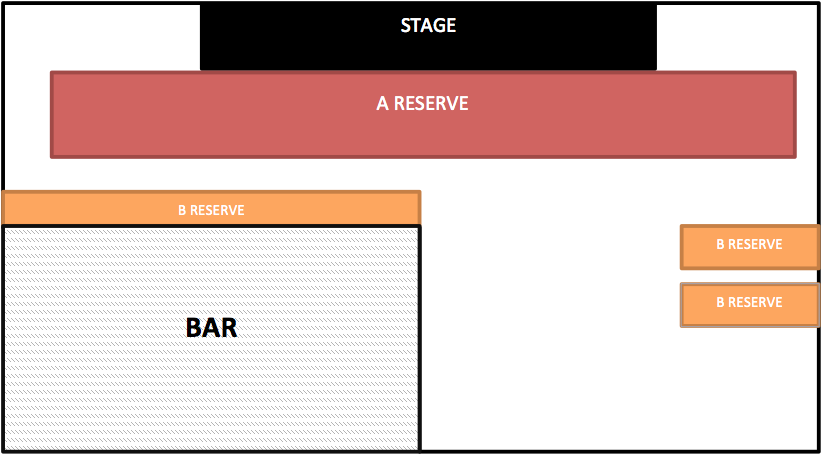 A RESERVE (INDIVIDUAL TABLE)
B RESERVE (HIGH TABLES AND STOOLS)
VENUE INFO
Over 18's only unless advertised otherwise.
All children under 18 not permitted including small children and babies.
Photo ID is essential, acceptable ID is a current and valid Australian Photo Drivers Licence or Passport
(Please check with the venue for any other acceptable forms of photo ID).
The venue reserves the right to refuse admission to any person.
Intoxicated persons will not be admitted.
No thongs or steel cap boots.
Dangerous behaviour including Crowd Surfing, Stage Diving, Moshing and Violent Dancing is not allowed and will result in your immediate removal from this venue.
Inappropriate behaviour at this venue will lead to your banning.
Other Events
This event has been rescheduled DATE TBC. All ticket holders who purchased for the previously scheduled date have been contacted via email with all relevant ticketing information. *Disregard date noted more »
Get Tickets