This event has passed and sales are now closed.
Simone Waddell
6:00pm, Thu 4 April, 2019
Event Details
A show including exceptional musicality, heartfelt original songs, and incredible vocals, is what you can expect at The Vanguard when Simone Waddell hits the stage.
Simone is delighted to be performing at The Vanguard in April 2019 and you can expect a stunning mix of contemporary jazz, funk, and soulful melodies infused with groove, including songs you know and love.
Her recent original music has already been hailed as, "the best music coming out of Australia right now."
Simone's voice has been described as "world class", "drenched with soul and feeling" and "utterly amazing."
A highlight of this show will be the opening short yet powerful showcase of some of the brilliant adult singers Simone mentors.
Simone has been performing internationally for over twenty years, including in Japan, China, Europe, U.S.A, and across her homeland, Australia.
Whilst studying, Simone became the first Australian to win a scholarship to the prestigious Berklee College of Music, opening up a whole new world of musical adventures. She also won the Nescafe Big Break and was awarded $20,000 for her musical achievements.
Simone, a prolific songwriter, has recorded four albums, "Take My Love," "Make It Happen," "My Romance," (jazz album) "Surrender," and multiple singles. Her original music videos have over half a million views worldwide on Facebook and YouTube.
"My Romance" and "Surrender," produced by Australian guitar legend Jim Kelly, were launched as live events in Sydney to sold out venues.
Career highlights include, touring with the Grammy nominated artist Taylor Dayne, numerous and regular performances for national leaders at Parliament House, and being the Opening Act for her favourite male jazz singer Vince Jones for Australian Music Week.
Simone has performed at various events and venues such as Manly Jazz Festival, the Devonport Jazz Festival Concert Series, the 5th and 6th annual Bastille Festival, Bennetts Lane Jazz Club, (Melb) Paris Cat Jazz Club (Melb) and at a number of well known Japanese jazz clubs on her recent tour in Japan.
Her collaboration, "Breathe," a duet with Cornell Thigpen (Mary J.Blige, Steve Nicks, Babyface, Isley Brothers) was released October 2017.
As an ambassador for Messenger International, Simone also promotes awareness and helps rescue and restore people trapped in human trafficking through the power of music. Her powerful and inspirational pop EP, "New Day," produced by the American label, "Signature Music Design" is dedicated to this cause.
Simone's song "Born to Win" had high rotation on Sydney radio and was selected as the headlining song at the crowning of Miss World Australia and as the theme song at Heal For Life, a healing program for adults and teens recovering from abuse.
As one of the leading voice coaches in Australia, Simone has run many of her uniquely designed live vocal workshops and retreats, and taught thousands of voice lessons for over twenty five years, including her recent coaching work in Uganda with the globally recognised Watoto Children's Choir.
Simone was mentored by the late iconic jazz singer, Kerrie Biddell, and completed her Research Masters Degree in Performance at the Sydney Conservatorium of Music on scholarship, whilst performing locally, interstate, and internationally.
You are warmly invited to join Simone for what is guaranteed to be a night of wonderful honest music that will bring inspiration, healing, peace, and rhythm into your soul.
Simone is known to play music with "the absolute best musicians" and this night is no exception.
Featuring:
Drums - Mitch Farmer
Bass and Vocals - Ralph Marshall
Guitar and Vocals - Yannick Koffi
Piano - Sam McNally
Backing Vocals - Mary Kiani
Don't miss out and please book early to avoid disappointment.
"I have had the privilege of working with many awe inspiring vocalists throughout my career and can openly say from my heart that Simone Waddell is amongst the very best of them. Her voice is stunning, as is her personality, that shines through every time she sings. Simone is a gift to the world of music."- Martha Baartz (Australian saxophonist)
"Simone absolutely captures the audience, living her dream, making an impact. So inspiring." - Faith Martin (Casting Director)
"Simone is a beautiful whirling dervish of energetic creative talent. The studio environment bares the souls of all participants and Simone would stand as one of the easiest and most focused artists that I've worked with. She possesses an open creative spirit and the musicianship and vocal technique allowing it all to come together. I'm looking forward to a long musical relationship with Simone over the ensuing years. There is bucketloads of creativity and stunning singing on this new album, "Surrender." I would also say this is the best playing of my life on these songs." - Jim Kelly (Producer and Guitarist)
There will be an opportunity to make a donation if you would like to, for Simone's work with Messenger International - rescuing and bringing restoration to those trapped in sex trafficking.
.
TICKETING INFO
This is an 18+ event.
Dinner & Show packages include entry, seating and a two course meal (entrée & main).
Some Dinner & Show Bookings may be on a communal table. Please let us know at the time of the booking as a special request should you prefer not to share, and subject to availability, we will do our best to accommodate.
DOORS OPEN AT 6PM
DINNER SERVICE COMMENCES AT 7PM
MUSIC STARTS AFTER DINNER SERVICE, AROUND 8:30PM
SET TIMES ARE SUBJECT TO CHANGE FROM SHOW TO SHOW
PLEASE NOTE THE FOLLOWING:
When General Admission Ticket sales have closed on the day of the show they may still be available at the door on the night.
Once purchased tickets are non-refundable & non-transferable
(applies to both Standing and Dinner sales)
A booking fee applies to all advance tickets. (All quoted prices include tax).
Please note: tables cannot be joined together on the evening. Please ensure everyone you wish to seat at your table is included in your booking to avoid being seated separately.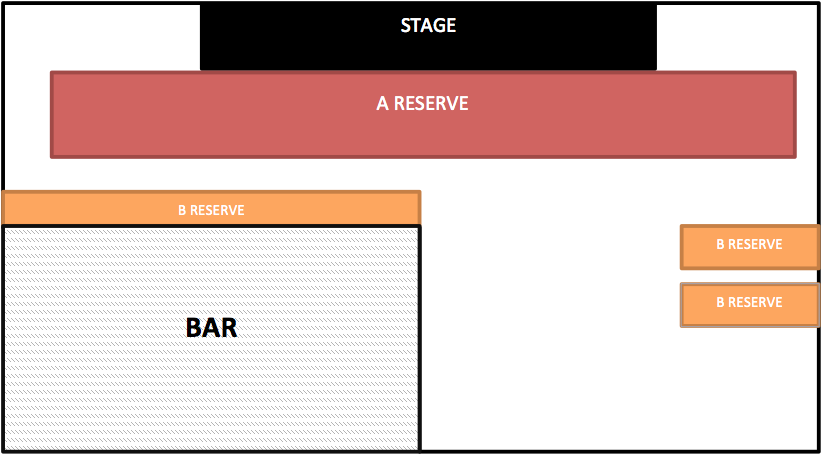 A RESERVE (INDIVIDUAL TABLE)
B RESERVE (MAY BE COMMUNAL TABLE)
VENUE INFO
Over 18's only unless advertised otherwise.
All children under 18 not permitted including small children and babies.
Photo ID is essential, acceptable ID is a current and valid Australian Photo Drivers Licence or Passport
(Please check with the venue for any other acceptable forms of photo ID).
The venue reserves the right to refuse admission to any person.
Intoxicated persons will not be admitted.
No thongs or steel cap boots.
Dangerous behaviour including Crowd Surfing, Stage Diving, Moshing and Violent Dancing is not allowed and will result in your immediate removal from this venue.
Inappropriate behaviour at this venue will lead to your banning.