This event has passed and sales are now closed.
MARZ Supported By CODI KAYE & LENA MATIENKO
Event Details
In an avant-garde and eclectic night of genre blending music - MARZ and his band bring their unique blend of gender bending rock to The Vanguard. With specials guest Codi Kaye (country pop) and Lena Matienko (moody contemporary classical).

MARZ
Channelling the vagabond essence of Australian rock and roll of the late 70's/80's (think ACDC and The Angels), MARZ delivers a musical hit that both punches and caresses in equal measure. Infusing this cocktail with pop hooks and singalong chorus's only serves to sweeten the deal. Performing hard edged rock and roll dressed like a unhinged legal secretary from the 50's, MARZ seeks to remove and redefine the inherent sexism from this era of rock and roll, and empower us all to enjoy it's danger and white hot thrill.

CODI KAYE
Codi Kaye is an Australian singer songwriter with a focus on writing and singing songs that fans can relate to and use as motivation to improve their life circumstances from what they might have been. Codi Kaye's songs are very confronting and thought provoking and many fans confess to being reduced to tears and/or experiencing "chills" or "goosebumps" when listening to one of her originals.

LENA MATIENKO
Lena Matienko is a contemporary Australian classical and film score composer, songwriter, producer and vocalist. Growing up in Russia, Lena was classically trained and began composing at six. She is recognised for her innovative use of digital instruments to create emotionally charged compositions and improvisations, an artful blend of sweeping cinematic and dreamy neo-classical styles, as well as skilful and nuanced self-production.
https://www.facebook.com/marzguitar/
TICKETING INFO
This is an 18+ event.
Dinner & Show packages include entry, seating and a one course meal (main).
Some Dinner & Show Bookings may be on a communal table. Please let us know at the time of the booking as a special request should you prefer not to share, and subject to availability, we will do our best to accommodate.
DOORS OPEN AT 6PM
DINNER SERVICE COMMENCES AT 7PM
MUSIC STARTS AFTER DINNER SERVICE, AROUND 8:30PM
SET TIMES ARE SUBJECT TO CHANGE FROM SHOW TO SHOW
PLEASE NOTE THE FOLLOWING:
When General Admission Ticket sales have closed on the day of the show they may still be available at the door on the night.
Once purchased tickets are non-refundable & non-transferable
(applies to both Standing and Dinner sales)
A booking fee applies to all advance tickets. (All quoted prices include tax).
Please note: tables cannot be joined together on the evening. Please ensure everyone you wish to seat at your table is included in your booking to avoid being seated separately.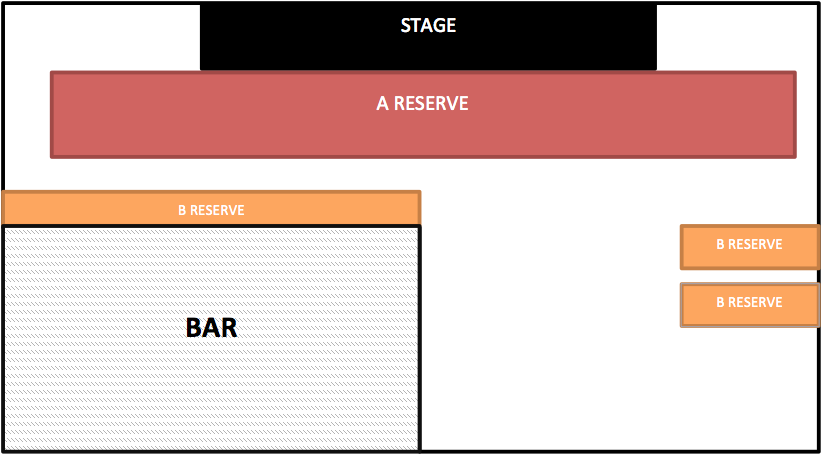 A RESERVE (INDIVIDUAL TABLE)
B RESERVE (MAY BE COMMUNAL TABLE)
C RESERVE (HIGH TABLES + STOOLS)


VENUE INFO
Over 18's only unless advertised otherwise.
All children under 18 not permitted including small children and babies.
Photo ID is essential, acceptable ID is a current and valid Australian Photo Drivers Licence or Passport
(Please check with the venue for any other acceptable forms of photo ID).
The venue reserves the right to refuse admission to any person.
Intoxicated persons will not be admitted.
No thongs or steel cap boots.
Dangerous behaviour including Crowd Surfing, Stage Diving, Moshing and Violent Dancing is not allowed and will result in your immediate removal from this venue.
Inappropriate behaviour at this venue will lead to your banning.