This event has passed and sales are now closed.
Luluc with special guests
6:00pm, Fri 25 January, 2019
Event Details
Mistletone presents an intimate Sydney show by Melbourne-born, Brooklyn-based duo Luluc (Zo Randell and Steve Hassett), launching their sublime new album Sculptor.
Luluc's Sculptor has won huge acclaim including Feature Album (Double J, Sydney Morning Herald, RRR, RTR, 2SER and FBi) and glowing 4 star reviews from The Age, Uncut, Mojo and The Guardian.
While Luluc's music is at times masterful in its minimalism, it is anything but quiet in impact. There's a before you hear Luluc's music, and an after - a turning point that affects people with rare force.
Janet Weiss of Sleater-Kinney says "it's music that once you hear it, you can't live without it". The National's Matt Berninger said that for months, Passerby (Mistletone, 2014) was "the only album I wanted to listen to". "What first hits is that voice," writes Peter Blackstock (No Depression),"a peaceful serenity that reaches deep into the heart."
That gripping, imperative quality pulses through Sculptor, perhaps to an even greater extent than on Passerby or Dear Hamlyn (2008). Zo Randell writes with more experimentation and possibility. From the contemplative scene of "Cambridge", to the churning disaster chronicled in the title track, the songs on Sculptor are there for the taking.
"Broadly speaking, with these new songs I was interested in the difficulties that life can throw at us - what we can do with them, how they can shape us, and what say we have," Randell explains. "That potential that is there for everyone, the different lives that are open to us. That's what I love in (Japanese poet) Ise's poem 'Spring Days and Blossom' - which form the lyrics to "Spring" - the brimming sense of spring and its cycle, the enormity of what's possible and the beauty."
"Me and Jasper" is a confident challenge to small-town insularity, lilting yet vigilant, and championed by a defiant guitar solo from the band's friend J Mascis. It's a song about fighting for agency on an album that is in many ways about volition and potential; how people can navigate difficulties and opportunities to create different paths.
Sonically, the band have broadened their tonal palette following on from the successful collaboration on Passerby, co-produced with The National's Aaron Dessner. Multi-instrumentalist, singer and producer Steve Hassett mastered a wider spectrum of instruments to fully realise the album's expansive and daring vision. Randell and Hassett do nearly all of the writing, recording, and producing themselves, but their vision is far from insular.
In addition to Mascis, Sculptor features contributions from several friends including Dessner (shreds on "Kids" and programmed drums on "Heist") and Jim White of Dirty Three (drums on "Genius") as well as musicians Matt Eccles on drums and Dave Nelson on horns. Recording took place in Luluc's new Brooklyn studio, which they built themselves. The new studio is volition and potential in action, incorporating reclaimed cedar from Dessner's iconic former Ditmas Park studio, where The National and Luluc had both lived and recorded.
That everyone has control of their own story is at the core of Sculptor, illuminated by the last line of the title track, which is the last line of the record itself: "The most beautiful, serene sculpture my hands could make, could trace, could break".
UNCUT (ALBUM OF THE MONTH), MOJO, Q
"This is suburban sadness recast as beauty" - GUARDIAN
"A captivating piece of work" - DOUBLE J FEATURE ALBUM
"Luluc lift their poetic songs to ever greater heights" - SYDNEY MORNING HERALD ALBUM OF THE WEEK
"Luluc's songs are musical monuments to shared humanity" - TRIPLE R ALBUM OF THE WEEK
FEATURE ALBUM - 2SER, FBi, DOUBLE J, RRR and RTR-FM
Luluc will be joined at The Vanguard by Sydney based TESSE.
Tesse is the collaborative project of Sydney based singer-songwriter Tom Stephens. With a sound characterised by frigid, full-toned ebbs of acoustic and baritone guitar, stitched together by steady, hypnotic rhythms, Tesse are set to release their debut full-length album How It All Unfolds on June 1, 2018.
TICKETING INFO
This is an 18+ event.
Dinner & Show packages include entry, seating and a one course meal (main).
Some Dinner & Show Bookings may be on a communal table. Please let us know at the time of the booking as a special request should you prefer not to share, and subject to availability, we will do our best to accommodate.
DOORS OPEN AT 6PM
DINNER SERVICE COMMENCES AT 7PM
MUSIC STARTS AFTER DINNER SERVICE, AROUND 8:30PM
SET TIMES ARE SUBJECT TO CHANGE FROM SHOW TO SHOW
PLEASE NOTE THE FOLLOWING:
When General Admission Ticket sales have closed on the day of the show they may still be available at the door on the night.
Once purchased tickets are non-refundable & non-transferable
(applies to both Standing and Dinner sales)
A booking fee applies to all advance tickets. (All quoted prices include tax).
Please note: tables cannot be joined together on the evening. Please ensure everyone you wish to seat at your table is included in your booking to avoid being seated separately.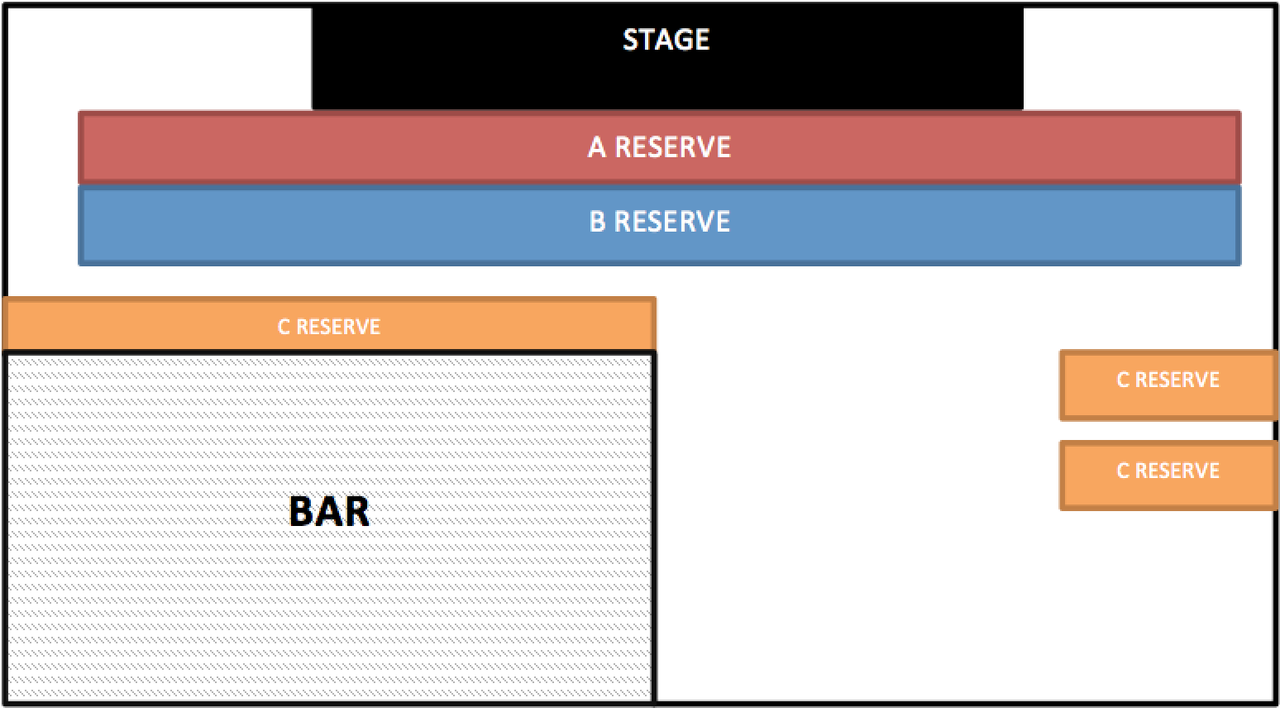 A RESERVE (INDIVIDUAL TABLE)
B RESERVE (MAY BE COMMUNAL TABLE)
C RESERVE (HIGH TABLES + STOOLS)


VENUE INFO
Over 18's only unless advertised otherwise.
All children under 18 not permitted including small children and babies.
Photo ID is essential, acceptable ID is a current and valid Australian Photo Drivers Licence or Passport
(Please check with the venue for any other acceptable forms of photo ID).
The venue reserves the right to refuse admission to any person.
Intoxicated persons will not be admitted.
No thongs or steel cap boots.
Dangerous behaviour including Crowd Surfing, Stage Diving, Moshing and Violent Dancing is not allowed and will result in your immediate removal from this venue.
Inappropriate behaviour at this venue will lead to your banning.