Katy Steele - Solo Acoustic Tour 2018

Tickets

6:00pm, Thu 9 August, 2018
Leadbelly, NSW
This event has passed and sales are now closed
Event Details
Armed with one of Australia's most distinctive voices, Katy Steele is back with the kind of show that new and old fans alike are not going to want to miss.
This solo acoustic tour aims to transform Steele's incredible back catalogue to a stripped back type setting that only a performer with Katy Steele's versatility could even consider delivering.
With songs from Katy's recent solo album Human to tracks from her Little Birdy days - these dramatically different versions showcase her strengths as a unique and powerful songwriter. Katy will also be treating the audience to an exclusive preview of unreleased songs which will make up her upcoming release.
Each show aims to encompass an intimate, stripped back and acoustic offering allowing space to showcase Katy Steele's unmistakable voice like you've never heard it before. Using samples and loops coupled with organic instrumentation, including, electric and acoustic guitar, piano & Rhodes.
The audience can expect another take on the sonically edgy tracks from her first solo offering; Human including singles 'Where's the Laughter', 'It Aint Me' and 'Everywhere With You'. In addition, fans will be treated to classics from Steele's over a decade-long back catalogue; with hits from Little Birdy's critically acclaimed albums; Big Big Love, Hollywood and Confetti think 'Relapse', 'Beautiful to Me', 'Come On, Come On' and 'Brother'.
TICKETING INFO
This is an 18+ event.
Dinner & Show packages include entry, seating and a one course meal (main).
Some Dinner & Show Bookings may be on a communal table. Please let us know at the time of the booking as a special request should you prefer not to share, and subject to availability, we will do our best to accommodate.
DOORS OPEN AT 6PM
DINNER SERVICE COMMENCES AT 7PM
MUSIC STARTS AFTER DINNER SERVICE, AROUND 8:30PM
SET TIMES ARE SUBJECT TO CHANGE FROM SHOW TO SHOW
PLEASE NOTE THE FOLLOWING:
When General Admission Ticket sales have closed on the day of the show they may still be available at the door on the night.
Once purchased tickets are non-refundable & non-transferable
(applies to both Standing and Dinner sales)
A booking fee applies to all advance tickets. (All quoted prices include tax).
Please note: tables cannot be joined together on the evening. Please ensure everyone you wish to seat at your table is included in your booking to avoid being seated separately.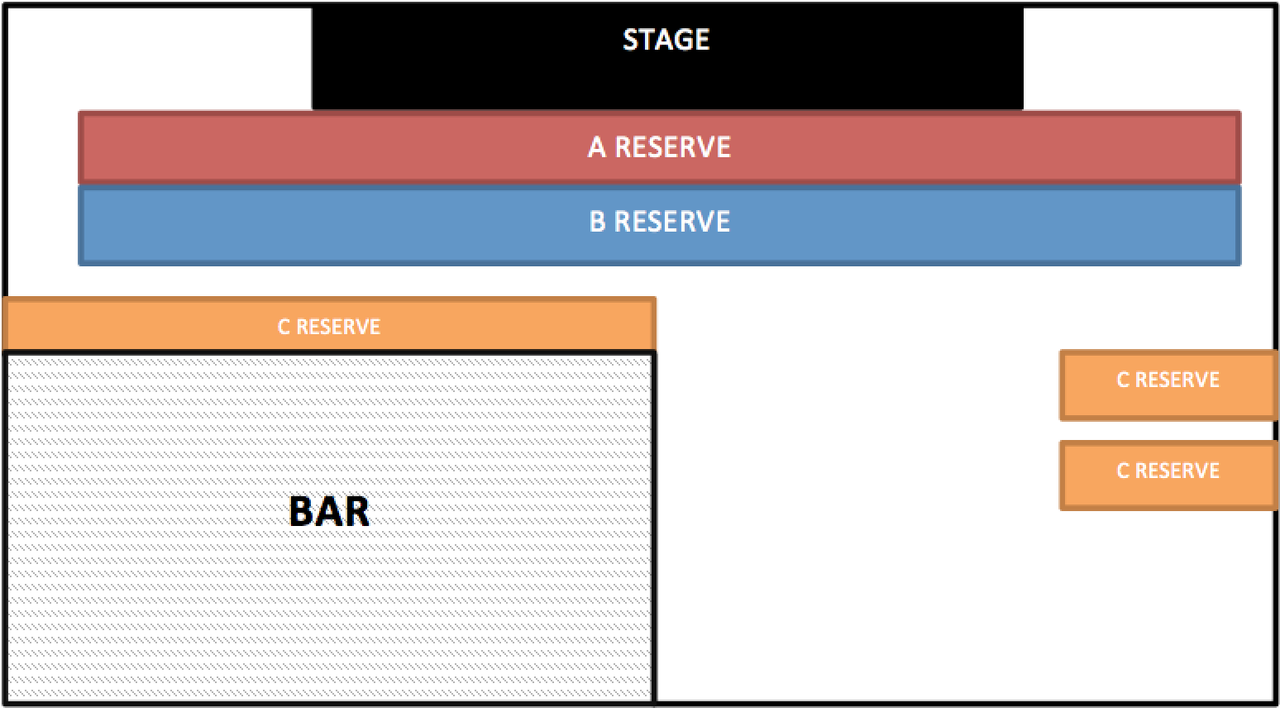 A RESERVE (INDIVIDUAL TABLE)
B RESERVE (MAY BE COMMUNAL TABLE)
C RESERVE (HIGH TABLES + STOOLS)


VENUE INFO
Over 18's only unless advertised otherwise.
All children under 18 not permitted including small children and babies.
Photo ID is essential, acceptable ID is a current and valid Australian Photo Drivers Licence or Passport
(Please check with the venue for any other acceptable forms of photo ID).
The venue reserves the right to refuse admission to any person.
Intoxicated persons will not be admitted.
No thongs or steel cap boots.
Dangerous behaviour including Crowd Surfing, Stage Diving, Moshing and Violent Dancing is not allowed and will result in your immediate removal from this venue.
Inappropriate behaviour at this venue will lead to your banning.
Other events you may like
Splendour in The Grass 2018
|
Subscribe to the weekly moshguide!