This event has passed and sales are now closed.
Karen Lee Andrews & Band supported by Roshani
6:00pm, Sat 14 December, 2019
Event Details
Karen Lee Andrews has reconnected with her guitar, hitting new strides and a new style, which can only be described as Oceanic Blues. And now this commanding Polynesian woman of soul is back with her own original music and EP "Far From Home Paradise". Her sound is an exceptional blend of American Blues and Soul. The roots of the sound are gritty guitar, glowing valves, lush tremolo and deep reverb in a distinctively fluid Oceanic expression.
Growing up around her mother's large Polynesian family instilled in her the role of music in bringing people together. A powerful and rich voice that carries the mood and tones of love, pain and the blues.
"Andrews is on an inspiring and passionate musical journey. A must see."
Beat Magazine
"Commanding and brilliant."
Daily Telegraph
"Soulful and bluesy, with so much heart and pain, delivered with so much class."
Sound of Oz
https://www.facebook.com/karenleeandrews
https://www.instagram.com/msmurphy/?hl=en
TICKETING INFO
This is an 18+ event.
Dinner & Show packages include entry, seating and a one course meal.
DOORS OPEN AT 6PM
MUSIC STARTS AFTER DINNER SERVICE, AROUND 8:30PM
SET TIMES ARE SUBJECT TO CHANGE FROM SHOW TO SHOW
PLEASE NOTE THE FOLLOWING:
When General Admission Ticket sales have closed on the day of the show they may still be available at the door on the night.
Once purchased tickets are non-refundable & non-transferable
(applies to both Standing and Dinner sales)
A booking fee applies to all advance tickets. (All quoted prices include tax).
Please note: tables cannot be joined together on the evening. Please ensure everyone you wish to seat at your table is included in your booking to avoid being seated separately.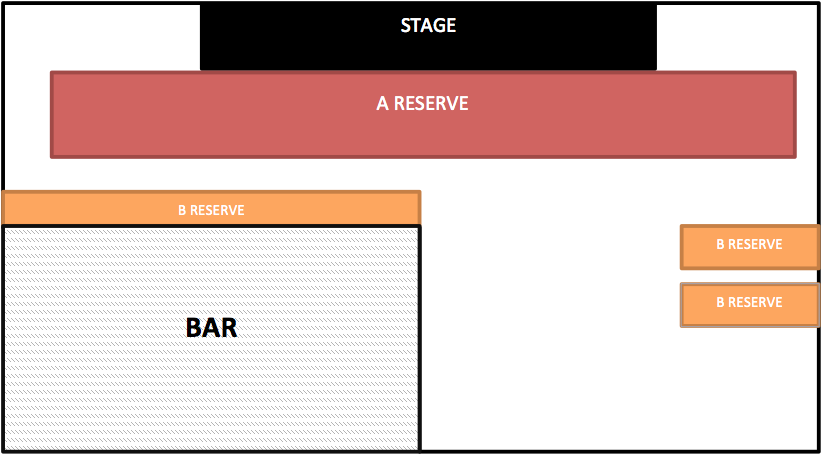 A RESERVE (INDIVIDUAL TABLE)
B RESERVE (HIGH TABLES AND STOOLS)
VENUE INFO
Over 18's only unless advertised otherwise.
All children under 18 not permitted including small children and babies.
Photo ID is essential, acceptable ID is a current and valid Australian Photo Drivers Licence or Passport
(Please check with the venue for any other acceptable forms of photo ID).
The venue reserves the right to refuse admission to any person.
Intoxicated persons will not be admitted.
No thongs or steel cap boots.
Dangerous behaviour including Crowd Surfing, Stage Diving, Moshing and Violent Dancing is not allowed and will result in your immediate removal from this venue.
Inappropriate behaviour at this venue will lead to your banning.