JD SMITH - LIVE & INTIMATE - SUPPORTED BY BEC CARUANA

Tickets

6:00pm, Tue 3 July, 2018
Leadbelly, NSW
This event has passed and sales are now closed
Event Details
Australian Singer/songwriter JD Smith has a reputation of having one of the best male voices in the country. He returns home after 3 years touring internationally and nationally with the highly acclaimed vocal group "The Ten Tenors".
With a brand new album featuring songs by artists and songwriters that have inspired him & his career, JD is playing a one off pre-release show on July 3rd with his top-notch band and singers.
JD has released many solo original albums, performed in musical productions including "Wicked" The musical, he has been a backing session singer, a cabaret, cruise ship & cover band singer, he featured on the Ten Tenors album "Wish you were here", supported artists like Pete Murray & the whitlams & has written songs with Tania Doko (Bachelor Girl) & Cameron McGlinchey (Rogue Traders) to name a few.
Don't miss this opportunity to hear one of our countries finest vocalists showcasing his original music as well as interpretations of some truly remarkable songs.
"JD Smith is a very gifted artist, he is a great songwriter with one of the best voices I've ever recorded, and he works hard- it's a rare combination." -Sean Carey (Thirsty Merc/ Record producer)
"...We were completely blown away by his voice and his immense talent. Quite simply, his voice is the best male voice I have ever heard. I was sitting there not actually believing I was hearing what I was." - David Grice (Manager/Prom Entertainment, The Promethean, Adelaide)
"Without a word of a lie JD would have to be one of the best live performers I have ever seen. Such an amazing voice- SENSATIONAL and PROFESSIONAL." - Dianna Taylor (Coast FM Radio SA)
"JD has a magnificent voice which reaches out and captures all emotions..." - Bert Newton
TICKETING INFO
This is an 18+ event.
Dinner & Show packages include entry, seating and a two course meal.
Some Dinner & Show Bookings may be on a communal table. Please let us know at the time of the booking as a special request should you prefer not to share, and subject to availability, we will do our best to accommodate.
DOORS OPEN AT 6PM
DINNER SERVICE COMMENCES AT 7PM
MUSIC STARTS AFTER DINNER SERVICE, AROUND 8:30PM
SET TIMES ARE SUBJECT TO CHANGE FROM SHOW TO SHOW
PLEASE NOTE THE FOLLOWING:
When General Admission Ticket sales have closed on the day of the show they may still be available at the door on the night.
Once purchased tickets are non-refundable & non-transferable
(applies to both Standing and Dinner sales)
A booking fee applies to all advance tickets. (All quoted prices include tax).
Please note: tables cannot be joined together on the evening. Please ensure everyone you wish to seat at your table is included in your booking to avoid being seated separately.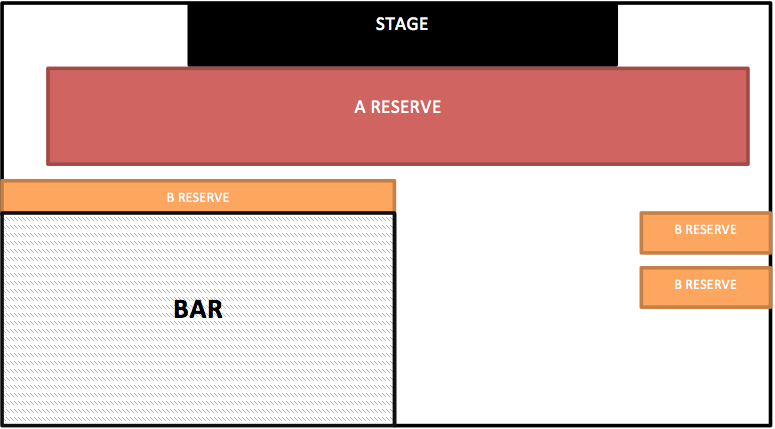 A RESERVE (MAY BE COMMUNAL TABLE)
B RESERVE (HIGH TABLES + STOOLS)
VENUE INFO
Over 18's only unless advertised otherwise.
All children under 18 not permitted including small children and babies.
Photo ID is essential, acceptable ID is a current and valid Australian Photo Drivers Licence or Passport
(Please check with the venue for any other acceptable forms of photo ID).
The venue reserves the right to refuse admission to any person.
Intoxicated persons will not be admitted.
No thongs or steel cap boots.
Dangerous behaviour including Crowd Surfing, Stage Diving, Moshing and Violent Dancing is not allowed and will result in your immediate removal from this venue.
Inappropriate behaviour at this venue will lead to your banning.
Other events you may like
Splendour in The Grass 2018
|