This event has passed and sales are now closed.
Ireland Rocks featuring Ciaran Gribbin
6:00pm, Fri 16 August, 2019
Event Details
Ireland Rocks is a highly energetic show highlighting the legendary songs from some of Ireland's best known artists. The show presents an all-star band fronted by former INXS singer and Grammy nominated songwriter, Ciaran Gribbin. The show features a broad selection of classic Irish songs from every era of Irelands rich music history. Audiences enjoy a musical journey from the haunting songs and traditional melodies of old Ireland through to the modern pop and rock era of today. With an accomplished group of talented musicians, Ireland Rocks is a spectacular high energy show with unique song arrangements achieved by blending traditional Irish instruments such as the Bohdran, Accordion and Fiddle with loud rock Guitars, Bass and Drums. Not to be missed!
https://www.facebook.com/events/395037214417721/
TICKETING INFO
This is an 18+ event.
Dinner & Show packages include entry, seating and a one course meal.
DOORS OPEN AT 6PM
MUSIC STARTS AFTER DINNER SERVICE, AROUND 8:30PM
SET TIMES ARE SUBJECT TO CHANGE FROM SHOW TO SHOW
PLEASE NOTE THE FOLLOWING:
When General Admission Ticket sales have closed on the day of the show they may still be available at the door on the night.
Once purchased tickets are non-refundable & non-transferable
(applies to both Standing and Dinner sales)
A booking fee applies to all advance tickets. (All quoted prices include tax).
Please note: tables cannot be joined together on the evening. Please ensure everyone you wish to seat at your table is included in your booking to avoid being seated separately.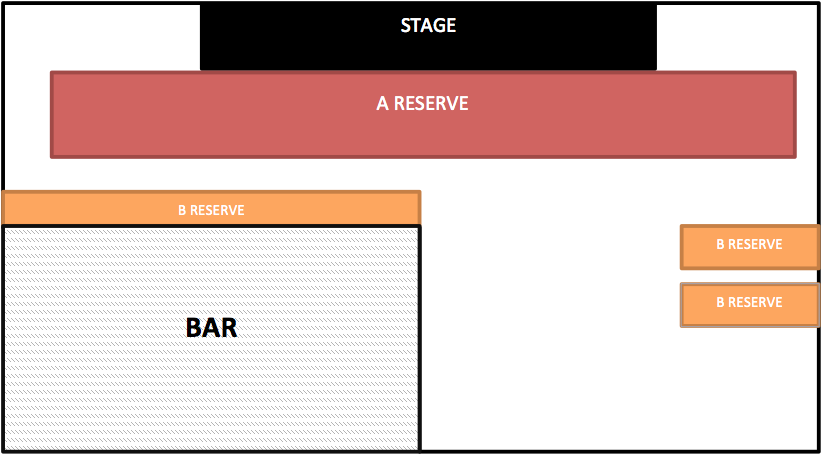 A RESERVE (INDIVIDUAL TABLE)
B RESERVE (HIGH TABLES AND STOOLS)
VENUE INFO
Over 18's only unless advertised otherwise.
All children under 18 not permitted including small children and babies.
Photo ID is essential, acceptable ID is a current and valid Australian Photo Drivers Licence or Passport
(Please check with the venue for any other acceptable forms of photo ID).
The venue reserves the right to refuse admission to any person.
Intoxicated persons will not be admitted.
No thongs or steel cap boots.
Dangerous behaviour including Crowd Surfing, Stage Diving, Moshing and Violent Dancing is not allowed and will result in your immediate removal from this venue.
Inappropriate behaviour at this venue will lead to your banning.