This event has passed and sales are now closed.
HUGO RACE FATALISTS – Album Launch
6:00pm, Fri 30 August, 2019
Event Details
Hugo Race, ex- Bad Seed and Wreckery founder, composer, producer and author returns with a new album from his "Fatalists" project.
Never one to sit still, Race, follows his recent excursions into world electronica (Dirtmusic's 'Bu Bir Ruya' and 'Gemini 4'), 21st century blues ('John Lee Hooker's World Today') with a selection of modern folk songs on his latest album, "Taken by a Dream".
The album is a cinematic tapestry of complex emotional states illuminated by mercurial moments of dazzling light and grace. Recorded in Sicily, Taken by The Dream is an album with a dark, nocturnal mood, characterised by pieces where the melodies, always tinged with a certain melancholic fatalism, float in textural and musical scores, crossing hypnotic rhythms with guitars of all kinds, sounds in reverse, organ, piano, keyboards and violins.
"(This is) a profound and intimate journey, accompanied by an experienced guide who investigates every dark corner of the human soul, an author who should not be missing in any respectable discography." (Paolo Dordi, Rockerilla, Italy)
"Race puts into play his deep timbre, Sacri Cuori throw down their sure card of desert folk from another era and from the sowing of these arid lands are born ballads suspended in time." (Luca Minutolo, Rumore, Italy)
"'24 Hours from Nowhere' is darker than the darkest Walkabouts song, it's a scorched earth vision... The songs sound magnificent, the instruments like blocks of grey tones, beautifully picked out, with plenty of room between them... Overall this is a dark Gothic piece that skillfully calls on Lee Hazelwood and Ennio Morricone to create a suite of songs that is beautifully constructed and breathlessly cinematic." (David Cowling, Americana UK)
"In Australia, Hugo Race is present not only with his music which speaks for itself, but also with a book he has recently published, "Road Series", an autobiographical Road Novel. In it, he processes his travel experiences of the past 30 years - a mixture of Bruce Chatwin and Jack Kerouac. But despite the unexpected literary success, Hugo Race continues to make music. He needs songwriting as the air we breathe, he says." (Carsten Beyer, Deutschlandradio Kultur)
'Hugo Race's ' Fatalists'. An atmosphere combining a David Lynch film with a Cormac McCarthy novel...' (- Lost Highways, Italy)
Hugo Race Fatalists - Video Links:
The new video - Symphony https://youtu.be/Q2GfFHZK7BU
Ballad of Easy Rider https://www.youtube.com/watch?v=IfDaQUIPQ_A
Ghostwriter: http://youtu.be/B4FJR-l0hWc
I'm On Fire http://youtu.be/Ou49KLSHD9c
Too Many Zeroes http://youtu.be/yTrocmnH52A
TICKETING INFO
This is an 18+ event.
Dinner & Show packages include entry, seating and a one course meal.
DOORS OPEN AT 6PM
MUSIC STARTS AFTER DINNER SERVICE, AROUND 8:30PM
SET TIMES ARE SUBJECT TO CHANGE FROM SHOW TO SHOW
PLEASE NOTE THE FOLLOWING:
When General Admission Ticket sales have closed on the day of the show they may still be available at the door on the night.
Once purchased tickets are non-refundable & non-transferable
(applies to both Standing and Dinner sales)
A booking fee applies to all advance tickets. (All quoted prices include tax).
Please note: tables cannot be joined together on the evening. Please ensure everyone you wish to seat at your table is included in your booking to avoid being seated separately.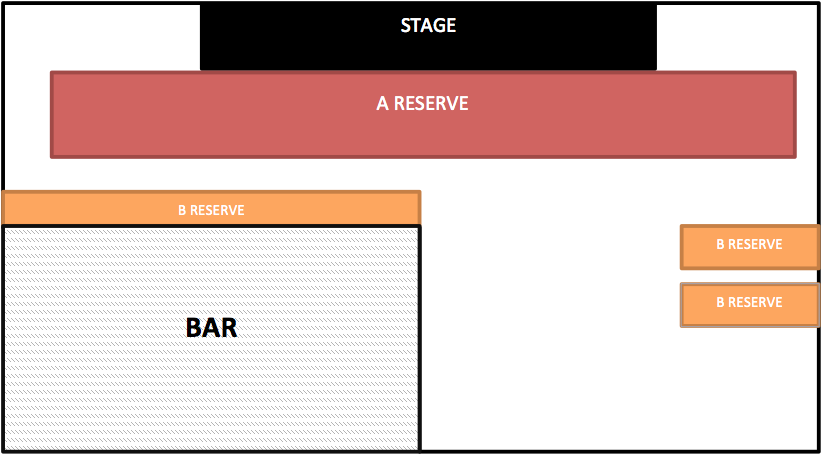 A RESERVE (INDIVIDUAL TABLE)
B RESERVE (HIGH TABLES AND STOOLS)
VENUE INFO
Over 18's only unless advertised otherwise.
All children under 18 not permitted including small children and babies.
Photo ID is essential, acceptable ID is a current and valid Australian Photo Drivers Licence or Passport
(Please check with the venue for any other acceptable forms of photo ID).
The venue reserves the right to refuse admission to any person.
Intoxicated persons will not be admitted.
No thongs or steel cap boots.
Dangerous behaviour including Crowd Surfing, Stage Diving, Moshing and Violent Dancing is not allowed and will result in your immediate removal from this venue.
Inappropriate behaviour at this venue will lead to your banning.