Dino Jag "Stripped Back"
6:00pm, Fri 8 February, 2019
This event has passed and sales are now closed
Event Details
International award-winning singer songwriter Dino Jag is back on the road with his "Stripped Back" performances showcasing his latest songs, along with some classic covers, with captivating soulful arrangements that also feature Virgil Reality on trumpet and Nick Romano on drums.
"These shows are highly charged with generous servings of soulful funk/rock" says Dino Jag. "I'll be wielding an acoustic guitar and joining me on stage will be the highly engaging Virgil Reality on trumpet and Nick Romano on drums. It's a very cool sound that exposes the heart and soul of the music in a way that's intensely intimate, yet very dynamic and upbeat. It's a great vibe."
International award-winning singer songwriter Dino Jag is a South Australian treasure with an unmistakable voice and performance energy. Nominated for the People's Choice Pop Award at 2017 SA Music Awards, Dino is quickly gaining international recognition following the release of his critically acclaimed 'Breakthrough' EP in November 2016. Recorded at the legendary Sunset Sound Studios in Hollywood with Grammy Award Winning Producer Jeff Bova at the helm and featuring some of the best in the business, Aaron Sterling (Drums - John Mayer), Corey Britz (Bass - Bush), Tim Pierce (Guitar - Bruce Springsteen), Jeff Bova (Keyboards - Michael Jackson), Carroll Hatchet (Backing Vocals - Bette Midler) and Bernard Fowler (Backing Vocals - The Rolling Stones) it has become another major milestone in Dino's career.
"The award-winning vocalist truly taps into his pure nature with 'Breakthrough' and you see his musical vision flow to life." Sydney Paschall - Compose Yourself Magazine
The first single off the EP "Two Young Hearts" was awarded second place at the 2016 International Unsigned Music Awards. Selected from over 6,000 entries, the winners represent some of the best unsigned artists worldwide. "You Make Me Feel So Good," the second single, then started receiving rave reviews around the world crossing music genre borders with its unique blend of soul tinged country, rock and head-spinning funk.
"Dino Jag has clearly cracked the code for pop songwriting, and he winningly replicates this formula six times over the course of the simply enjoyable 'Breakthrough' EP." Cody Conrad - The Big Takeover
"Dino Jag is about to take over your ears." - Paste Magazine

"His voice possesses a special touch, an invisible aura that pulls you into the world created by his lyrics and decorated by the music and his voice. I can only say: watch out world!" - Wolf In A Suit
"As good as Dino Jag is on this album, he is extraordinary live." - Rob Greaves - Senior Editor Toorak Times
TICKETING INFO
This is an 18+ event.
Dinner & Show packages include entry, seating and a one course meal (main).
Some Dinner & Show Bookings may be on a communal table. Please let us know at the time of the booking as a special request should you prefer not to share, and subject to availability, we will do our best to accommodate.
DOORS OPEN AT 6PM
DINNER SERVICE COMMENCES AT 7PM
MUSIC STARTS AFTER DINNER SERVICE, AROUND 8:30PM
SET TIMES ARE SUBJECT TO CHANGE FROM SHOW TO SHOW
PLEASE NOTE THE FOLLOWING:
When General Admission Ticket sales have closed on the day of the show they may still be available at the door on the night.
Once purchased tickets are non-refundable & non-transferable
(applies to both Standing and Dinner sales)
A booking fee applies to all advance tickets. (All quoted prices include tax).
Please note: tables cannot be joined together on the evening. Please ensure everyone you wish to seat at your table is included in your booking to avoid being seated separately.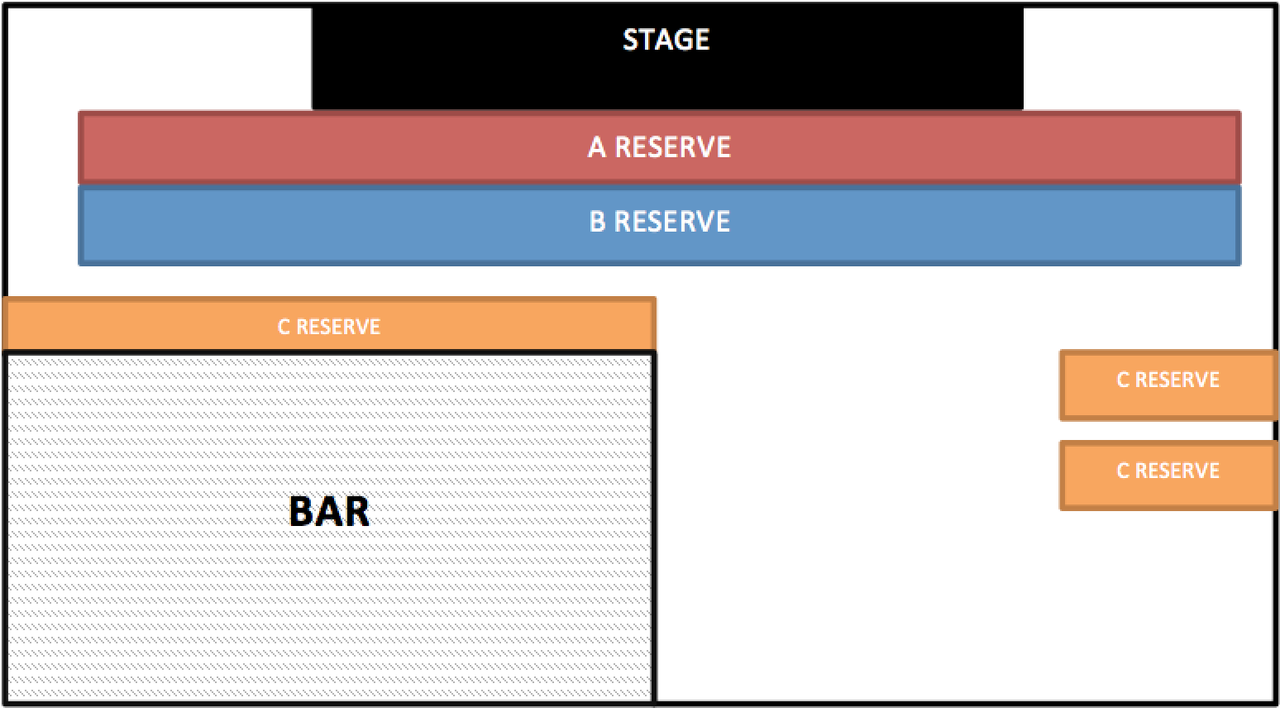 A RESERVE (INDIVIDUAL TABLE)
B RESERVE (MAY BE COMMUNAL TABLE)
C RESERVE (HIGH TABLES + STOOLS)


VENUE INFO
Over 18's only unless advertised otherwise.
All children under 18 not permitted including small children and babies.
Photo ID is essential, acceptable ID is a current and valid Australian Photo Drivers Licence or Passport
(Please check with the venue for any other acceptable forms of photo ID).
The venue reserves the right to refuse admission to any person.
Intoxicated persons will not be admitted.
No thongs or steel cap boots.
Dangerous behaviour including Crowd Surfing, Stage Diving, Moshing and Violent Dancing is not allowed and will result in your immediate removal from this venue.
Inappropriate behaviour at this venue will lead to your banning.