This event has passed and sales are now closed.
Diamond Duck with Special Guest Ollie Thorpe
Event Details
"Almost as if Mozart composed music for Simon & Garfunkel to croon over" - Happy Mag, 2018.
"An intelligent and swooning collection of post modern folk songs" - Post to Wire, 2018.
"Evoking the close harmony singing of the Everly Brothers and Simon Garfunkel, Diamond Duck explore an unusual, almost twisted sound in their accompaniment while maintaining a sweetness in their vocal delivery...there is something a little off kilter and it's absolutely delicious" - Timber & Steel.
Diamond Duck weave a rich tapestry of plucked strings, lush vocal harmonies, and unique songwriting inspired by a diverse range of influences from The Beach Boys to Bach. The music transforms moment to moment, sweeping from folk song to the poise of a classical chamber group. A baroque folk dream, comprising of Jimmy Daley (The Morrisons) and Brian Campeau (Green Mohair Suits). This very special performance will also feature Vanessa Tametta on Violin, Oliver Miller, on Cello and Gary Daley on Accordion and Piano.
https://www.facebook.com/diamondduckband/
https://www.instagram.com/diamondduckband/?hl=en
TICKETING INFO
This is an 18+ event.
Dinner & Show packages include entry, seating and a two course meal (entrée & main).
DOORS OPEN AT 6PM
MUSIC STARTS AFTER DINNER SERVICE, AROUND 8:30PM
SET TIMES ARE SUBJECT TO CHANGE FROM SHOW TO SHOW
PLEASE NOTE THE FOLLOWING:
When General Admission Ticket sales have closed on the day of the show they may still be available at the door on the night.
Once purchased tickets are non-refundable & non-transferable
(applies to both Standing and Dinner sales)
A booking fee applies to all advance tickets. (All quoted prices include tax).
Please note: tables cannot be joined together on the evening. Please ensure everyone you wish to seat at your table is included in your booking to avoid being seated separately.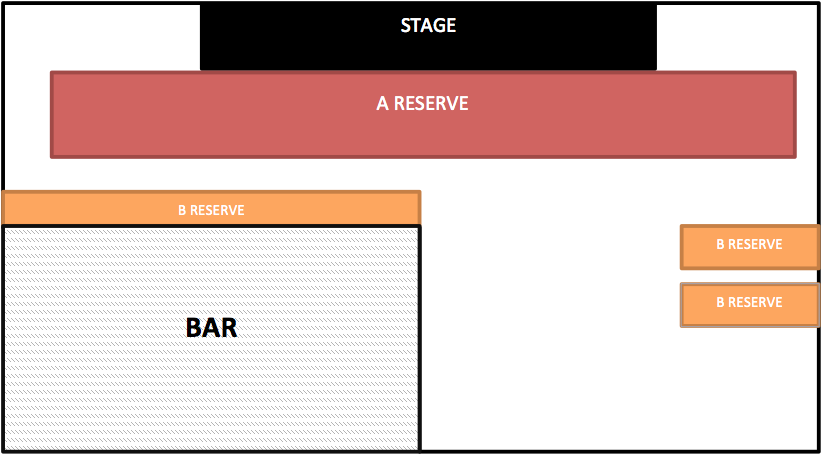 A RESERVE (INDIVIDUAL TABLE)
B RESERVE (HIGH TABLES AND STOOLS)
VENUE INFO
Over 18's only unless advertised otherwise.
All children under 18 not permitted including small children and babies.
Photo ID is essential, acceptable ID is a current and valid Australian Photo Drivers Licence or Passport
(Please check with the venue for any other acceptable forms of photo ID).
The venue reserves the right to refuse admission to any person.
Intoxicated persons will not be admitted.
No thongs or steel cap boots.
Dangerous behaviour including Crowd Surfing, Stage Diving, Moshing and Violent Dancing is not allowed and will result in your immediate removal from this venue.
Inappropriate behaviour at this venue will lead to your banning.
Other Events
This event has been rescheduled DATE TBC. All ticket holders who purchased for the previously scheduled date have been contacted via email with all relevant ticketing information. *Disregard date noted more »
Get Tickets