This event has passed and sales are now closed.
Christine Anu REWIND: The Aretha Franklin Songbook
6:00pm, Sat 9 November, 2019
Event Details
Christine Anu is a national treasure and Australia's most iconic female Indigenous Entertainer. Trained in dance at the National Aboriginal Islander Skills Development Association (NAISDA) her illustrious career spans over 25 years including music, theatre, dance, film and television.
Christine has made widely-acclaimed appearances in Baz Luhrmann's Moulin Rouge, The Matrix Reloaded and Dating the Enemy; on television in Wildside, The Alice, East West 101, Playschool, Outland, Dance Academy and was a judge in Channel 7's Popstars. Christine's success on stage includes Bad Boy Johnny and the Prophets of Doom, Little Shop of Horrors, Kissing Frog, Rent, Rainbow's End, Parramatta Girls and The Sapphires for which she received the Judith Johnson Award for Best Performance by an Actress in a Musical at the Sydney Theatre Awards.
Christine is a multi-award winning recording artist, including ARIA Song of the Year for My Island Home, ARIA Best Female Artist for Stylin Up, ARIA Best Video for Bazmark's Now Until The Break of Day with David Hobson and many Deadly, Green Room and Sydney Theatre Awards.
More recently, Christine's 1995 version of My Island Home was added to the National Film Sound Archive's Sound of Australia registry.

Christine has toured nationally and abroad, including Vietnam, North America, China, Middle East and Papa New Guinea. Christine has also performed at many momentous events, including Sydney 2000 Olympics Closing Ceremony, Women of APEC, G'Day Australia, 50 Years of Television, APEC Cultural Performance, Sydney Paralympics, FINA World Swimming Championships, 25th Anniversary of Carols in the Domain and flicked the switch to launch National Indigenous Television in Australia.
Christine is an exceptional keynote speaker who resonates with people and provides a real community focus while delivering key messages in all kinds of arenas and platforms, including charity, community, education, entertainment and politics.
For Stylin Up Entertainment, Christine is the co-creator of the ARIA and Deadly nominated children's brand Chrissy's Island Family and the successful concept shows Ladies of Jazz and Women of Soul.
Christine is currently hosting the national radio show Evenings across Australia on Friday and Saturday nights on ABC Radio, and was recently the first recipient of the Australian Songwriters Associations inaugural Lifetime Achievement Award for Contribution to Australian First Nations Music.
https://www.facebook.com/OfficialChristineAnu/
https://www.instagram.com/anuchristine/?hl=en
TICKETING INFO
This is an 18+ event.
Dinner & Show packages include entry, seating and a one course meal.
DOORS OPEN AT 6PM
MUSIC STARTS AFTER DINNER SERVICE, AROUND 8:30PM
SET TIMES ARE SUBJECT TO CHANGE FROM SHOW TO SHOW
PLEASE NOTE THE FOLLOWING:
When General Admission Ticket sales have closed on the day of the show they may still be available at the door on the night.
Once purchased tickets are non-refundable & non-transferable
(applies to both Standing and Dinner sales)
A booking fee applies to all advance tickets. (All quoted prices include tax).
Please note: tables cannot be joined together on the evening. Please ensure everyone you wish to seat at your table is included in your booking to avoid being seated separately.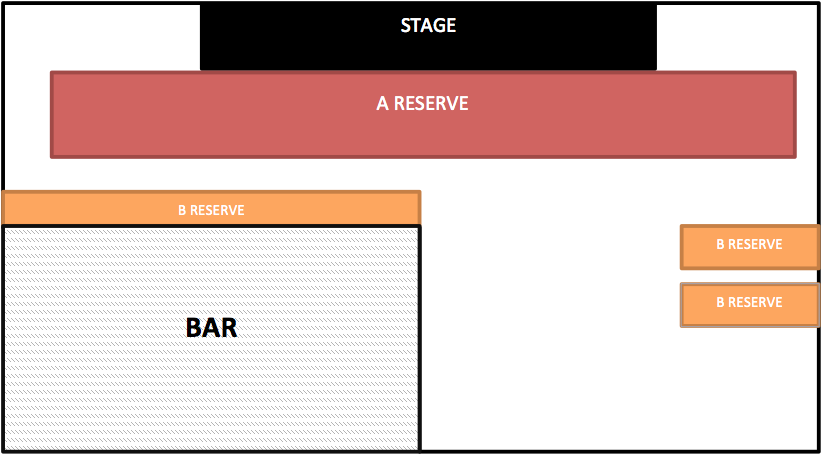 A RESERVE (INDIVIDUAL TABLE)
B RESERVE (HIGH TABLES AND STOOLS)
VENUE INFO
Over 18's only unless advertised otherwise.
All children under 18 not permitted including small children and babies.
Photo ID is essential, acceptable ID is a current and valid Australian Photo Drivers Licence or Passport
(Please check with the venue for any other acceptable forms of photo ID).
The venue reserves the right to refuse admission to any person.
Intoxicated persons will not be admitted.
No thongs or steel cap boots.
Dangerous behaviour including Crowd Surfing, Stage Diving, Moshing and Violent Dancing is not allowed and will result in your immediate removal from this venue.
Inappropriate behaviour at this venue will lead to your banning.