This event has passed and sales are now closed.
Áine Tyrrell Return To The Sea Album Launch with Christine Jane
6:00pm, Thu 13 June, 2019
Event Details
Story is at the forefront for troubadour ine Tyrrell whose rich songwriting practice draws deeply on her Irish roots. Her latest offering 'Return to the Sea' was written and recorded in her homeland but mastered and crowdfunded with one boot in the red dirt of her adopted country of Australia. Fiercely independent Tyrrell is not one to bend to the demands of conventional production arrangements, and so with the help of Creative Arts Victoria, her long time musical producer Mark Stanley, and her international fan base, 'Return To The Sea' went rogue, recording in lounge rooms, front bars, old churches, and remote islands.
Return To The Sea has just been released with first song "In This House" gaining international attention as a finalist in the 2018 International Songwriting Competition and being used across schools in South Australia to reteach the history of colonisation. In This House along with 9 other tracks make an album that is a treasure trove of contemporary narratives and musical sojourns with a solid respect for tradition and a passion for adventure and traveling to new lands, both real, and musical. 'Return To The Sea' is a call to arms, a siren's wisdoms and warnings, and most importantly the soundtrack of a woman who walks her own beat.
'Tyrrell's incredible journey is one you'd be well advised to follow... A purveyor of elegant yet seductively psychedelic folk songs....' - Iain Shedden, The Australian
" ine Tyrell delivers anthems for humanity with her new album Return to the Sea" - HHHhappy Mag
Supported by Christine Jane
https://www.facebook.com/AineTyrrellMusic/
TICKETING INFO
This is an 18+ event.
Dinner & Show packages include entry, seating and a one course meal.
DOORS OPEN AT 6PM
MUSIC STARTS AFTER DINNER SERVICE, AROUND 8:30PM
SET TIMES ARE SUBJECT TO CHANGE FROM SHOW TO SHOW
PLEASE NOTE THE FOLLOWING:
When General Admission Ticket sales have closed on the day of the show they may still be available at the door on the night.
Once purchased tickets are non-refundable & non-transferable
(applies to both Standing and Dinner sales)
A booking fee applies to all advance tickets. (All quoted prices include tax).
Please note: tables cannot be joined together on the evening. Please ensure everyone you wish to seat at your table is included in your booking to avoid being seated separately.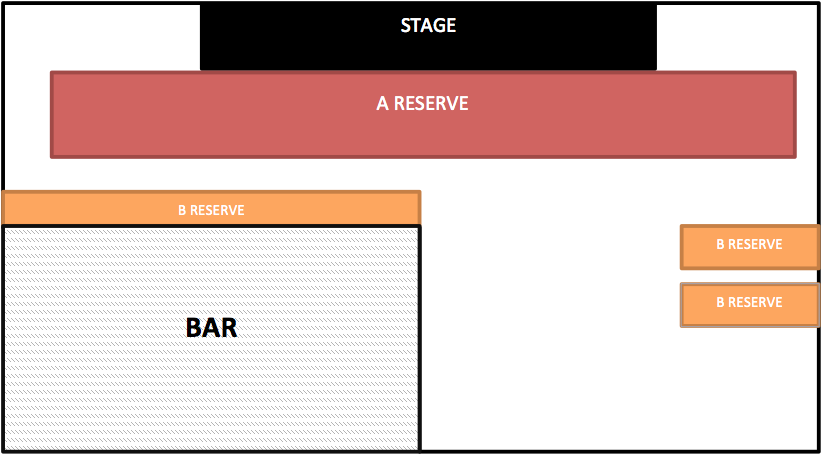 A RESERVE (INDIVIDUAL TABLE)
B RESERVE (HIGH TABLES AND STOOLS)
VENUE INFO
Over 18's only unless advertised otherwise.
All children under 18 not permitted including small children and babies.
Photo ID is essential, acceptable ID is a current and valid Australian Photo Drivers Licence or Passport
(Please check with the venue for any other acceptable forms of photo ID).
The venue reserves the right to refuse admission to any person.
Intoxicated persons will not be admitted.
No thongs or steel cap boots.
Dangerous behaviour including Crowd Surfing, Stage Diving, Moshing and Violent Dancing is not allowed and will result in your immediate removal from this venue.
Inappropriate behaviour at this venue will lead to your banning.