A Night of Up & Comings

Tickets

6:00pm, Fri 20 July, 2018
Leadbelly, NSW
This event has passed and sales are now closed
Event Details
Have you ever wanted to go to one venue and hear the best, brightest and freshest up & coming Sydney bands all in one night? Look no further! 'A Night of Up & Comings' at LeadBelly presents the perfect opportunity for a music lover to listen to the amazing talent of 4 Sydney bands for the sweet price of $13 presale or $15 at the door!
- - - -
Abbey Gardner Bio:
Abbey Gardner is a 19 year old singer songwriter from north west Sydney. Her alt pop vibes are influenced by the sounds of The Neighbourhood and Jarryd James. She's been on the music scene for 8 years, playing in different live music venues across Sydney - make sure to catch her at her next live show
The Fat Controllers Bio:
Imagine the all the fast food chains in the world collided and created the best tasting food you have ever tasted... that is The Fat Controllers! Western Sydney four piece The Fat Controllers create a smooth but full alternative rock sound! The minds behind their unique sound, Gerard, Diego, Jake and Harri all like to sit back, chill out and listen to some sweet vibes!The Fat Controllers have started their 2018 strong signing to Waratah Records and are approaching their debut single release 'Rather Be' they are set to hit the Sydney streets and show you what they are made of (two all beef patties, special sauce, lettuce, cheese, pickles, onions on a sesame seed bun)! Keep up to date with all their movements on their socials!
Jazmaree Bio:
Jazmaree is an up and coming Sutherland Shire Based band featuring vocalist Jazmaree, guitarist Kieran Goldsbrough and Drummer Rhys Druery. Jazmaree performs original songs and pop/rock covers. In February this year 'Jazmaree' released their first single 'Aftertaste' which is avaliable on iTunes and Spotify now. They are currently in the process of writing music for an EP to be released at the end of the year. Come watch them live for an upbeat atmosphere that never fails to entertain!
Vitalised Bio:
VITALISED are an Ausrealian rock band originating from Sydney. The group consists of lead vocalist and rhythm guitarist Ken Magno, lead guitarist Ethan Cowley, bassist Oscar Lennon, and Daniel 'Danny' Rispler. Combining a series of alternative covers and originals, VITALISED channel youthful themes of heartbreak and romance, faith and fear, giving an emotional and energetic performance that will make you dance or make you cry, or both at the same time.
TICKETING INFO
This is an 18+ event.
Dinner & Show packages include entry, seating and a one course meal (main).
Some Dinner & Show Bookings may be on a communal table. Please let us know at the time of the booking as a special request should you prefer not to share, and subject to availability, we will do our best to accommodate.
DOORS OPEN AT 6PM
DINNER SERVICE COMMENCES AT 7PM
MUSIC STARTS AFTER DINNER SERVICE, AROUND 8:30PM
SET TIMES ARE SUBJECT TO CHANGE FROM SHOW TO SHOW
PLEASE NOTE THE FOLLOWING:
When General Admission Ticket sales have closed on the day of the show they may still be available at the door on the night.
Once purchased tickets are non-refundable & non-transferable
(applies to both Standing and Dinner sales)
A booking fee applies to all advance tickets. (All quoted prices include tax).
Please note: tables cannot be joined together on the evening. Please ensure everyone you wish to seat at your table is included in your booking to avoid being seated separately.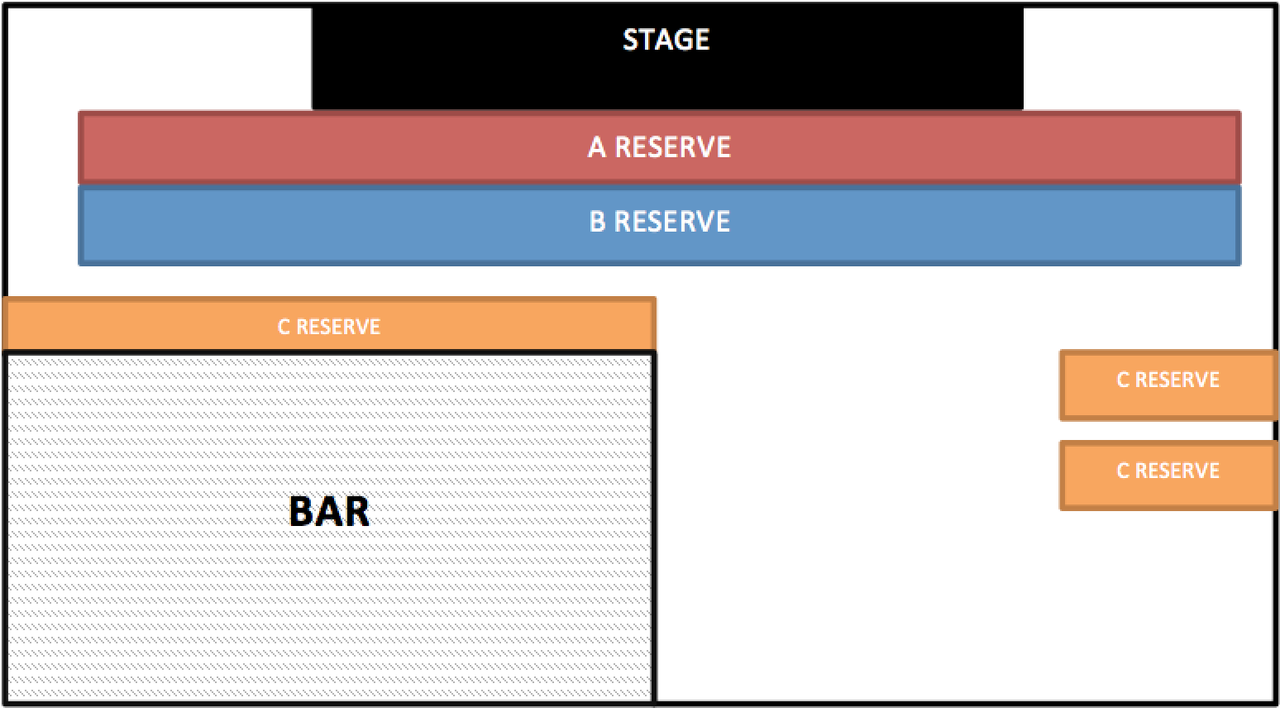 A RESERVE (INDIVIDUAL TABLE)
B RESERVE (MAY BE COMMUNAL TABLE)
C RESERVE (HIGH TABLES + STOOLS)


VENUE INFO
Over 18's only unless advertised otherwise.
All children under 18 not permitted including small children and babies.
Photo ID is essential, acceptable ID is a current and valid Australian Photo Drivers Licence or Passport
(Please check with the venue for any other acceptable forms of photo ID).
The venue reserves the right to refuse admission to any person.
Intoxicated persons will not be admitted.
No thongs or steel cap boots.
Dangerous behaviour including Crowd Surfing, Stage Diving, Moshing and Violent Dancing is not allowed and will result in your immediate removal from this venue.
Inappropriate behaviour at this venue will lead to your banning.
Other events you may like
Splendour in The Grass 2018
|