Event Details
GREG GOULD is one of Australia's most exciting entertainers, connecting with audiences around the globe through his powerhouse vocals, charismatic stage presence and heart provoking music videos.
Greg auditioned for Australia's Got Talent in 2013 where his stirring rendition of Prince's 'Purple Rain' endeared him to both the judges and the Australian public, propelling him to the final. His stage-shaking renditions of Nina Simone's Feeling Good and Arthur Hamilton's Cry Me A River saw him power through the Top 2 where he finished as Runner Up. Touring the world with his band The Chase, performing to sold out shows and hitting the jazz festival circuit, including headlining Noosa Jazz Festival and Jazz In The Vines. Greg also featured as guest vocalist at big events like the Full Moon Fest in New York City, was a featured performer at the 2017 Sydney Mardi Gras official after party and headlined 2017 Hamburg Pride in Germany where his original single 'Today' was chosen as the official anthem.

One of Greg's biggest achievements has been his cover of the 1996 En Vogue #1 hit 'Don't Let Go', its accompanying film clip exploring true heartbreaking stories of discrimination. Charting internationally, Greg's debut EP hit #5 in Australia, #4 in Bulgaria, #27 in Italy and #7 in Germany, with the music video taking the internet by storm, viewed by more than 19 million people. This amazing film clip caught the eye of super songwriter Ivan Matias, who wrote Don't Let Go. He loved Greg's interpretation and put him in touch with En Vogue's lead singer Maxine Jones, who praised the version saying Greg's cover gave her goosebumps. She is thrilled to re-release the song as a duet and the two have embarked on an international tour.

Following in the footsteps of great artists who aren't defined by any one genre, Greg promises to deliver honest, soulful music that's straight from the heart. A promise he continues to live up to.
TICKETING INFO
This is an 18+ event.
Dinner & Show packages include entry, seating and a one course meal (main).
Some Dinner & Show Bookings may be on a communal table. Please let us know at the time of the booking as a special request should you prefer not to share, and subject to availability, we will do our best to accommodate.
DOORS OPEN AT 6PM
DINNER SERVICE COMMENCES AT 7PM
MUSIC STARTS AFTER DINNER SERVICE, AROUND 8:30PM
SET TIMES ARE SUBJECT TO CHANGE FROM SHOW TO SHOW
PLEASE NOTE THE FOLLOWING:
When General Admission Ticket sales have closed on the day of the show they may still be available at the door on the night.
Once purchased tickets are non-refundable & non-transferable
(applies to both Standing and Dinner sales)
A booking fee applies to all advance tickets. (All quoted prices include tax).
Please note: tables cannot be joined together on the evening. Please ensure everyone you wish to seat at your table is included in your booking to avoid being seated separately.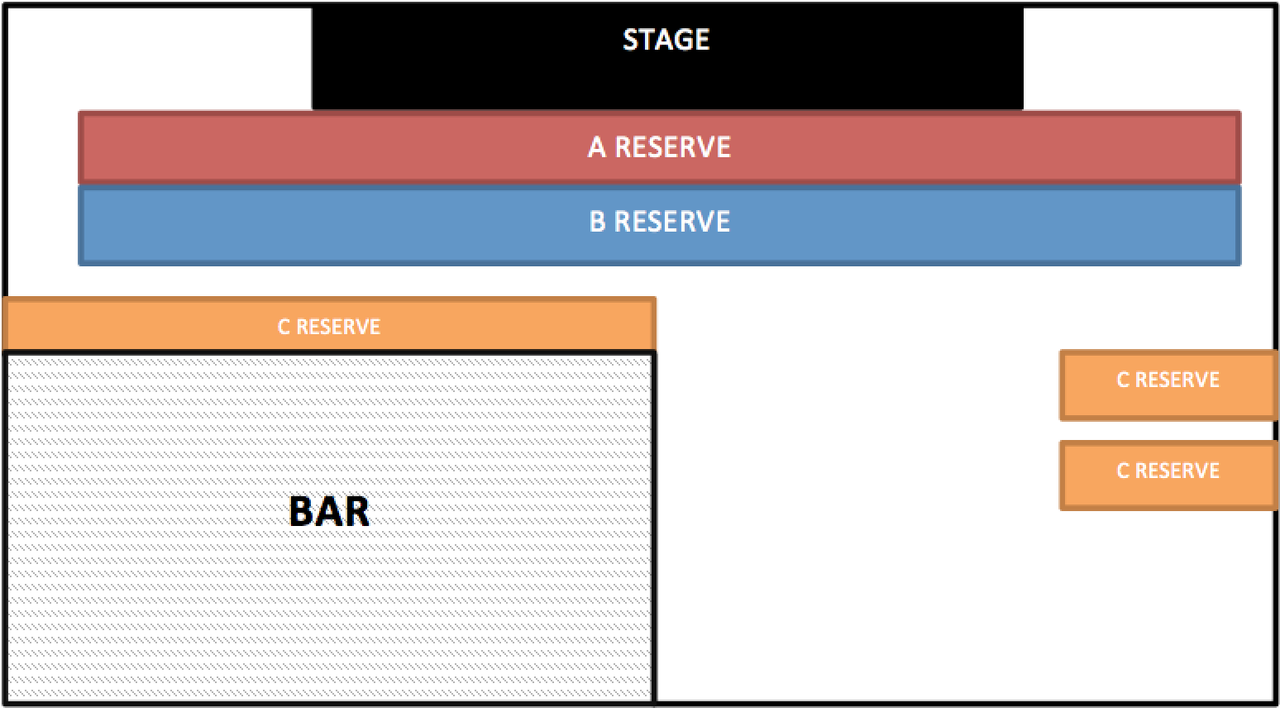 A RESERVE (INDIVIDUAL TABLE)
B RESERVE (MAY BE COMMUNAL TABLE)
C RESERVE (HIGH TABLES + STOOLS)


VENUE INFO
Over 18's only unless advertised otherwise.
All children under 18 not permitted including small children and babies.
Photo ID is essential, acceptable ID is a current and valid Australian Photo Drivers Licence or Passport
(Please check with the venue for any other acceptable forms of photo ID).
The venue reserves the right to refuse admission to any person.
Intoxicated persons will not be admitted.
No thongs or steel cap boots.
Dangerous behaviour including Crowd Surfing, Stage Diving, Moshing and Violent Dancing is not allowed and will result in your immediate removal from this venue.
Inappropriate behaviour at this venue will lead to your banning.
Other events you may like
Touch Bass @ Belvoir Amphitheatre
|
Subscribe to the weekly moshguide!